Creamy Butternut Squash Soup is a velvety, rich soup that captures the essence of fall in every spoonful. The earthy sweetness of roasted butternut squash, combined with aromatic herbs and a touch of cream, creates a symphony of flavors that dance on your palate.
Pin the image and keep these Creamy Butternut Squash Soup close at hand for your next meal.📌
Why I Loved This Recipe
Creating this butternut squash soup was like directing a culinary symphony in my kitchen.
The process of roasting the squash, its sweet aroma filling the air, hinted at the flavor crescendo to come.
Blending it with aromatic thyme and rich cream resulted in a velvety masterpiece that comforted not just the taste buds, but the soul.
The simple act of crafting this soup transformed a chilly afternoon into a warm and cherished memory.
Why You'll Love This Recipe
• Simplicity in Every Spoonful: This soup turns basic butternut squash, thyme, and cream into a delightful taste experience.
• Nutrient-Rich Goodness: Packed with vitamins and fiber, butternut squash benefits both body and taste buds.
• Perfect for Any Occasion: From a quick lunch to an elegant dinner starter, this soup elevates any meal.
• Cozy Comfort: A warm bowl provides comforting solace on chilly days, wrapping you in a soothing embrace.
• Convenient Freezing: Batch-cook and freeze portions for a quick, nutritious meal anytime life gets hectic.
Helpful Kitchen Tools
Ingredients
• 1 medium butternut squash (peeled, seeded, and cubed): The star of the show, butternut squash, provides a creamy and slightly sweet base for the soup.
• 1 tablespoon olive oil: Used to sauté the onion and garlic, adding a subtle depth of flavor.
• 1 onion (chopped): Adds savory notes and complements the natural sweetness of the squash.
• 2 cloves garlic (minced): Garlic imparts a delightful aroma and enhances the overall flavor.
• 1 teaspoon dried thyme: Brings an earthy, herby essence to the soup, enhancing its complexity.
• 4 cups vegetable broth: Provides the liquid base for the soup and infuses it with savory flavors.
• ½ cup heavy cream: Adds creaminess and richness, making the soup velvety and luxurious.
• Salt and pepper to taste: Seasonings that elevate the flavors and allow you to adjust the taste according to your preference.
Making Of Creamy Butternut Squash Soup
STEP 1: Begin by preheating your oven to 400°F (200°C). While it's warming up, peel, seed, and cut the butternut squash into cubes. Toss them in a tablespoon of olive oil, add a pinch of salt and pepper, and spread them on a baking sheet. Roast them for about 25-30 minutes until they become tender and nicely caramelized.
STEP 2: In a soup pot, heat a bit of olive oil over medium heat. When it's ready, add the chopped onion and sauté until it turns translucent, filling your kitchen with a sweet, inviting aroma.
STEP 3: Next, add minced garlic and dried thyme to the pot and sauté for about a minute to let their aromatic flavors mingle.
STEP 4: Now, add the roasted butternut squash to the pot and let it take the spotlight. Pour in the vegetable broth, allowing the ingredients to simmer together for 10 minutes.
STEP 5: Get your immersion blender ready for the magic moment. Blend the soup until it becomes smooth and velvety, watching as the ingredients come together in harmony.
STEP 6: Pour in the heavy cream, letting it gracefully swirl into the soup, creating a luxurious creaminess. Allow it to simmer for an additional 5 minutes, melding the flavors into a seamless composition.
STEP 7: Finally, fine-tune the flavor by seasoning your creation with a sprinkle of salt and pepper. Adjust the taste until it perfectly suits your palate. Enjoy your delicious homemade butternut squash soup!
Tips and Techniques
• When preparing the butternut squash, try to make uniform cubes. This ensures even roasting and consistent cooking.
• Roasting the squash until it's tender and caramelized adds a depth of flavor to the soup. Keep an eye on it to prevent overcooking.
• Adding heavy cream at the end gives the soup a luxurious creaminess. Adjust the amount to your preference.
• Taste the soup and season with salt and pepper accordingly.
Serving Size
This creamy butternut squash soup recipe serves approximately four portions, making it a perfect choice for a cozy family meal or as a delightful starter for a gathering of friends. Enjoy its rich, comforting flavors together!
Serving Suggestions
• Garnish with fresh herbs like parsley or chives for a burst of flavor.
• Pair with a slice of crusty bread or a side salad for a complete meal.
• Enjoy as a comforting starter or a hearty main dish.
• Serve in small bowls or cups for an elegant presentation at gatherings.
Variations
• Enhance flavor with a pinch of cayenne pepper or a dash of nutmeg for subtle complexity.
• Leave a few roasted butternut squash chunks for a delightful texture contrast.
• Top with toasted pumpkin seeds for crunch or drizzle balsamic reduction for tangy sweetness.
• Add Parmesan or Gouda cheese for a rich twist.
• Transform it into a meal by adding cooked chicken, turkey, or crumbled sausage for hearty satisfaction.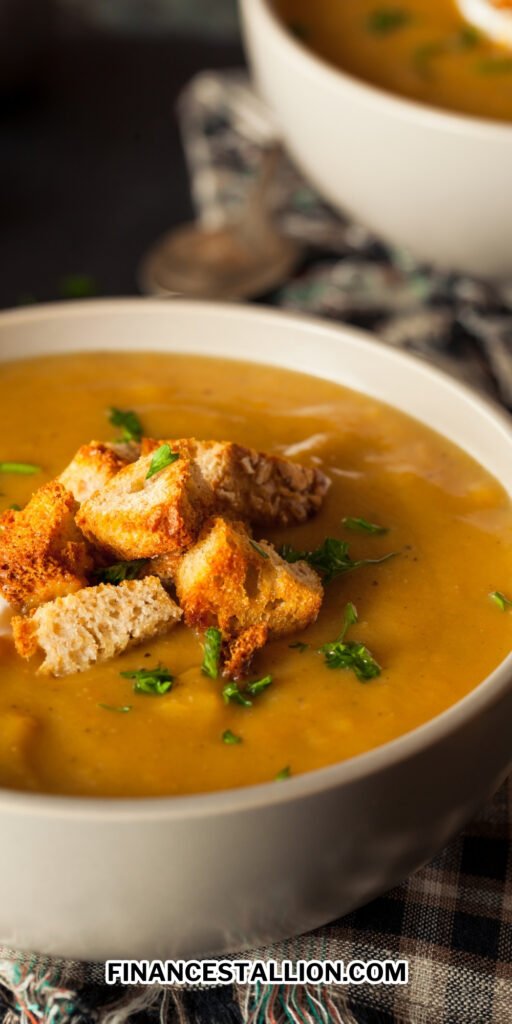 Storage Tips
To keep your soup fresh, store leftovers in an airtight container in the refrigerator for up to 3 days. For longer storage, freeze individual portions in freezer-safe containers or bags for up to 3 months. When reheating, use a gentle stovetop simmer to maintain the soup's rich and delightful flavors.
FAQs
Q. Can I use frozen butternut squash?
Yes, you can substitute frozen butternut squash if fresh is unavailable, but roasting fresh squash adds a richer flavor profile.
Q. Can I make this soup ahead of time?
Absolutely! The flavors actually deepen if the soup sits for a day before serving, enhancing the overall taste experience.
Q. Is this soup suitable for a dairy-free diet?
Certainly, just swap the heavy cream for a non-dairy alternative like coconut milk to maintain its creamy texture.
Q. Can I use other types of squash?
While butternut squash takes the spotlight, you can experiment with other squashes like acorn or kabocha for a unique twist on the recipe.
Q. Can I adjust the soup's thickness?
Absolutely. Simply control the amount of vegetable broth you add during blending to achieve your desired consistency, whether it's thick and velvety or lighter and more delicate.
Print Recipe
Creamy Butternut Squash Soup
Creamy Butternut Squash Soup is a velvety symphony of roasted squash, aromatic herbs, and a touch of cream.
Equipment
Baking Sheet

for roasting butternut squash to enhance its caramelized richness

Immersion Blender

to effortlessly puree the soup to a velvety texture

Soup Pot

for simmering and blending the harmonious ingredients

Ladle

racefully serves your masterpiece with elegance.

Wooden Spoon

to sauté onions and garlic for a flavorful base
Ingredients
1

medium butternut squash

peeled, seeded, and cubed

1

tablespoon

olive oil

1

onion

chopped

2

cloves

garlic

minced

1

teaspoon

dried thyme

4

cups

vegetable broth

½

cup

heavy cream

Salt and pepper

to taste
Instructions
Preheat your oven to 400°F (200°C).

Toss cubed butternut squash with olive oil, salt, and pepper. Roast on a baking sheet for 25-30 minutes until tender and caramelized.

In a soup pot, heat a drizzle of olive oil over medium heat. Sauté chopped onion until translucent.

Add minced garlic and dried thyme, sauté for an additional minute.

Combine roasted butternut squash and vegetable broth in the pot. Simmer for 10 minutes.

Use an immersion blender to puree the soup until smooth and creamy.

Pour in heavy cream, stir, and simmer for another 5 minutes.

Season with salt and pepper to taste.
Notes
Substitutions:
Use half-and-half or coconut milk instead of heavy cream for a lighter version.
Experiment with herbs like rosemary or sage in place of dried thyme.
Variations / Options / Add-Ins:
Add a pinch of cayenne pepper or nutmeg for extra warmth.
Try toppings like toasted pumpkin seeds or a balsamic reduction.
Incorporate cooked chicken, turkey, or sausage for added protein.
Serving Suggestions:
Enjoy with warm crusty bread, creating a harmonious blend of textures.
Pair with a crisp autumn salad for a refreshing contrast.
Elevate with herb sprinkles, cream swirls, or a drizzle of olive oil.
Top with your favorite cheese for a savory balance.
Add a dollop of tangy crème fraîche for creamy contrast.
Finish with chopped herbs for a burst of color and flavor.
Serve in mini bread bowls for a playful twist.
Pro Tips:
Roast butternut squash for added depth of flavor.
Take time to sauté onions and garlic for a flavorful base.
Adjust salt and pepper gradually, tasting as you go.
Use an immersion blender for a smooth texture.
Storage Tips:
Refrigerate leftovers in an airtight container for up to 3 days.
Freeze in individual portions for up to 3 months.
Gently reheat on the stovetop over low heat.