This Creamy Potato Leek Soup is a comfort food classic that never fails to bring a sense of comfort and satisfaction. The combination of earthy potatoes and subtly sweet leeks creates a harmonious balance of flavors that dance on your taste buds.
Pin the image and keep this Creamy Potato Leek Soup recipe close at hand for your next meal.📌
Why I Loved This Recipe
I remember the first time I tried this potato and leek soup.
It was a chilly autumn evening, and I was looking for something to warm me up from the inside out.
The aroma that filled my kitchen as the soup simmered was utterly inviting.
With each spoonful, I could feel the stress of the day melting away.
It was a moment of pure culinary bliss that made me appreciate the magic of simple ingredients coming together.
Why You'll Love This Recipe
• Creaminess that Comforts: Indulge in the unparalleled creaminess of this soup, ideal for warming your heart on chilly evenings or providing solace in a bowl.
• Flavorful Simplicity: The humble pairing of potatoes and leeks creates an unexpectedly rich and delightful flavor, showcasing the magic of quality ingredients.
• Easy and Versatile: Perfect for beginners, this recipe demands minimal ingredients and offers versatility through customizable herbs, spices, or a crispy bacon garnish.
Helpful Kitchen Tools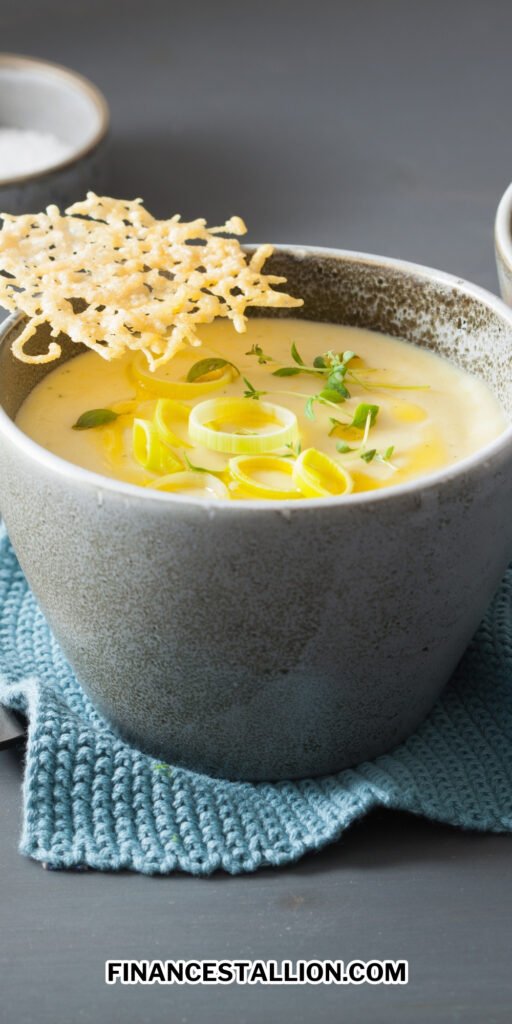 Ingredients
• Potatoes (4 medium-sized): The heart of the soup, they turn soft when cooked, creating a creamy base.
• Leeks (2 large): Mild and slightly sweet, adding depth to the soup.
• Onion (1 medium): Provides a warm and inviting aroma, forming the flavor foundation.
• Garlic (2 cloves): Tiny flavor bombs, transforming the taste with savory goodness.
• Chicken or Vegetable Broth (4 cups): Liquid gold infusing rich, savory taste.
• Heavy Cream (½ cup): Adds luxurious creaminess to each spoonful.
• Butter (2 tablespoons): Sautes veggies to perfection, adding indulgence and flavor.
• Salt and Pepper (to taste): Enhances all flavors, ensuring perfect seasoning.
Making Of Creamy Potato Leek Soup
STEP 1: Begin by giving your veggies a good wash and chopping the leeks, potatoes, onion, and garlic into rustic, bite-sized pieces.
STEP 2: In a soup pot, melt some butter over medium heat. Add the chopped onion and garlic, enjoying the delightful aroma.
STEP 3: Introduce the leeks and potatoes to the pot, allowing them to mingle with the onions and garlic for a few minutes.
STEP 4: Pour in your choice of chicken or veggie broth and let them simmer together until the potatoes turn soft and tender.
STEP 5: With an immersion blender, gently blend everything in the pot until the veggies transform into creamy goodness. Be cautious not to make a mess.
STEP 6: Pour in the heavy cream to create a luxurious, silky texture. Stir it in, and watch the creaminess come to life.
STEP 7: Season the soup with salt and pepper to your taste. Start with a little, taste, and adjust as needed.
STEP 8: Ladle your masterpiece into bowls. For an artistic touch, consider garnishing with chopped chives or a drizzle of olive oil. Enjoy! You're the flavor boss here!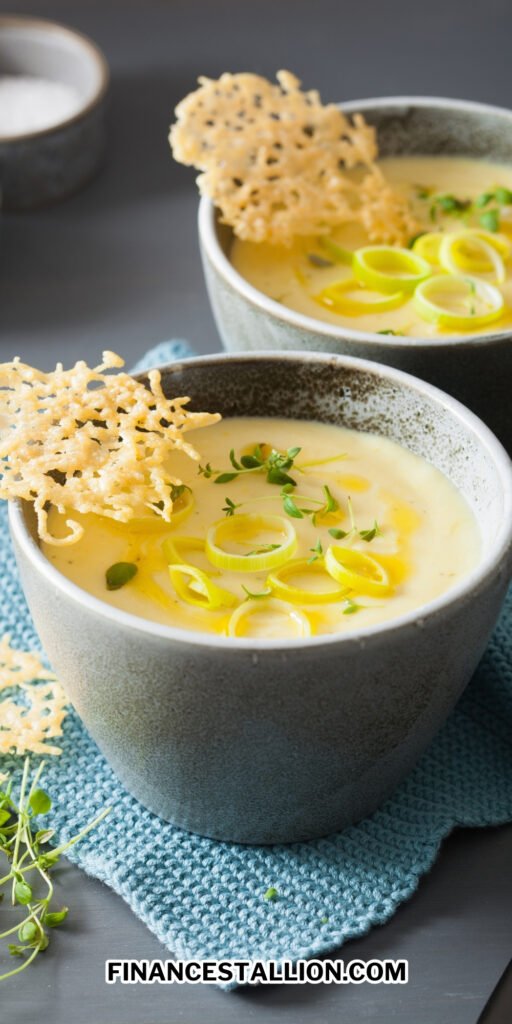 Pro Tips
• Take your time with sautéing and simmering for enhanced flavors.
• Taste and adjust the seasoning before serving for the perfect balance.
• Blend the soup slowly and thoroughly with an immersion blender.
• Adjust the consistency by adding more broth or milk as needed.
• Elevate your soup with creative garnishes like chives, olive oil, or grated cheese.
Serving Size
This recipe makes enough soup for about 4 servings. That means you can enjoy a delicious bowl of this creamy potato and leek soup with a friend or save some for another meal. It's like having a warm and comforting hug in a bowl for you and a few others to enjoy!
Serving Suggestions
• Enjoy the delightful contrast of warm, crunchy bread with creamy soup.
• Elevate your meal with a fresh garden salad featuring mixed greens and cherry tomatoes.
• Savor the comforting embrace of a classic grilled cheese sandwich alongside your creamy soup.
Variations
• Elevate your soup with an herb infusion using fresh thyme or rosemary for added aroma and earthiness.
• Indulge in cheesy bliss by sprinkling cheddar, mozzarella, or parmesan on top, creating a gooey delight.
• Add crispy bacon or homemade croutons for a satisfying crunch and smoky flavor.
• Enhance your soup's creaminess with sour cream, Greek yogurt, or coconut milk, balancing the flavors.
• Elevate your dish by roasting carrots, parsnips, or cherry tomatoes for a sweet and surprising twist.
Storage Tips
To store your soup like a pro, start by letting it cool down a bit to prevent sogginess. Transfer it to airtight containers, like Mason jars or plastic ones, once it's cooled. Store in the fridge for up to 4 days. Reheat gently on the stove when ready to enjoy. If you have extra, freezing is an option; just leave some space in the container for expansion. After thawing in the fridge, blend for a smoother texture. Your soup will still taste amazing after these simple steps!
FAQs
Q. Can I Freeze This Soup?
Yes, you can freeze this soup, but keep in mind that the texture might slightly change upon thawing. Consider blending it again for a smoother consistency.
Q. How Long Does the Soup Last in the Fridge?
When stored properly, this soup can last in the fridge for up to 4 days.
Q. Can I Use Different Potatoes?
While russet potatoes are commonly used, you can experiment with Yukon gold potatoes for a slightly buttery flavor.
Q. Can I Make It Dairy-Free?
Absolutely, substitute the heavy cream with coconut milk or a dairy-free cream alternative.
Q. Can I Add Meat to the Soup?
Of course! Cooked bacon, ham, or shredded chicken can be wonderful additions.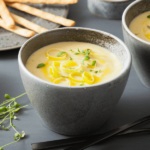 Print Recipe
Creamy Potato Leek Soup
This Creamy Potato Leek Soup is a combination of earthy potatoes and subtly sweet leeks creates a harmonious balance of flavors that dance on your taste buds.
Equipment
Immersion Blender (or regular blender)

Soup Pot
Ingredients
4

large Potatoes

2

Leeks

1

Onion

2

Garlic cloves

4

cups

Chicken or Vegetable Broth

1

cup

Heavy Cream

2

tablespoons

Butter

Salt and Pepper to taste
Instructions
Wash and chop leeks, potatoes, onion, and garlic.

Melt butter in a pot and add chopped onion and garlic. Cook until they smell nice.

Put in leeks and potatoes. Cook for a bit till they get softer.

Add broth and let it gently bubble until potatoes are soft.

Use a blender or immersion blender to make it creamy.

Mix in heavy cream for that luxurious feel.

Put salt and pepper as you like.

Pour into bowls, maybe sprinkle chives or drizzle oil on top.
Notes
Substitutions
If no leeks, use extra onions.
Swap heavy cream for milk for a lighter version.
Variations / Options / Add-Ins
Add thyme or rosemary for extra flavor.
Sprinkle grated cheese on top.
Serving Suggestions
Enjoy it on its own or with bread, salad, or a sandwich.
Pro Tips
Take your time with sautéing and simmering; flavors get better.
Taste and add more salt if needed.
Storage Tips
Cool soup before storing it in airtight containers.
Soup's good in the fridge for up to 4 days.
Freeze extra soup; it might change the texture a bit.
Blend again after thawing for a smoother soup.