This Crockpot Brown Lentil Soup is a delicious blend of flavors and textures. It combines earthy lentils, sweet tomatoes and carrots, comforting potatoes, and aromatic curry spices. And don't miss the delightful crunch of toasted croutons on top. It's a heartwarming and tasty soup!
Pin the image and keep this Crockpot Lentil Soup With Vegetables close at hand for your next meal.📌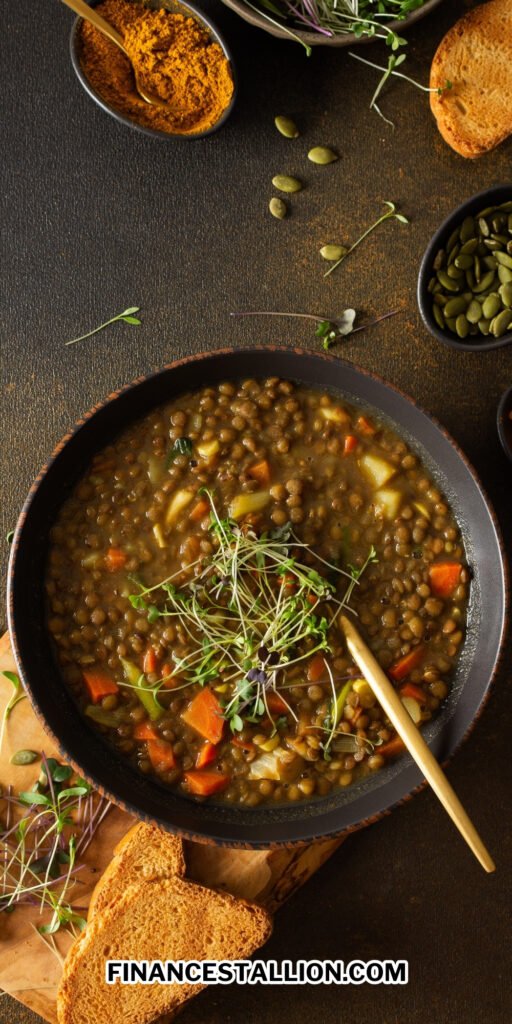 Why I Loved This Recipe
This Crockpot Brown Lentil Soup is more than just a meal; it's a connection to cherished memories.
As a child, the comforting aroma of my grandmother's soups filled her kitchen, and now, as I make this soup, I find solace in chopping veggies and simmering fragrant curry spices.
With every taste, it's like a fusion of my past and present, a bridge between memories and culinary aspirations.
This soup isn't just a dish; it's a warm embrace, a nostalgic journey, and a moment of togetherness.
It reminds us that food can transcend mere sustenance; it's a symbol of love and the beauty of the present moment.
Why You'll Love This Recipe
• Ease and Convenience: Let the crockpot do the work – toss in the ingredients, set it, and return to a satisfying, simmering soup after a long day.
• Nutrient-Packed: Packed with protein, fiber, vitamins, and minerals from lentils and veggies, this soup is a nutritional powerhouse.
• Customizable: Get creative – adjust spice levels, add more veggies, or try different types of lentils to suit your taste.
• Budget-Friendly: Delicious and budget-friendly, this recipe won't strain your wallet. Lentils, veggies, and basic spices create a hearty meal without breaking the bank.
Helpful Kitchen Tools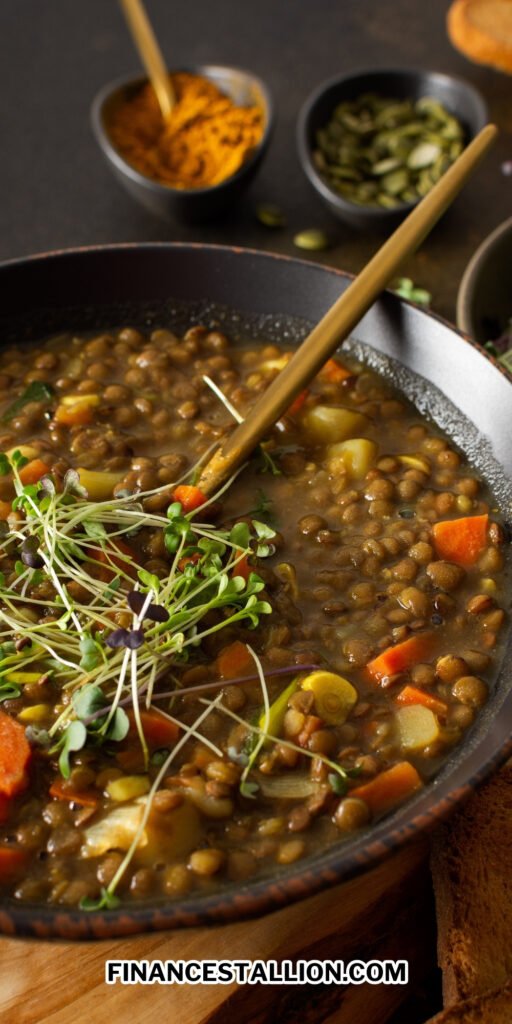 Ingredients
• Brown Lentils (1 cup): Packed with protein and fiber, these lentils keep you feeling strong and satisfied.
• Medium-sized Tomatoes (4): These vibrant red tomatoes bring a touch of sweetness and sunshine to the soup.
• Carrots (2): Crunchy and orange, these are great for your eyes and your taste buds.
• Potatoes (2): Comforting and filling, they make the soup cozy.
• Onion (1): The flavor hero, adding a delightful taste to the mix.
• Garlic (4 cloves): A flavor bomb that elevates the soup's taste.
• Cumin (1 teaspoon): Offers a warm and earthy note, like a cozy hug for your palate.
• Coriander (1 teaspoon): Adds a fresh, slightly citrusy essence to the soup.
• Turmeric (½ teaspoon): The golden spice provides color and warmth.
• Paprika (½ teaspoon): Infuses a smoky flair, making the soup intriguing.
• Vegetable Broth (6 cups): It's the flavorful foundation, that creates a party in your bowl.
• Salt and Pepper: The trusty flavor duo, ensuring a perfect taste balance.
• Olive Oil: A gentle helper for sautéing, enhancing the soup's flavor.
• Fresh Cilantro: A green garnish that adds a burst of freshness.
• Sliced Bread: For those crunchy croutons, a delightful surprise atop your soup.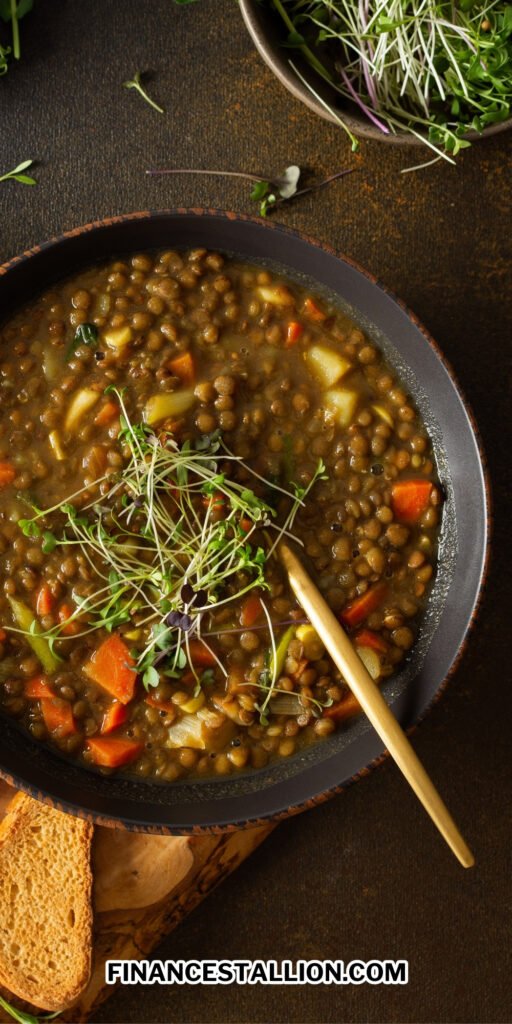 Making of crockpot lentil soup
STEP 1: Begin by heating a pan on the stove and adding a bit of olive oil. Throw in chopped onion and minced garlic, and let the wonderful aroma fill your kitchen as they become soft and fragrant. This is the start of something delicious.
STEP 2: Transfer the sautéed onion and garlic to your crockpot. Add brown lentils for heartiness, and sprinkle in cumin, coriander, turmeric, and paprika for a burst of flavor. Give it all a good stir to let those lentils get cozy with the spices.
STEP 3: Pour in about 6 cups of vegetable broth – it's like a warm blanket for your lentils and spices. Make sure everything's submerged. Pop the crockpot lid on and let the magic unfold.
STEP 4: Set your crockpot to low heat, allowing the soup to leisurely simmer for 4 to 6 hours. Your kitchen will fill with delightful scents, signaling it's almost time to savor the magic.
STEP 5: Using an immersion blender, gently blend some of the soup to create a creamy texture. Just a touch – like giving your soup a cozy hug before the final touches.
STEP 6: Introduce diced tomatoes, chopped carrots, and cubed potatoes. They're like the colorful characters completing your soup story. Let them simmer in the crockpot for 1 to 2 hours until they're tender but not mushy.
STEP 7: Taste your soup and season with salt and pepper, adding a pinch of happiness. Ladle this soul-soothing creation into bowls, and don't forget to sprinkle fresh cilantro on top – like a burst of freshness in every bite. Enjoy!
SERVING SIZE
This heartwarming Crockpot Brown Lentil Soup recipe serves about 4 to 6 hungry tummies. It's perfect for sharing with family and friends or for enjoying throughout the week as comforting leftovers. So grab your bowls and get ready to savor every spoonful of this delicious goodness!
Variations
• Enhance the soup with creamy coconut milk for a tropical twist.
• Boost the protein content by adding chicken or tofu cubes for a hearty touch.
• Infuse nutrition with fresh spinach or kale, adding color and vitamins.
• Sprinkle grated cheese for a cozy, cheesy embrace.
• Add lemon or lime juice for a refreshing, flavor-brightening kick.
Storage Tips
Allow it to cool down a bit before refrigerating to avoid any temperature shocks, opt for airtight containers to preserve flavors, don't forget to label and date them for freshness tracking, keep your soup in the fridge for about 4 days, and when it's time to relish it again, reheat with care either on the stove or in the microwave for that comforting experience.
FAQ's
Q. Can I use red lentils instead of brown ones?
Absolutely! Red lentils will cook faster and result in a creamier consistency.
Q. Can I make this on the stovetop?
Of course! Simmer the soup in a large pot on low heat, stirring occasionally until everything is tender.
Q. What can I substitute for an immersion blender?
A regular blender works too. Just blend a portion of the soup and mix it back in.
Q. Can I freeze this soup?
Certainly! Allow the soup to cool completely, then freeze it in portions for future cozy meals.
Q. Is this soup gluten-free?
Yes, it is! Just ensure the vegetable broth and seasonings you use are gluten-free.
Print Recipe
Crockpot Lentil Soup With Vegetables
This Crockpot Brown Lentil Soup is a delicious blend of earthy lentils, sweet tomatoes and carrots, comforting potatoes, and aromatic curry spices.
Ingredients
1

cup

brown lentils

rinsed

4

medium-sized tomatoes

diced

2

carrots

peeled and chopped

2

potatoes

peeled and cubed

1

onion

finely chopped

4

cloves

garlic

minced

1

tsp

cumin

1

tsp

coriander

½

tsp

turmeric

½

tsp

paprika

6

cups

vegetable broth

Salt and pepper

to taste

Olive oil

for sautéing

Fresh cilantro

for garnish

Sliced bread

for croutons
Instructions
Cook onion and garlic in a bit of oil till they smell nice.

Put them in the crockpot with lentils, cumin, coriander, turmeric, and paprika and mix it well.

Add veggie broth. Make sure lentils are inside.

Set crockpot on low for 4-6 hours. It's ready when things are soft and smell good.

Blend a bit with immersion blender to make a little creamy.

Put in tomatoes, carrots, and potatoes. Cook 1-2 hours till soft.

Add salt and pepper to taste.

Serve in bowls with fresh cilantro on top.
Notes
Recipe Notes
No need to soak the lentils. Just give them a quick rinse.
You can adjust the spices (cumin, coriander, turmeric) based on how you like them.
To keep the potatoes from getting too soft, add them later in the cooking.
Variations / Options / Add-Ins
Want a creamy twist? Add a bit of coconut cream.
For more protein, toss in cooked chicken or tofu.
To make it extra healthy, add spinach or kale.
Storage Tips:
If you have leftovers (lucky you!), keep them in a closed container in the fridge for up to 4 days. Reheat when you're ready for another cozy meal.