This Creamy Farfalle Pasta is a celebration of the season, combining the earthy sweetness of pumpkin, the comfort of perfectly cooked Farfalle pasta, and the richness of Parmesan cheese. Each bite is a symphony of textures and tastes that will transport you to a cozy autumn evening, whether you're gathered around the table with loved ones or treating yourself to a solo culinary delight.
Why I Love This Recipe
Growing up, fall was always a special time in my family.
The earthy aroma of pumpkin and the warmth of spices filled our home, creating an atmosphere of togetherness.
One fall evening, my grandmother surprised us with a unique pumpkin pasta that instantly became a cherished memory.
That heartwarming experience inspired me to recreate the magic and share it with you.
Why You'll Love This Recipe
• Creamy Comfort: The rich and velvety pumpkin sauce envelops each farfalle pasta, creating a luscious and comforting bite that's perfect for cozy evenings.
• Seasonal Delight: Embrace the flavors of fall with the subtle sweetness of pumpkin and the warmth of aromatic spices.
• Quick and Easy: With simple steps and readily available ingredients, this recipe is approachable for cooks of all levels.
• Visual Appeal: The vibrant orange sauce against the backdrop of bow-tie pasta makes for a stunning presentation that's sure to impress.
Recipe Notes
• Creamy Dreams: For an extra indulgent sauce, go for heavy cream or half-and-half. Trust me, you'll thank yourself later for that velvety goodness.
• Roasty Goodness: Wanna up the ante? Roast that pumpkin with a drizzle of olive oil before blending. It's like adding a flavorful twist to your culinary tale.
• Texture Tango: If your sauce feels too thick, don't fret! Just add a splash of that reserved pasta water and let it do its magic.
• Parmesan Magic: Grate your Parmesan fresh – it's like a sprinkle of fairy dust that makes everything better. The flavor? Out. Of. This. World.
Helpful Kitchen Tools
Ingredients
• Farfalle Pasta (12 oz / 340g): These adorable bow-tie pasta pieces are the canvas for our flavorful sauce. They hold onto the creamy goodness like culinary champions.
• Diced Pumpkin (2 cups): The star of the show! Pumpkin brings a natural sweetness and that gorgeous orange color. It's like inviting autumn onto your plate.
• Small Onion (Finely Chopped): This humble hero adds depth and flavor. It's the savory counterpart to the pumpkin's sweetness.
• Garlic (2 cloves, Minced): A dash of garlic brings that irresistible aroma and a hint of bite, balancing out the creamy and sweet elements.
• Vegetable Broth (1/2 cup): This liquid gold enhances the sauce's taste and consistency, making it silky and soul-soothing.
• Heavy Cream (1/2 cup): Cream adds that luxurious velvety texture, turning our sauce into a dreamy delight.
• Ground Nutmeg (1/2 teaspoon): Nutmeg sprinkles warmth and a touch of coziness, enhancing the fall vibes of the dish.
• Dried Sage (1/2 teaspoon): Sage lends an earthy, slightly peppery note that dances harmoniously with pumpkin.
• Salt and Pepper (To Taste): These two buddies are the seasoning superheroes, ensuring every bite is perfectly balanced.
• Grated Parmesan Cheese (1/2 cup): The final flourish! Parmesan adds that salty, savory kick and melts into the sauce for the ultimate indulgence.
• Fresh Parsley (Chopped, for Garnish): Parsley brings a pop of color and a burst of freshness to the finished dish.
Making Of Creamy Pumpkin Pasta
1. Cook the Farfalle Pasta: Fill a big pot with water, sprinkle in a bit of salt, and let it dance to a lively boil. Drop in the farfalle pasta – they'll cook to al dente perfection in about 8-10 minutes. We want our pasta to be just the right kind of tender, holding onto that creamy sauce beautifully.
2. Prepare the Pumpkin Sauce: In a pan, let the finely chopped onion and minced garlic sizzle until they're fragrant and friendly. Now, add in the diced pumpkin and let them become tender and oh-so-inviting. These ingredients lay the foundation of flavors, creating a delicious base for our sauce.
3. Blend the Sauce: Off to the blender with our pumpkin party! Toss in the cooked pumpkin mix, and add vegetable broth, heavy cream, nutmeg, dried sage, salt, and pepper. Blend till it's all smooth and velvety. Blending turns these ingredients into a dreamy, creamy sauce that'll hug your pasta lovingly.
4. Combine Pasta and Sauce: Our pumpkin sauce is back in action, warming up in the pan. Gently stir in grated Parmesan cheese, letting it melt like a gooey masterpiece. If the sauce needs a bit more flow, our reserved pasta water is here to save the day. Combining the pasta with the sauce gives each bite that enchanting flavor, and the pasta water keeps everything silky and saucy.
5. Toss and Serve: Time for the grand finale! Add the cooked farfalle pasta to the pumpkin sauce, giving them a good toss to make sure each pasta piece is coated in that creamy goodness. Taste and adjust the seasonings if needed. This tossing act ensures every bite is packed with flavor, and adjusting the seasoning is your chance to make it just right for your taste buds.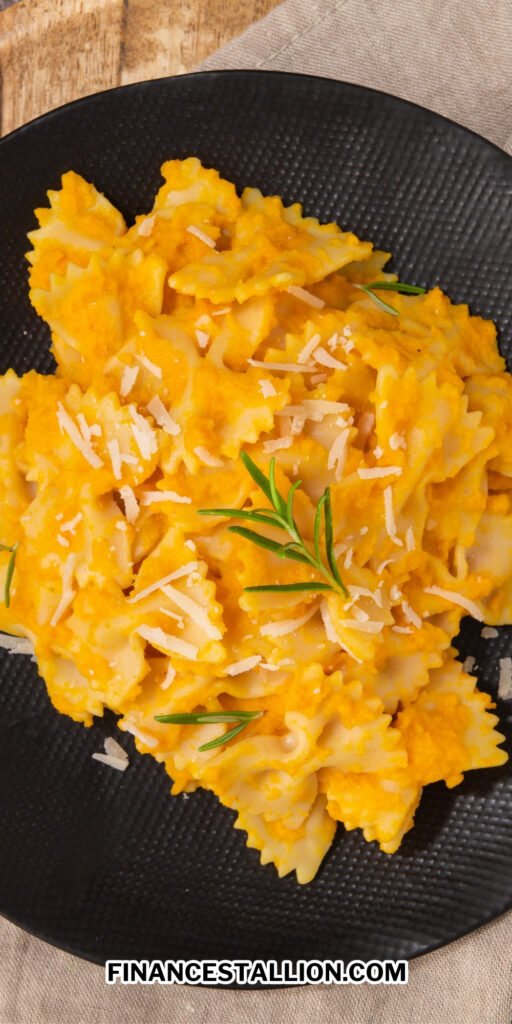 Variations / Options / Add-Ins
• Protein Parade: Want to amp up the protein? Toss in some cooked and diced chicken breast for a hearty twist. Crispy bacon bits can also join the party, adding a savory crunch.
• Nutty Delight: Take the texture up a notch! Toasted pine nuts or chopped toasted walnuts bring a delightful crunch and a nutty richness.
• Greens Galore: Sneak in some greens! Sautéed spinach or kale can join the pasta party, infusing the dish with a burst of color and a dose of nutrients.
Pro Tips
• Blend with Care: When blending the pumpkin sauce, start at a low speed and gradually increase it. This prevents sauce splatters and ensures a smooth, velvety texture.
• Pumpkin Shortcut: Short on time? Opt for canned pumpkin puree. Just make sure it's unsweetened and not pumpkin pie filling.
• Creamy Reheating: When reheating leftovers, add a splash of milk or broth to maintain that creamy texture. Heat gently to avoid over-thickening.
• Fresh Parmesan Bliss: Grate your Parmesan cheese fresh – trust me, it's a flavor game-changer. The aroma and taste are unparalleled.
• Taste as You Go: Don't be shy to taste and adjust as you cook. It's your chance to tailor the flavors to your liking and make it truly yours.
• Saucy Freedom: If your sauce is too thick, no worries! Just add a bit of reserved pasta water to achieve your preferred consistency.
Storage Tips
• Refrigerator Home: Pop any leftovers in an airtight container and let them chill out in the refrigerator. They'll be good for up to 3 days.
• Gentle Reheating: When it's time for a second helping, gently reheat your pasta on the stovetop. Add a splash of water or milk to bring back that creamy magic.
• Avoid the Freezer: While the sauce can be frozen, keep in mind the texture might change a bit. If you do freeze it, remember to thaw and reheat slowly on the stovetop.
• Say No to Overcooking: When reheating, take it slow. Overcooking could lead to a sauce that's too thick.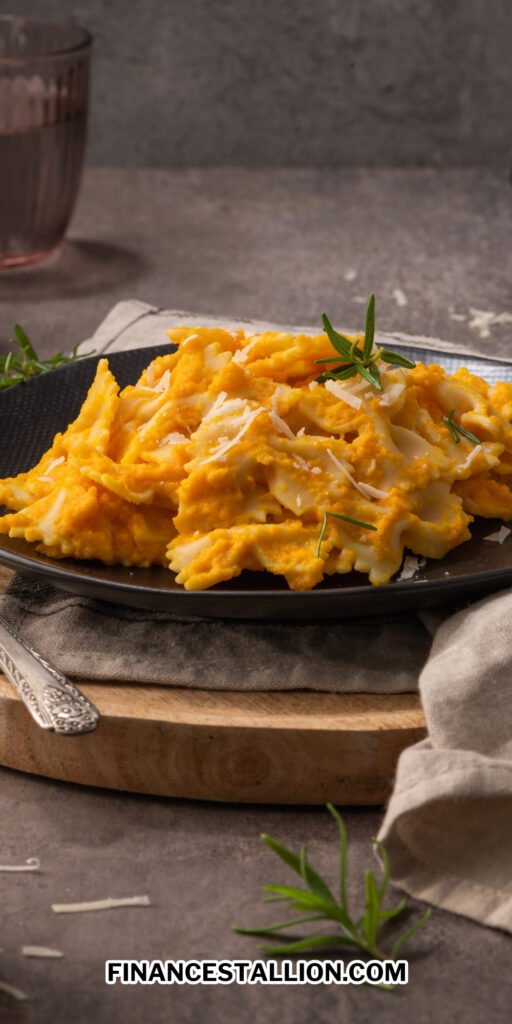 FAQs
Q. Can I use a different type of pasta?
Absolutely! Feel free to switch up the pasta shape. While farfalle is perfect for holding onto the sauce, other types like penne or rigatoni work well too.
Q. Can I freeze the pumpkin sauce?
Yes, you can freeze the sauce, but keep in mind the texture might change slightly upon thawing. When reheating, do it gently on the stovetop, adding a bit of water or milk if needed.
Q. Is this recipe spicy?
Not at all! The spices bring warmth, not heat. It's a cozy and comforting dish that's suitable for all taste preferences.
Q. Can I use canned pumpkin puree instead of fresh pumpkin?
Absolutely! Canned pumpkin puree is a convenient alternative. Just make sure it's unsweetened and not pumpkin pie filling.
Q. Can I make this recipe gluten-free?
Definitely! You can use gluten-free farfalle pasta or any gluten-free pasta variety you prefer. Just follow the same cooking instructions.
Q. Can I make this recipe vegan?
Yes, you can! Replace heavy cream with a dairy-free alternative like coconut cream, and use a plant-based Parmesan substitute. It'll still be creamy and delicious.
Print Recipe
Creamy Pumpkin Pasta
This Creamy Farfalle Pasta is a celebration of the season, combining the earthy sweetness of pumpkin, the comfort of perfectly cooked Farfalle pasta, and the richness of Parmesan cheese. 
Equipment
Blender

smoothly transforms pumpkin into velvety sauce

Large Pot

perfect for boiling farfalle pasta to al dente

Wooden Spoon

for stirring and combining the sauce and pasta

Pan

to sauté onions and garlic for aromatic magic
Ingredients
12

oz

farfalle pasta

2

cups

diced pumpkin

1

small onion

finely chopped

2

cloves

garlic

minced

1/2

cup

vegetable broth

1/2

cup

heavy cream

1/2

teaspoon

ground nutmeg

1/2

teaspoon

dried sage

Salt and pepper to taste

1/2

cup

grated Parmesan cheese

plus extra for serving

Fresh parsley

chopped, for garnish
Instructions
Bring a large pot of salted water to a boil.

Add farfalle pasta and cook until al dente. Reserve 1/2 cup pasta water before draining.

In a separate pan, sauté chopped onion and minced garlic until fragrant.

Add diced pumpkin and cook until tender.

Transfer cooked pumpkin mixture to a blender.

Add vegetable broth, heavy cream, nutmeg, sage, salt, and pepper. Blend until smooth.

Return blended sauce to pan, warm over low heat.

Gradually add grated Parmesan cheese, stirring until melted.

If sauce is thick, add reserved pasta water to adjust consistency.

Add cooked pasta to sauce, toss to coat evenly.

Garnish with extra Parmesan and chopped parsley.

Serve in bowls and enjoy!
Notes
Substitutions – Canned pumpkin puree instead of fresh.
– Coconut cream for a dairy-free version.
– Swap sage with rosemary or thyme. Variations / Options / Add-Ins – Add diced chicken or crispy bacon for protein.
– Toss in toasted pine nuts or chopped walnuts.
– Enhance with sautéed spinach or kale. Serving Suggestions – Pair with a green salad or garlic bread.
– Enjoy as a standalone comfort meal. Pro Tips – Gradually increase blender speed to prevent splatters.
– Opt for fresh grated Parmesan for the best flavor. Storage Tips – Refrigerate leftovers in an airtight container.
– Reheat gently on a stovetop, adding liquid if needed.