The Creamy Broccoli Cheese Soup is a delightful fusion of fresh broccoli's wholesome goodness and the creamy richness of cheddar cheese. The earthy broccoli flavors harmonize perfectly with the sharpness of cheddar, promising a satisfying and nourishing taste experience.
Pin the image and keep this Creamy Broccoli Cheese Soup recipe close at hand for your next meal.📌
Why I Loved This Recipe
Cooking this soup is a nostalgic journey, evoking memories of my grandma's love-filled kitchen.
The aroma of onions and garlic warms my heart, reminiscent of family gatherings.
This soup isn't just about taste; it's about connections and creating new memories with friends.
It's a time machine to happier times, a symbol of love, history, and togetherness.
Each spoonful promises more cherished moments ahead.
Why You'll Love This Recipe
• Hearty and Satisfying: This soup is the ultimate comfort food, perfect for a complete meal, especially on chilly winter nights.
• Easy to Make: Simple ingredients and straightforward instructions make this recipe beginner-friendly.
• Nutrient-rich: Packed with vitamins, fiber, and antioxidants, broccoli adds a healthy twist to this delicious soup.
• Customizable: Get creative! Customize the recipe with your favorite spices, cheeses, or additional ingredients to make it your own.
Helpful Kitchen Tools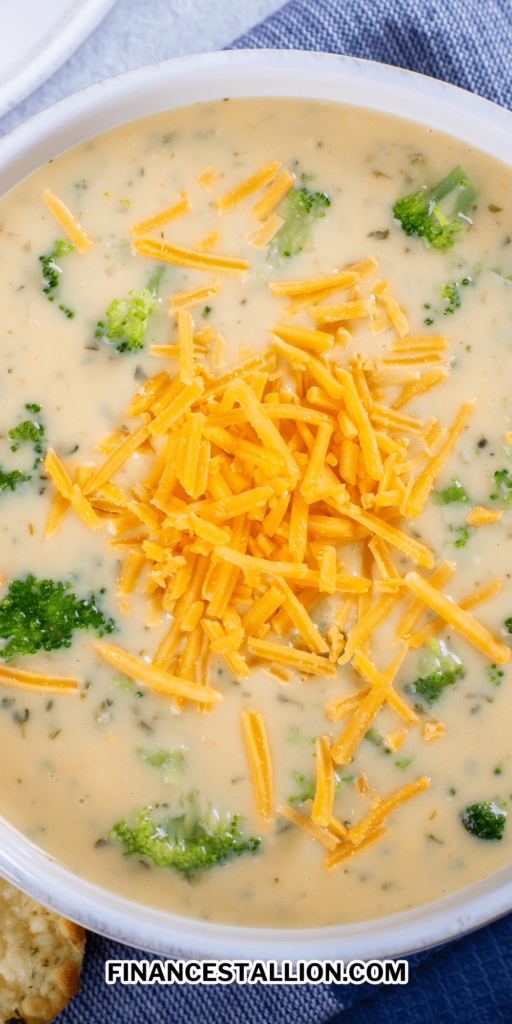 Ingredients
• 2 cups broccoli florets: Fresh broccoli brings its earthy flavor and vibrant color to the soup.
• 1 small onion, chopped: The onion adds depth and a hint of sweetness to the soup base.
• 2 cloves garlic, minced: Garlic enhances the overall flavor profile.
• 3 cups vegetable broth: A flavorful base for the soup.
• 1 cup milk: Adds creaminess to the soup; you can use whole milk for a richer taste.
• 1 cup shredded cheddar cheese: The star ingredient that gives the soup its signature taste.
• 2 tablespoons butter: Enhances the richness of the soup.
• 2 tablespoons all-purpose flour: Helps thicken the soup to a creamy consistency.
• Salt and pepper to taste: Seasoning to enhance the flavors.
Making Of Broccoli Cheese Soup
Step 1: In a heavy-duty pot, melt the butter over medium heat. Add the chopped onion and minced garlic. Sauté until the onion turns translucent and the garlic becomes fragrant.
Step 2: Sprinkle the flour over the onion and garlic mixture. Stir continuously for about 1-2 minutes to cook the flour and eliminate any raw taste.
Step 3: Gradually add the vegetable broth while stirring to prevent lumps from forming. Allow the mixture to come to a gentle simmer.
Step 4: Add the broccoli florets to the pot. Let the soup simmer until the broccoli is tender, usually about 10-12 minutes.
Step 5: Use an immersion blender to blend the soup until it reaches a smooth consistency carefully.
Step 6: Pour in the milk and shredded cheddar cheese. Stir gently until the cheese is fully melted and incorporated into the soup.
Step 7: Season the soup with salt and pepper according to your taste preferences. Remember, the cheese adds a salty element, so be cautious not to oversalt.
Step 8: Remove it from the heat once everything is well combined and the soup is heated through.
Tips and Techniques
• Ensure the soup is blended to a smooth consistency with an immersion blender for a creamy texture.
• Be cautious with salt since the cheese already adds saltiness; adjust the seasoning carefully.
• Adjust the thickness of the soup by adding more milk if it's too thick or simmering longer to thicken it if needed.
• Chop the broccoli, onion, and garlic beforehand to streamline the cooking process for this simple recipe.
SERVING SIZE
This Creamy Cheddar Broccoli Soup recipe serves 4 to 6, making it ideal for a cozy meal with loved ones. If you have leftovers for a smaller gathering, ensure they're stored correctly to maintain their deliciousness when you reheat them later. Enjoy!
Serving Suggestions
• Garnish each bowl with a sprinkle of extra shredded cheddar cheese for added richness.
• Serve with a side of warm crusty bread or garlic toast for a hearty meal.
• A dollop of sour cream or a drizzle of cream on top of the soup adds a creamy touch.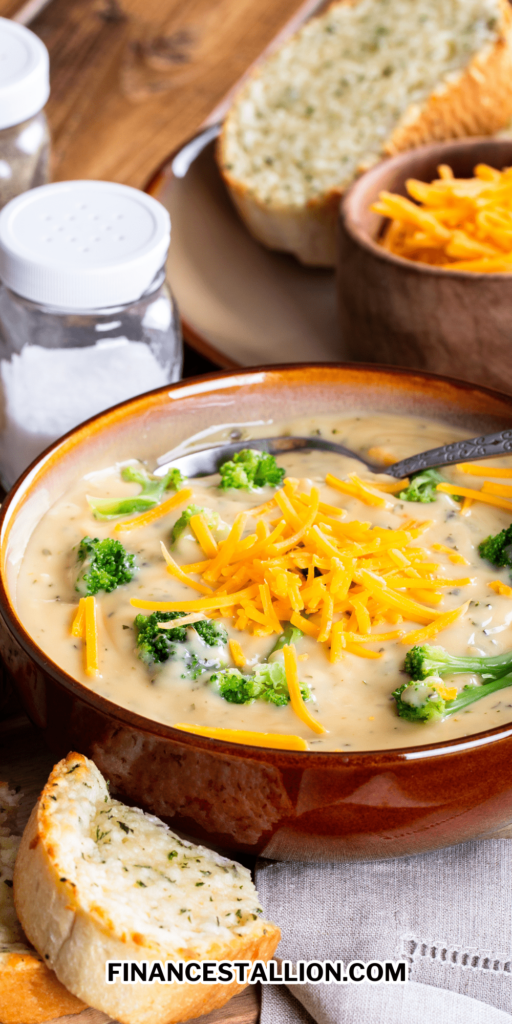 Variations
• Garnish your soup with croutons, toasted nuts, or crispy bacon bits for an added layer of texture.
• Add a pinch of red pepper flakes or a dash of hot sauce if you prefer a hint of spiciness.
• Feel free to include other vegetables like cauliflower or carrots to diversify the flavors and add nutritional value.
Storage Tips
To store leftover soup, use an airtight container in the fridge. When reheating, do it gently over low heat to keep the creamy texture intact and prevent separation. Enjoy your encore meal!
FAQs
Q. Can I use frozen broccoli for this recipe?
Yes, frozen broccoli can be used, but fresh broccoli is recommended for the best flavor and texture.
Q. Can I use a different type of cheese?
Absolutely! While cheddar cheese is traditional, you can experiment with other cheeses like gouda or gruyere for unique flavors.
Q. Can I make this soup in advance for a dinner party?
Certainly. Prepare the soup a day in advance and gently reheat it before serving. This might even deepen the flavors.
Q. Can I freeze this soup?
While the soup can be frozen, the texture of the dairy might change upon thawing and reheating. Consume it within a month for the best quality.
Q. What should I serve with Creamy Cheddar Broccoli Soup?
This soup pairs wonderfully with a crusty baguette or a side salad for a well-rounded meal.
Print Recipe
Creamy Broccoli Cheese Soup
Creamy Broccoli Cheese Soup recipe combines the wholesome goodness of fresh broccoli with the rich, velvety texture of cheddar cheese, resulting in a dish that's not only delicious but also nourishing. 
Ingredients
2

cups

broccoli florets

1

small onion

chopped

2

cloves

garlic

minced

3

cups

vegetable broth

1

cup

milk

1

cup

shredded cheddar cheese

2

tablespoons

butter

2

tablespoons

all-purpose flour

Salt and pepper to taste
Instructions
Melt the butter in a pot over medium heat.

Add chopped onion and minced garlic. Cook until onion is soft.

Sprinkle flour over onion and garlic. Stir for 1-2 minutes.

Slowly pour in vegetable broth while stirring.

Add broccoli to the pot and let it simmer for 10-12 minutes.

Blend the soup using an immersion blender until smooth.

Stir in milk and shredded cheddar cheese until melted.

Season with salt and pepper to taste.

Remove from heat and serve warm.
Notes
Variations / Options / Add-Ins
Top with croutons, nuts, or bacon for extra crunch.
Add a pinch of red pepper flakes for some heat.
Try different cheeses like gouda or gruyere for unique flavors.
Add extra vegetables like cauliflower or carrots.
Storage Tips
Store leftover soup in an airtight container in the fridge.
Reheat gently on low heat to maintain creamy texture.