This Delicious Pumpkin Soup With Coconut Milk is a must-try recipe for the upcoming cozy season. The velvety texture of the pumpkin combined with the richness of coconut milk creates a symphony of taste that'll make your taste buds dance.
Pin the image and keep these Pumpkin Soup With Coconut Milk close at hand for your next meal.📌
Why I Loved This Recipe
This Pumpkin Soup with Coconut Milk is a nostalgic journey inspired by my grandmother's kitchen during fall.
The heartwarming traditions and shared moments in making this soup bring back cherished memories.
It's a way to connect with the past and honor tradition while creating new memories.
With every spoonful, it's like sharing love and memories, a bridge between generations.
I invite you to create your own stories with this soup, passing on a legacy.
Why You'll Love This Recipe
• Flavor Explosion: Pumpkin and coconut milk create a sweet and creamy harmony in this soup.
• Ease of Preparation: Anyone, even beginners, can make this soup easily with basic ingredients and simple steps.
• Versatile: Perfect for dinner parties or a comfy night at home.
• Healthful Goodness: Packed with vitamins and fiber, it's as nutritious as it is tasty.
Helpful Kitchen Tools
Ingredients
• 1 sugar pumpkin (about 4 pounds) is the star, giving the soup its sweet and smooth flavor.
• 1 chopped onion adds savory balance.
• 3 cloves of minced garlic add aromatic goodness.
• 1 can (14 oz) of coconut milk brings creaminess and tropical richness.
• 4 cups of vegetable broth provide depth and flavor.
• 2 tablespoons of olive oil sauté and enrich the ingredients.
• Salt and pepper ensure perfect seasoning.
• Fresh thyme leaves garnish with elegance and earthiness.
Making Of Pumpkin Soup With Coconut Milk
STEP 1: Heat a bit of olive oil in a pot. Throw in the chopped onion and minced garlic. When they start smelling delicious, keep sautéing until they become soft and see-through.
STEP 2: Now, toss in those pumpkin cubes. Let them hang out with the onions and garlic. Stir occasionally. You'll notice the pumpkin getting a bit caramelized, which makes it even sweeter.
STEP 3: Here's where the magic happens. Pour in the vegetable broth and coconut milk. Turn up the heat a bit, wait for it to gently boil, and then reduce it to a simmer. Let it simmer until the pumpkin chunks become soft and ready to blend.
STEP 4: Time to blend! If you have a hand blender, it's super easy – just blend right in the pot. But if you're using a regular blender, let the soup cool a bit before blending.
STEP 5: Back in the pot with the blended goodness. Now, add some salt and pepper. Trust your instincts – a pinch here, a dash there. Stir it all in and taste the magic!
STEP 6: Ladle the creamy soup into bowls. For that extra touch, sprinkle on some fresh thyme leaves and add a handful of bread croutons. Enjoy your heartwarming soup!
Tips and Techniques
• Cook the cubed pumpkin until it caramelizes a bit for a richer flavor.
• Simmer the pumpkin with vegetable broth and coconut milk until it's tender.
• Blend the mixture until it's smooth and creamy.
• Season with salt and pepper to taste; start with a pinch and adjust.
• Serve in bowls, garnishing with fresh thyme leaves for aroma and bread croutons for crunch.
Serving Size
This pumpkin soup recipe will generously serve about 6 people. It's perfect for a cozy family dinner or for sharing with friends. So, ladle it into bowls, garnish with thyme leaves, add some bread croutons, and enjoy a warm and comforting meal together!
Serving Suggestions
• Serve it piping hot in bowls, perfect for warming up on a chilly evening.
• Top each bowl with a generous sprinkle of fresh thyme leaves for a burst of flavor.
• Add some crunchy bread croutons on top for that delightful contrast in texture.
• Pair it with a side of crusty bread or a grilled cheese sandwich for a hearty meal.
• It makes a fantastic appetizer for a fall-themed dinner party or Thanksgiving feast.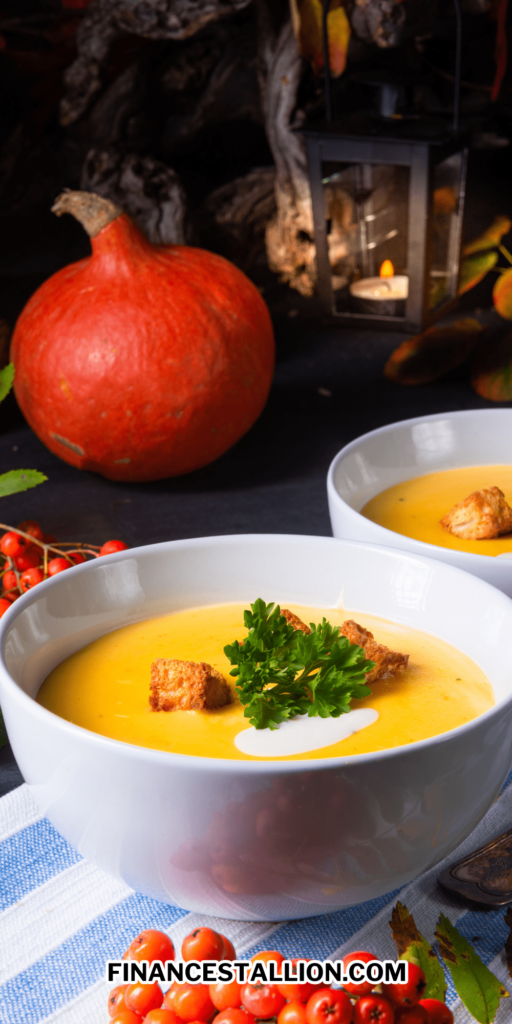 Variations
• Add a pinch of red pepper flakes or hot sauce for a warming kick.
• Top with toasted pumpkin seeds or chopped nuts for crunch.
• Enhance the flavor with fresh sage or rosemary.
• Amp up the savory factor with Parmesan or goat cheese.
Storage Tips
After cooking, give your soup a chance to cool down a bit – this keeps it tasting better for longer. Once it's cooled, pop it into a sealed container and into the fridge. Your delicious soup can stay comfy there for about 3-4 days. When you're ready for a second helping, gently warm it up on the stove, stirring now and then. Your soup will be back to its delightful self in no time! Enjoy!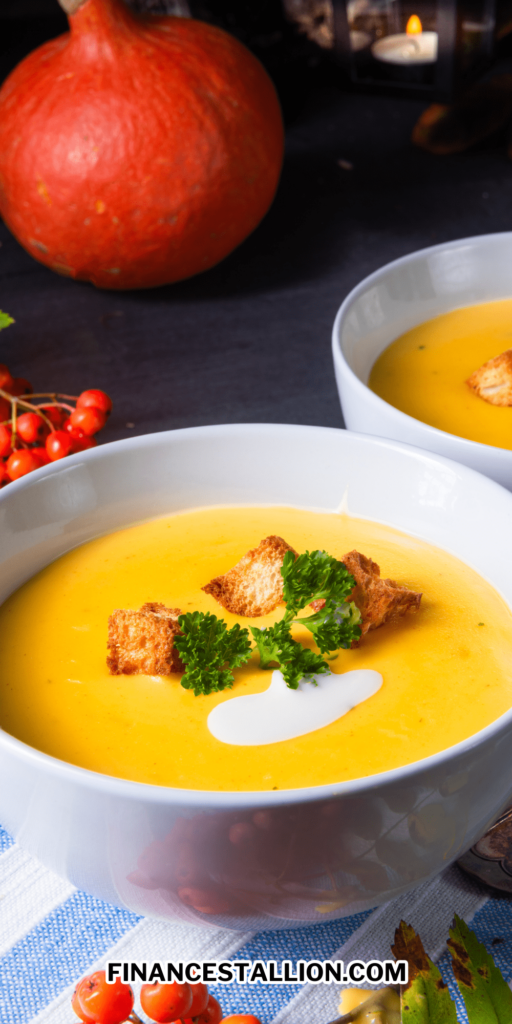 FAQ's
Q. Can I use canned pumpkin puree?
While fresh pumpkin yields the best flavor and texture, canned pumpkin puree can be used as a convenient alternative.
Q. Can I substitute coconut milk?
Indeed, you can replace coconut milk with heavy cream or even almond milk for a different flavor profile.
Q. Can I make this soup in advance for a party?
Definitely! Prepare the soup a day ahead, refrigerate, and gently reheat before serving.
Print Recipe
Pumpkin Soup With Coconut Milk
Indulge in the heartwarming embrace of our Pumpkin Soup with Coconut Milk. A fall favorite inspired by cherished traditions, perfect for cozy evenings.
Ingredients
1

about 4 pounds

sugar pumpkin

peeled, seeded, and cubed

1

onion

chopped

3

cloves

garlic

minced

1

can (14 oz)

coconut milk

4

cups

vegetable broth

2

tablespoons

olive oil

Salt and pepper to taste

Fresh thyme leaves for garnish
Instructions
Sauté onion and garlic in olive oil until soft.

Add cubed pumpkin; cook for caramelization.

Pour in vegetable broth and coconut milk, simmer until pumpkin is tender.

Blend the mixture until smooth.

Season with salt and pepper to taste.

Ladle into bowls, garnish with thyme leaves and bread croutons.
Notes
Variations / Options / Add-Ins
Add a pinch of red pepper flakes or a drizzle of hot sauce if you enjoy some heat in your soup.

Top your soup with toasted pumpkin seeds or chopped nuts for a delightful crunch.
Storage Tips
Allow the leftover soup to cool slightly before storing and place the leftover soup in an airtight container.

Store the container in the refrigerator for up to 3-4 days.

When reheating, do so gently on the stovetop over low heat. Stir occasionally until it's warmed through.