These Spicy Pumpkin Oatmeal Cookies blend the cozy essence of pumpkin spice with the wholesome goodness of oatmeal. I stumbled upon this recipe during my culinary explorations and instantly fell in love with its comforting taste and delightful texture.
Pin the image and keep these Spiced Pumpkin Oatmeal Cookies close at hand for your next meal.📌
Why I Loved This Recipe
Let me take you back to a crisp fall afternoon when I decided to experiment with a new cookie recipe.
As the aroma of cinnamon and nutmeg filled my kitchen, I felt an instant connection with these cookies.
The dough came together beautifully, and the scent that wafted through the oven was simply intoxicating.
When I took that first bite, I was greeted by a perfect harmony of softness from the oats and a gentle kick of warmth from the spices.
It was as if autumn had been captured in every single bite.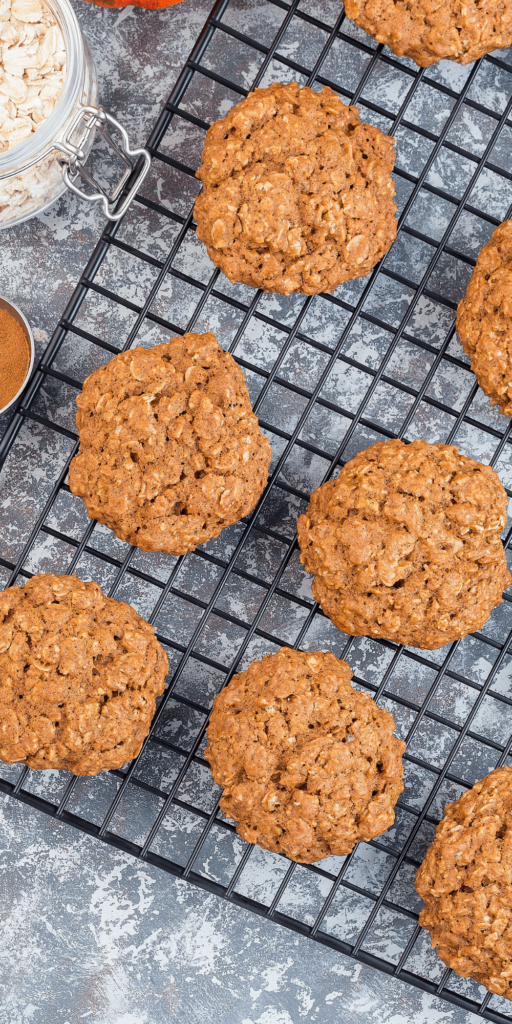 Why You'll Love This Recipe
• Cozy Comfort in Every Bite: These cookies offer the warmth of a pumpkin-spiced hug on a chilly day, wrapping your taste buds in comfort.
• Nutrient-Packed Goodness: Oats and pumpkin team up to make these treats not only delicious but also good for your tummy.
• Easy Baking for Everyone: Whether you're a seasoned baker or a kitchen rookie, this recipe is a breeze, no fancy skills are required.
• Get Creative: Customize your cookies with chocolate chips, nuts, or dried cranberries – these treats are your canvas for culinary creativity.
Helpful Kitchen Tools
Ingredients
• 1 cup canned pumpkin puree: Infuses cozy fall flavor and natural sweetness into our cookies.
• 1 egg: Provides structure for wonderfully chewy cookies.
• 1 teaspoon vanilla extract: Adds a hint of warmth and depth to the cookie's taste.
• 1 ½ cups quick-cooking oats: Imparts a hearty texture and fiber-rich goodness.
• 1 cup all-purpose flour: Creates the perfect cookie consistency—soft and chewy.
• ½ cup granulated sugar: Brings sweetness and crispy edges.
• ½ cup unsalted butter, softened: Delivers rich, melt-in-your-mouth goodness.
• 1 teaspoon baking soda: Essential for fluffy, well-risen cookies.
• ½ teaspoon ground cinnamon: Provides a cozy, spicy flavor.
• ¼ teaspoon ground nutmeg: Adds a gentle warmth that complements the pumpkin.
• ¼ teaspoon salt: Balances and harmonizes all the flavors.
Making Of Spiced Pumpkin Oatmeal Cookies
STEP 1: To kick off our baking adventure, set your oven to a cozy 350°F (175°C). This temperature is where the cookie magic happens.
STEP 2: Get yourself a mixing bowl and let's get started. Combine softened butter and granulated sugar, beating until they turn fluffy and light, like a soft cloud. Now, add an egg, pumpkin puree, and vanilla extract. Mix until they all become best buddies.
STEP 3: In a separate bowl, gather your dry ingredients – flour, quick-cooking oats, baking soda, cinnamon, nutmeg, and a pinch of salt. Give them a good mix, like a little dance party, ensuring everyone gets acquainted.
STEP 4: Now, it's time for a cozy cookie dough hug. Gradually add the dry mixture to the wet one, gently stirring until they become a united front. The dough should be soft and a tad sticky, just like perfect cookie dough!
STEP 5: Roll up your sleeves; it's time for some cookie magic. Use a spoon or cookie scoop to drop spoonfuls of cookie dough onto a parchment-lined baking sheet. Give them a little room to spread their wings while baking.
STEP 6: Carefully slide your baking sheet into the preheated oven. Close your eyes and imagine the delightful aroma filling your kitchen. Let the cookies bake for around 12-15 minutes. Once they're golden around the edges, it's time to take them out and let them cool a bit.
STEP 7: As the cookies cool on the baking sheet, they'll transform into the perfect combination of chewy and soft. Picture that first bite – the warmth of spices, the comforting oatmeal, and that hint of pumpkin. It's pure cookie bliss!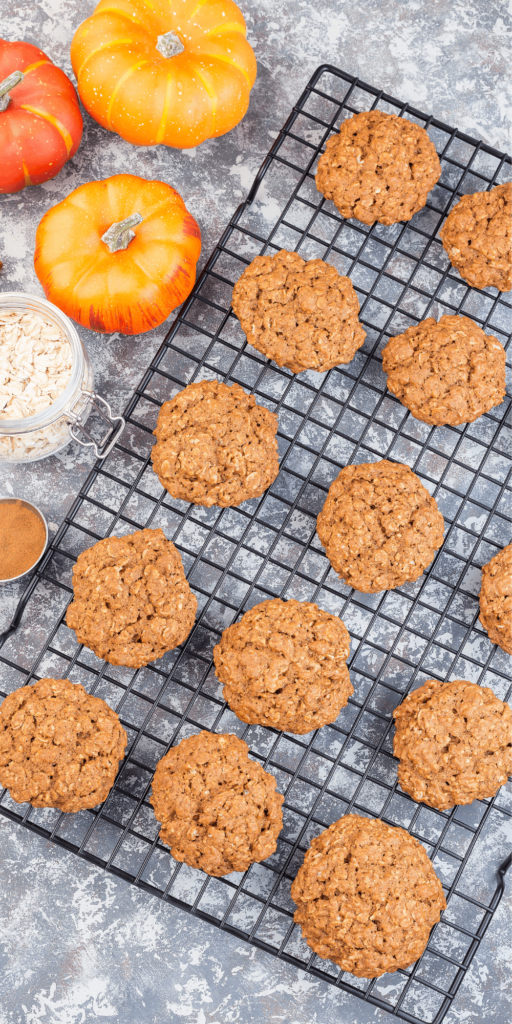 Tips and Techniques
• Preheat your oven to 350°F (175°C) before starting to ensure your cookies bake evenly.
• Cream together the softened butter and granulated sugar until they're fluffy to create a light and airy cookie texture.
• Slowly incorporate the dry mix into the wet mix, stirring until you form a soft and slightly sticky dough.
• Use a cookie scoop or spoon to drop portions of dough onto parchment-lined baking sheets, leaving enough space between them for even baking.
• Allow the cookies to cool on the baking sheets briefly before transferring them to a wire rack for further cooling. This helps them achieve a chewy texture.
SERVING SIZE
This recipe yields around 24 delicious cookies, depending on the size of your cookie scoops. That's plenty to share with family and friends, and maybe even keep a secret stash for yourself. After all, these cookies have a magical way of disappearing quickly!
Serving Suggestions
• Enjoy them with a steaming cup of chai tea for a cozy autumn snack.
• Pair these cookies with a scoop of vanilla ice cream for a delightful dessert.
• Share them at a fall-themed gathering or potluck for a crowd-pleasing treat.
• Pack them in a lunchbox for a tasty midday pick-me-up.
Variations
• Enhance your cookies with chocolate chips for gooey, chocolatey bliss with every bite.
• Add pecans or walnuts for a delightful crunch and rich, nutty flavor.
• Infuse fruity sweetness with dried cranberries and raisins, complementing the warm spices beautifully.
Storage Tips
To keep these cookies fresh, it's simple: for short-term enjoyment, store them in a sealed container at room temperature for up to 3 to 4 days. If you're planning for the long haul, freeze them—whether it's the dough or the baked cookies—in a well-sealed package, and they'll be ready to satisfy your cookie cravings whenever you like.
FAQ's
Q. Can I use homemade pumpkin puree?
Absolutely! Just make sure your homemade puree is well-drained to avoid excess moisture in the cookie dough.
Q. Can I substitute old-fashioned oats for quick-cooking oats?
While quick-cooking oats provide the best texture, you can use old-fashioned oats if that's what you have on hand. The cookies might be slightly chewier.
Q. Can I reduce the sugar in this recipe?
Yes, you can adjust the sugar to your taste. However, keep in mind that sugar adds both sweetness and structure to the cookies.
Q. Can I make these cookies gluten-free?
Certainly! Opt for a gluten-free flour blend and ensure your oats are certified gluten-free.
Print Recipe
Spiced Pumpkin Oatmeal Cookies
Spiced Pumpkin Oatmeal Cookies are warm, chewy delights combine pumpkin spice with wholesome oats for a taste of autumn in every bite.
Ingredients
1

cup

canned pumpkin puree

1

egg

1

teaspoon

vanilla extract

1 ½

cups

quick-cooking oats

1

cup

all-purpose flour

½

cup

granulated sugar

½

cup

unsalted butter

softened

1

teaspoon

baking soda

½

teaspoon

ground cinnamon

¼

teaspoon

ground nutmeg

¼

teaspoon

salt
Instructions
Get things started by preheating your oven to 350°F (175°C). This helps your cookies bake just right.

In a bowl, mix the softened butter and granulated sugar until they're all fluffy. Then, toss in the egg, pumpkin puree, and vanilla extract. Mix it up until everything's happy together.

Grab another bowl and whisk together the flour, quick-cooking oats, baking soda, ground cinnamon, ground nutmeg, and salt. This is gonna be your dry mix.

Slowly mix your dry mix into your wet mix. Keep mixing until they make a cool dough that's soft and a bit sticky.

Use a cookie scoop or spoon to plop bits of dough onto baking sheets lined with parchment paper. Leave a little space between them.

Slide those baking sheets into your preheated oven and let the cookies bake for around 12-15 minutes. They'll turn a nice golden brown at the edges, and your kitchen's going to smell amazing!

Once they're baked, let the cookies chill on the baking sheets for a bit. Then, move them onto a wire rack to cool down. That way, they'll get all nice and chewy.
Notes
Recipe Notes
Make sure you're using plain canned pumpkin puree, not pumpkin pie filling. We want that natural pumpkin flavor to shine!

Quick-cooking oats work best here 'cause they blend in like best buddies with the cookie dough.
Variations / Options / Add-Ins
Toss in some chocolate chips for a gooey chocolate surprise.

Chop up some nuts like pecans or walnuts for a crunchy twist.

Dried cranberries or raisins will give your cookies a fruity pop.
Storage Tips
Pop those cookies in an airtight container and leave 'em at room temperature for around 3-4 days.

Freezer-Friendly: Wanna save 'em for later? You can freeze both the cookie dough and the baked cookies. Just wrap 'em tight to keep 'em fresh.