Discover spooky DIY farmhouse Halloween decor ideas to add a rustic touch to your Halloween home decor. From pumpkin displays to Halloween wreaths, find inspiration for a festive and cozy celebration.
Enter if you dare into a world where farmhouse charm meets bone-chilling horror.
This Halloween, embrace the dark side and transform your home into a haunted haven with farmhouse-inspired decor that will send shivers down your spine.
From ghostly porch decor and blood-curdling pumpkin displays to eerie antique mirrors and cobweb-covered chandeliers, we'll guide you through the macabre art of farmhouse Halloween decorating.
Add your personal touch of terror to every corner as you combine rustic elements with spine-tingling accents.
Get ready to terrify your guests with unsettling farmhouse charm and create an atmosphere that will leave them screaming for more.
So gather your courage, summon your creativity, and embark on a sinister journey as we unveil the secrets of scary farmhouse Halloween decor that will haunt your nightmares.
13 Tips For Blending Farmhouse & Halloween Styles In Your Decor
Blending the warmth and simplicity of farmhouse decor with the eerie and whimsical elements of Halloween can create a truly captivating atmosphere in your home.
By harmonizing these two styles, you can achieve a balance between rustic charm and spooky allure, resulting in a decor that is both inviting and bewitching.
1. Selecting a Color Palette: Merging Warmth and Mystery
When combining farmhouse and Halloween styles, it's crucial to select a color palette that harmonizes both aesthetics.
Choose warm earth tones like muted oranges, deep browns, and olive greens as the base colors.
Then, add pops of spooky colors such as black, dark purple, and ghostly white to infuse a sense of mystery into the decor.
This blend creates a captivating contrast between the cozy farmhouse warmth and the eerie Halloween vibes, setting the stage for a unique and enchanting atmosphere in your home.
2. Incorporating Rustic Elements: Adding Farmhouse Flair
To achieve the farmhouse look, incorporate rustic elements into your decor.
Utilize reclaimed wood, galvanized metal, and distressed finishes to add authenticity and nostalgia.
Display vintage items like mason jars, antique lanterns, and weathered signs to enhance the farmhouse charm.
These rustic accents bring a sense of warmth and character to your Halloween decor, creating a cozy and inviting ambiance with a touch of spooky allure.
3. Introducing Halloween Accents: Embracing the Spookiness
Infusing Halloween accents is essential to achieve a seamless blend of farmhouse and Halloween styles.
Hang cobwebs, place creepy figurines, and strategically position pumpkins throughout your home.
Add spooky artwork like black cat portraits or haunted house paintings to create an eerie ambiance.
By incorporating these Halloween elements, you can embrace the spookiness and create a captivating fusion of farmhouse charm and Halloween allure.
4. Mixing Natural and Creepy Textures: Finding the Right Balance
Blend natural textures like burlap, jute, and linen with creepy textures such as faux spider webs, velvet, and faux fur.
This combination creates a dynamic contrast, adding depth and intrigue to your decor.
Use burlap or linen table runners with a hint of spider webbing as a centerpiece for your dining table.
By finding the right balance between natural and creepy textures, you can achieve a visually captivating and well-rounded blend of farmhouse and Halloween styles.
5. Lighting: Creating Ambiance for Farmhouse and Halloween Vibes
Lighting plays a crucial role in setting the mood for both farmhouse and Halloween styles.
Opt for soft and warm lighting to enhance the cozy farmhouse atmosphere. Incorporate candlesticks, string lights, and lanterns to create a warm glow.
For Halloween, add flickering LED candles and strategically placed spotlights to highlight spooky elements.
With the right lighting, you can create a captivating ambiance that combines the charm of farmhouse decor with the mysterious allure of Halloween.
6. DIY Crafts: Adding Personal Touches
Engage your creativity by incorporating DIY crafts into your farmhouse Halloween decor.
Create farmhouse-style signs with Halloween-inspired phrases, hand-paint pumpkins with intricate designs, or make wreaths using dried flowers and spooky accents.
DIY projects allow you to add a personal touch to your decor, making it truly unique and reflective of your own style and creativity.
7. Statement Pieces: Making a Bold Impact
Select a few statement pieces that seamlessly blend farmhouse and Halloween aesthetics.
A large antique mirror with spiderweb detailing, a distressed farmhouse cabinet with carved pumpkin motifs, or a vintage chandelier adorned with eerie decorations can become eye-catching focal points in your decor.
These bold pieces make a significant impact, instantly capturing attention and showcasing the perfect blend of farmhouse charm and Halloween allure.
8. Seasonal Wreaths and Garlands: Welcoming Guests with Style
Adorn your front door and mantelpiece with seasonal wreaths and garlands that combine farmhouse and Halloween elements.
Use dried flowers, twigs, and ribbon in warm fall colors, and incorporate spooky accents like black feathers, mini pumpkins, and witch hats.
These welcoming decorations set the tone for your entire home, inviting guests with style and showcasing the beautiful fusion of farmhouse and Halloween aesthetics.
9. Centerpieces: Setting the Mood for Gatherings
When hosting Halloween gatherings, create captivating centerpieces that capture the essence of both styles.
Arrange a combination of farmhouse items like milk jugs, distressed candle holders, and wheat sheaves with eerie additions like skulls, black roses, and creepy-crawly creatures.
This blend of farmhouse and Halloween elements sets the mood for gatherings, adding a touch of elegance and spookiness to the occasion.
10. Farmhouse Halloween Tablescapes: Combining Elegance and Spookiness
Design stunning tablescapes that merge the elegance of farmhouse decor with the spookiness of Halloween.
Use a neutral tablecloth as a backdrop and layer it with lace or burlap runners.
Incorporate antique dinnerware, vintage candle holders, and autumnal floral arrangements.
Add a touch of Halloween with gothic-style cutlery, black napkins, and pumpkin-shaped place card holders.
This combination creates a visually captivating and memorable dining experience that seamlessly blends farmhouse charm and Halloween allure.
11. Outdoor Decor: Extending the Magic Beyond Your Home
Extend your farmhouse Halloween decor to your outdoor spaces.
Create a charming pumpkin patch display with different-sized pumpkins and hay bales.
Hang a spooky wreath on your front gate, wrap your porch posts with faux spider webs, and place lanterns along your pathway.
Outdoor decor captivates passersby and creates a welcoming atmosphere for trick-or-treaters, allowing you to extend the magic of farmhouse and Halloween styles beyond the confines of your home.
12. Safety Measures: Ensuring a Fun and Secure Halloween
While focusing on aesthetics, it's crucial to prioritize safety during Halloween.
Ensure walkways are well-lit and free of obstacles. Use LED candles instead of real flames to avoid fire hazards.
Place decorations away from heat sources. Follow local guidelines for outdoor lighting and decorations.
By prioritizing safety, you can enjoy a worry-free and delightful Halloween while fully embracing the farmhouse and Halloween styles in your decor.
13. Tips for Storing Decor: Keeping Your Collection Organized
After the Halloween season, it's essential to store your decor properly to preserve its quality.
Use clear plastic bins to categorize and organize items. Label each bin for easy identification.
Wrap delicate decorations in tissue paper or bubble wrap to prevent damage.
Store the bins in a cool, dry place to maintain their longevity.
By following these tips, you can keep your farmhouse Halloween decor in excellent condition and ensure that it's ready to dazzle again next year.
15 Spooky Farmhouse Halloween Decor
15. Spooky Kitchen Corner – Liz Marie Blog
14. Trick Or Treat Halloween Entry Way – Pink Peppermint Design
13. Cozy Farmhouse Halloween Mantle – Liz Marie Blog
12. Floating Witch Hat In Dining Area – The Design Twins
11. Hocus Pocus Mantle Mantle – 2 The Sunny Side
10. Halloween Witch Themed Foyer – With The Blinks
9. Neutral Farmhouse Halloween Mantle – Liz Marie Blog
8. Trick Or Treat Porch Decor – 2 The Sunny Side
7. Halloween Dining Area – Andee Layne
6. Jack-O-Lantern Halloween Tablescape – Deb And Danelle
5. Spooky Pumpkin Group – Liz Marie Blog
4. Foraged Halloween Mantel – Modern Glam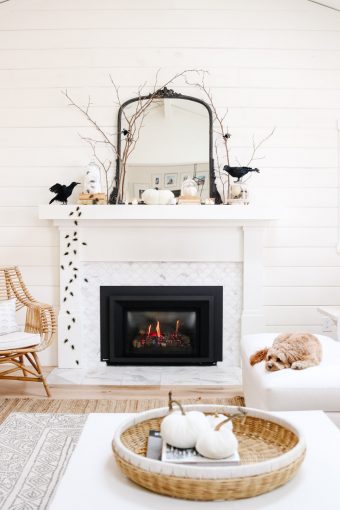 3. Stylish Skull Table Decor – Andee Layne
2. Halloween Crows Attack Corner – Liz Marie Blog
1. Darkness Rising Halloween Table – A Slice Of Style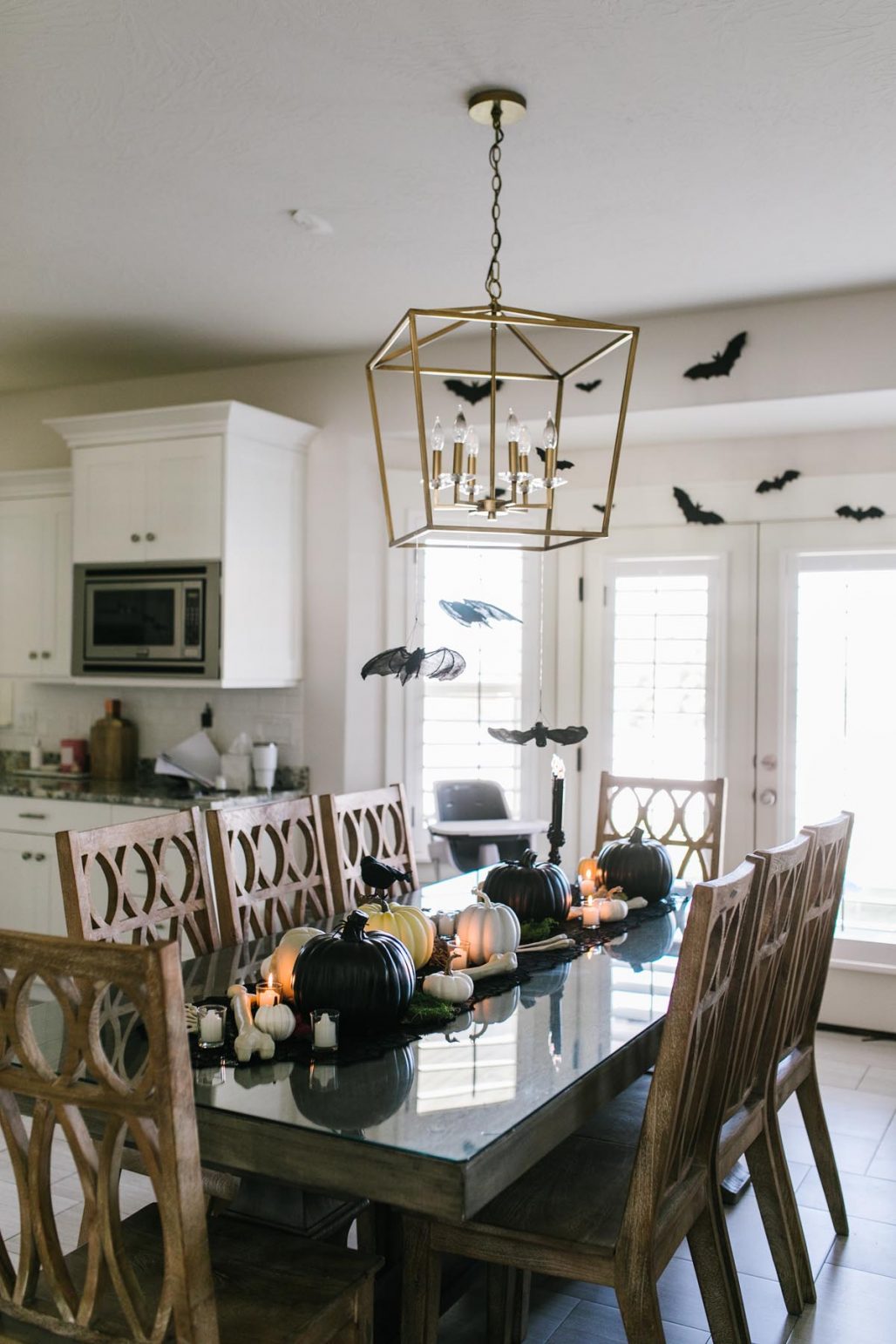 SAVE THIS PIN FOR LATER
FAQs
Q. Can I blend farmhouse and Halloween styles if I prefer a more modern aesthetic?
Absolutely! Blending styles are all about personalizing your decor. If you lean towards a modern aesthetic, you can incorporate farmhouse and Halloween elements with a contemporary twist. Consider sleek lines, minimalist colors, and abstract Halloween accents to achieve a modern farmhouse Halloween look.
Q. How can I incorporate farmhouse and Halloween styles in a small space?
Even in a small space, you can create a charming blend of farmhouse and Halloween styles. Focus on utilizing multipurpose furniture, such as a vintage trunk that doubles as a coffee table and storage. Opt for smaller farmhouse accents like mason jar candle holders and mini pumpkin displays. Utilize vertical space with hanging wreaths and garlands.
Q. How can I maintain a balance between the farmhouse and Halloween elements?
To maintain a balance, consider the proportion and placement of each element. Ensure that farmhouse and Halloween accents are evenly distributed throughout your space. For example, if you have a farmhouse-style mantel, incorporate Halloween-themed candles, garlands, and small figurines to create a balanced composition.
Q. Can I blend farmhouse and Halloween styles if I have a limited budget?
Absolutely! Blending farmhouse and Halloween styles can be done on any budget. Look for affordable farmhouse-inspired decor at thrift stores, flea markets, or online marketplaces. DIY projects using inexpensive materials like burlap, twine, and paint can also add a farmhouse touch. For Halloween accents, consider making your own decorations using recycled materials or opting for affordable store-bought items. With a little creativity and resourcefulness, you can achieve a stunning blend of farmhouse and Halloween styles without breaking the bank.
Q. How can I make my farmhouse Halloween decor child-friendly?
If you want to create a child-friendly farmhouse Halloween decor, focus on incorporating fun and whimsical elements rather than spooky or scary ones. Use friendly ghost decorations, cute pumpkin characters, and colorful fall-themed accents. Avoid using graphic or frightening imagery. Additionally, ensure that your decor is safe for children by avoiding small parts, sharp edges, or fragile items. By infusing a playful and inviting atmosphere, you can create a farmhouse Halloween decor that delights both children and adults.
Q. How can I blend farmhouse and Halloween styles in an apartment or rental home?
Blending farmhouse and Halloween styles in a rental home or apartment can be achieved without making permanent changes. Focus on portable decor items that can be easily moved, such as artwork, throw pillows, and freestanding furniture. Utilize removable adhesive hooks or damage-free hangers to hang temporary decorations. Incorporate farmhouse elements with vintage-inspired items and add Halloween accents through themed accessories and decals. By using these strategies, you can create a captivating blend of farmhouse and Halloween styles while respecting the limitations of your rental space.