Discover the spooktacular world of DIY Halloween decorations! Get ready to transform your home into a haunted wonderland with easy and creative projects. Unleash your creativity and craft your way to a boo-tiful and hauntingly fun celebration!
Get ready to embrace the magic of the season and embark on a spooktacular adventure of DIY Halloween decorations that are simple, cute, and budget-friendly.
Let your creativity run wild as you craft delightful decorations that will add a personal touch to your haunted festivities.
From adorable ghostly pumpkins and charming witch hats to eerie spiderweb garlands and playful bat accents, these DIY decorations will transform your home into a Halloween wonderland.
Add your personal flair by incorporating creative elements, your favorite colors, and a touch of whimsy, making each decoration genuinely one-of-a-kind.
With simple and easy-to-follow instructions, even novice crafters can achieve impressive results.
So gather your DIY supplies, ignite your Halloween spirit, and create a bewitching atmosphere with decorations that captivate and charm.
10 Everyday Items To Make Spooky Decorations
Transforming your home into a haunted abode is a thrilling experience, and the good news is that you don't need expensive props to do it!
In this article, we'll explore how 10 everyday items can be repurposed into spine-chilling decorations that will impress and frighten your guests.
Let's get into the spirit of Halloween and discover the secrets to crafting spooky decor.
1. Ghostly Gourds: Haunted Pumpkins
Pumpkins are the quintessential symbol of Halloween, but why stick to the traditional jack-o'-lantern?
Create ghostly gourds by using cheesecloth or white fabric to cover the pumpkin entirely.
Add some eerie eyes and a mouth using black markers, and you have yourself a friendly ghost that can adorn your porch or indoor spaces.
It's a simple yet effective way to give your Halloween decor a unique and haunting touch.
2. Glowing Specters: DIY Ghost Lanterns
Light up the night with DIY ghost lanterns that are sure to give anyone goosebumps.
Take empty glass jars and wrap them in white tissue paper or cheesecloth, securing them with twine. Insert battery-operated tea lights inside the jars, and voilà!
You have eerie ghost lanterns that emit a spine-chilling glow.
These ghost lanterns can be placed on your windowsills, or porch, or even hung from tree branches to create an eerie ambiance.
3. Spectral Silhouettes: Haunting Window Decals
Add a touch of ghostly elegance to your windows with haunting window decals.
Use black craft paper or vinyl sheets to cut out spooky silhouettes like bats, witches, and cats.
Stick them on your windows to create a shadowy scene that will captivate passersby.
The best part is that these window decals are easy to remove, making them a perfect choice for temporary Halloween decorations.
4. Wicked Wreaths: Sinister Front Door Decor
Welcome your guests with a wicked wreath that sets the tone for your haunted home.
Use a basic grapevine wreath as the base and adorn it with faux cobwebs, plastic spiders, and eerie trinkets like miniature skulls and bones.
Hang it on your front door for a spooky yet inviting entrance.
This wicked wreath not only looks impressive but also serves as a great conversation starter for your Halloween party.
5. Macabre Mantel: Creepy Fireplace Focal Point
Turn your fireplace mantel into a macabre display of terror.
Arrange black candles, antique-looking candelabras, and dried branches adorned with faux cobwebs.
Add small pumpkins and eerie figurines to complete the haunted look.
Your mantel will become the focal point of your Halloween decor, instantly transforming your living room into a spooky and atmospheric space.
6. Spooky Centerpieces: Halloween Table Delights
Create spooky centerpieces that will wow your guests during Halloween dinner.
Fill glass jars with candy corn or dark-colored candies, and insert battery-operated tea lights for an eerie glow.
You can also use creepy crawlies like plastic spiders or snakes to add an extra touch of fright.
These centerpieces will not only enhance your dining table but also keep the Halloween spirit alive throughout the meal.
7. Sneaky Shadows: Haunted Wall Art
Craft sneaky shadows that will make your walls come alive with spookiness.
Cut out black paper or cardboard in the shape of menacing creatures like bats or rats.
Attach them to the walls using removable adhesive putty, and watch as the shadows dance in the dim light.
This creative and cost-effective decoration idea adds a touch of mystery and eeriness to any room.
8. Eerie Entryways: Creaky Door Decor
Create an eerie ambiance right from the moment your guests approach your front door.
Attach faux spiderwebs, black fabric, and dangling bats to your door frame.
Add a motion-activated skeleton or ghost prop that welcomes visitors with creepy sounds and movements.
This spooky entrance will set the perfect tone for your Halloween party and leave your guests excited for what awaits inside.
9. Menacing Mirrors: Sinister Reflections
Turn ordinary mirrors into portals to another realm with a menacing touch.
Use washable window markers to draw spooky messages or eerie faces on the mirror's surface.
This simple trick will give anyone who gazes into the mirror a chilling surprise.
Place these mirrors strategically throughout your home to add an element of surprise and intrigue to your Halloween decor.
10. Creepy Crawly Lanterns: Outdoor Illumination
Add an eerie glow to your outdoor spaces with creepy crawly lanterns.
Take empty tin cans and punch holes in the shape of creepy crawlies like spiders, bats, and owls.
Place a candle inside each can, and when lit, these lanterns will cast ominous shadows around your garden.
These creepy crawly lanterns not only add spooky lighting but also make your garden come alive with the spirit of Halloween.
60 Spooky DIY Halloween Decorations
60. DIY Halloween Candles – The Navage Patch
59. DIY Skull Sunflower Halloween Wreath – The Navage Patch
58. DIY Halloween Glass Gloche – Darling Darleen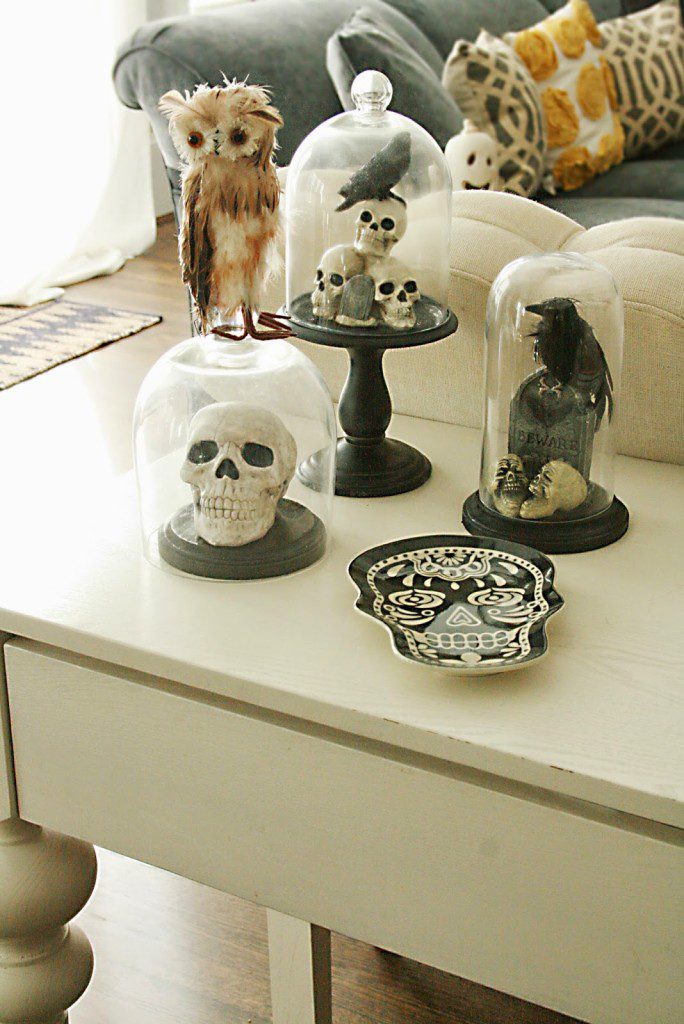 57. DIY Ghosts Cloche – houseofvandel
56. DIY Black Terracotta Pumpkin – pinehillhaven
55. DIY Tomato Cage Ghosts – a.freckled.fawn.design
54. DIY Wooly Ghost – dollartree.goodies5
53. DIY Dollar Tree Glowing Ghosts – itsdiydenise
52. DIY Pastel Jaco O Lanterns – beautifulinspire.co
51. DIY Skull Bowl – stephaniehannablog
50. DIY Bubbling Cauldron – aurelie.erikson
49. DIY Cloth Ghosts – myfourwonders
48. DIY Disco Spiders – our.nohai.home
47. DIY Macrame Ghost – thenavagepatch
46. DIY Ghost Halloween Cloche – glass.manor
45. DIY Glowy Halloween Cauldron – apieceofmyhaven
44. DIY Princess Castle Makeover – blushingembers
43. DIY Ghost Pillow – ashleymariesavage
42. Halloween Hanging Cages – thenavagepatch
41. DIY Dollar Tree Anthropologie Gothic Cloche – houseofvandel
40. DIY Ghost Pillow Covers – alleycat2301
39. DIY Halloween Treat Bucket Ghost – makeitwithmicah
38. DIY Dollar Tree Solar Pumpkin Lanterns – allthethingswithrachael
37. DIY Tissue Paper Halloween Candle – craftylumberjacks
36. DIY Floating Cousin ITT – domenique_trupia
35. DIY Disco Ball Cauldron – rachelpuccetti
34. DIY Light Up Ghost Garland – houseofvandel
33. DIY Dog Tombstone – the_buena_vista_haunt
32. Pickled Skulls & Bones – thenavagepatch
31. DIY Halloween Doormat – thedoormatcompany
30. DIY Dollar Tree Halloween Eyeballs Beaded Garland – d.i.y.holic
29. Harry Potter Floating Candles – mrsmckennabarry
28. DIY Stacked Books & Skull – raenicolleee
27. DIY spooky Ghost Painting– simplystagedandstyled
26. DIY Haunted Halloween Ride – athomewithjanan
25. DIY Lighted Cauldron – apieceofmyhaven
24. Dollar Tree Skull Cloche – our.nohai.home
23. DIY White Painted "BOO" Ghost – glass.manor
22. DIY Halloween Moss Bowl – apieceofmyhaven
21. DIY Ghost Sconces – modernvintagecasa
20. DIY Terracotta Pumpkins & Skeletons – thepinkjasmin
19. DIY Concrete Jack O Lanterns – cherish.larsen
18. DIY Halloween Disco Mushrooms – aurelie.erikson
17. DIY Ghost & Stacked Pumpkins – glass.manor
16. DIY Glass Pumpkin Glowing Centerpiece – aurelie.erikson
15. Colorful Ghosts Garland – floralflairstudio
14. DIY Wood & Acrylic "BOO" Sign – melodyinthemaking
13. Happy Little Halloween Monster – meluaprosagai
12. DIY Faux Cast Iron Cauldron – casagrella
11. DIY Haunted Doll House – athomewithjenna
10. Halloween Plague Doctor – jay_of_the_dead13
9. Candy Corn Layered Stencil – stampedby_leslie
8. DIY Skeleton & Flowers Wreath – leveledgrain
7. DIY Dollar Tree Haunted House – dollartree.goodies5
6. Spooky Jack Skellington – crafty_kelly_91
5. Pottery Barn Halloween Dupe Spider Wreath – itsdiydenise
4. DIY Spooky Pumpkins Makeover – reevesredesign
3. DIY Bride Of Frankenstein – houseofvandel
2. Vintage Inspired Papier-Mâché Jack-o'-Lanterns – lindsayinalaska
1. Spiders Floating Candle Holder – makeitwithmicah
SAVE THIS PIN FOR LATER