Get spooky and creative with these easy DIY dollar store Halloween crafts! Find easy DIY fall craft ideas and decorations and more. Perfect for a frightfully fun Halloween on a budget.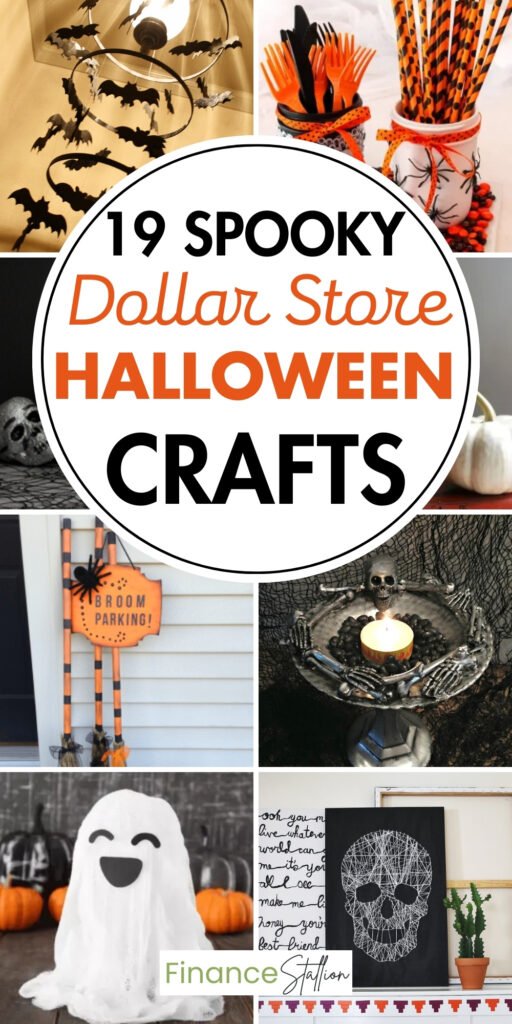 Step into the spooky season with a twist of creativity!
This Halloween, unleash your inner craft enthusiast and get ready to transform your dollar store finds into hauntingly beautiful decorations.
In this blog, I'll be sharing my favorite dollar store Halloween crafts that will send chills down your spine (in a good way!).
Whether you're a seasoned crafter or a beginner looking to explore your creative side, these affordable and unique projects will help you embrace the spirit of Halloween while adding your own personal touch.
Get ready to make your home the talk of the town with these spooktacular creations!
10 Tips To Use Dollar Store Items To Make Unique Halloween Crafts
In this article, we'll explore creative tips and tricks to transform affordable finds from the dollar store into unique and spooktacular Halloween crafts.
From eerie decorations to creepy costumes, you'll be amazed at what you can create without breaking the bank.
Let's dive into the world of DIY Halloween crafts and discover how to turn ordinary dollar store items into extraordinary pieces of art.
1. Crafting Creepy Centerpieces
A well-crafted centerpiece can instantly elevate the Halloween ambiance of your home.
Consider using dollar store items such as plastic cauldrons, faux pumpkins, and spooky figurines to create a captivating centerpiece.
Fill the cauldrons with faux spiderwebs or colored water, and arrange the pumpkins and figurines in a visually pleasing manner.
Add LED candles or string lights for an eerie glow that will set the mood.
2. Eerie Wreaths: Doorway Delights
A Halloween wreath is a fantastic way to greet trick-or-treaters and set a spooky tone for your home.
Start with a basic foam or wire wreath frame from the dollar store and adorn it with dollar store finds like plastic spiders, bats, or skeleton hands.
Incorporate faux autumn leaves, black tulle, or creepy cloth for an extra touch of spookiness.
Hang it on your front door, and watch as it captures everyone's attention.
3. Terrifying Tombstones: Graveyard Decor
Transform your yard into a chilling graveyard with the help of dollar store tombstones.
These lightweight foam tombstones are inexpensive and perfect for creating an eerie atmosphere.
Use black acrylic paint to add weathered details and write spooky epitaphs.
Arrange them in your yard, partially burying them in the ground for a realistic effect.
Add some faux spiderwebs and strategically placed LED spotlights for an extra dose of creepiness.
4. Bewitching Lanterns: Illuminating Shadows
Create mesmerizing shadows and an enchanting glow with dollar store lanterns.
Choose lanterns with intricate patterns or cutouts that will cast intriguing shadows when illuminated.
Insert battery-operated candles or LED lights inside the lanterns for a safe and eerie flickering effect.
Hang them from tree branches or place them strategically around your home to create an otherworldly ambiance.
4. Ghostly Garlands: Hauntingly Beautiful
Garlands are versatile decorations that can be easily customized to fit any space.
Using dollar store items like cheesecloth, plastic ghosts, and mini pumpkins, you can create ghostly garlands that float in the air.
Drape the cheesecloth, attach the ghosts and pumpkins, and secure them with twine or ribbon.
Hang the garlands across windows, mantels, or staircases for a whimsically haunting touch.
5. Sinister Spider Webs: Spooky Spinners
No Halloween decor is complete without spiderwebs.
Dollar stores offer affordable spider webbing that can be stretched and draped across furniture, walls, and corners.
Add a few plastic spiders for a spine-chilling effect.
Stretch the webs to create a larger surface area and combine them with eerie lighting to transform your space into a haunted hideout.
6. Petrifying Party Favors
Hosting a Halloween party? Dollar stores have a wide variety of party favors that can be customized to suit your theme.
From mini cauldrons filled with candy to spider rings and glow sticks, you'll find everything you need to delight your guests.
Get creative by adding personalized tags or labels to the favors, and watch as your guests leave with a memorable token of the night.
7. Hair-Raising Home Accents
Elevate your Halloween decor with unique and unexpected accents.
Dollar store items like black lace doilies, plastic ravens, and witch hats can be transformed into eye-catching decorations.
Place the lace doilies under candle holders for a dramatic effect, perch the ravens on bookshelves or mantels, and hang witch hats from the ceiling for a bewitching display.
8. Pumpkin Perfection: Carving and Beyond
Pumpkins are synonymous with Halloween, and the dollar store offers a range of faux pumpkins that can be customized without the mess of carving.
Use paint, rhinestones, or ribbon to create unique designs or add a touch of elegance to your pumpkins.
You can also stack and glue pumpkins together to create a striking centerpiece or display them on your porch for a warm Halloween welcome.
9. Spine-Chilling Candles: Flickering Flames
Candles add a magical and eerie glow to any Halloween setting.
Dollar stores often carry pillar candles, tea lights, and LED candles in various shapes and sizes.
Enhance the ambiance by using candle holders adorned with bats, skulls, or spiders.
Place them strategically throughout your home for a spine-chilling effect.
10. Wicked Window Decor: Eyes of Terror
Make your windows come alive with frightful scenes using dollar store window clings and decals.
Choose from a variety of designs such as silhouettes of witches, ghosts, or haunted houses.
Apply them to your windows to create an eerie spectacle that will catch the eyes of passersby.
Combine them with flickering candles or string lights for an extra haunting touch.
19 Spooky Dollar Store Halloween Crafts
19. Spooky Floating Cheesecloth Ghost – One Good Thing
18. Broom Parking Decor – Pet Scribbles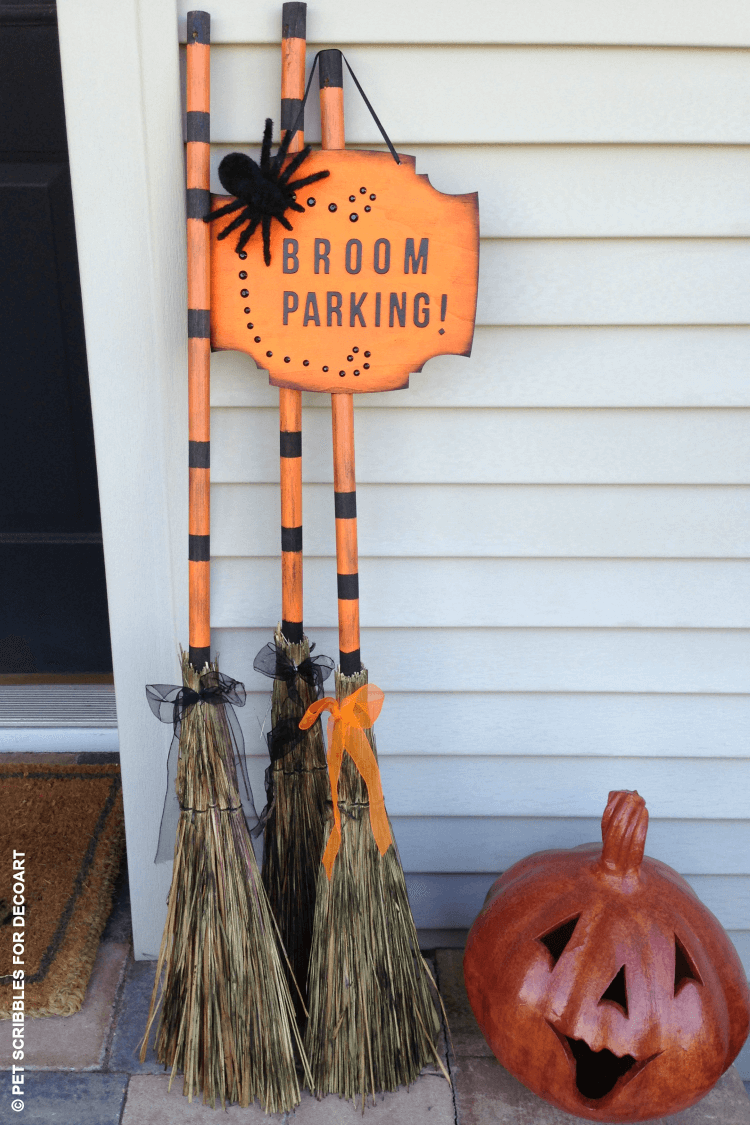 17. DIY Skeleton Dish – Four Front Doors
16. Skeleton Entryway Pots – The Keeper Of The Cheerios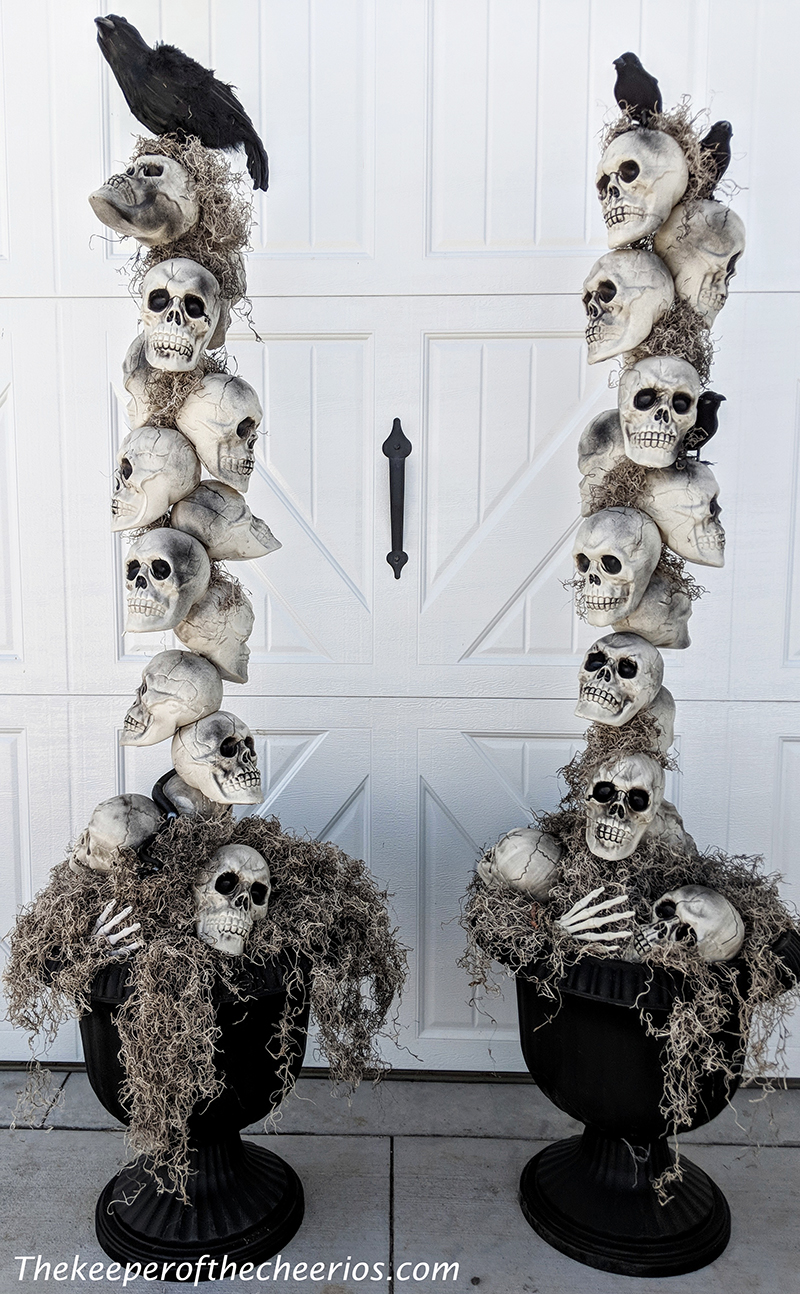 15. Boneyard Lantern – Oh My Creative
14. Skull String Art – A Beautiful Mess
13. Dollar Tree Skulls Makeover – DIY Candy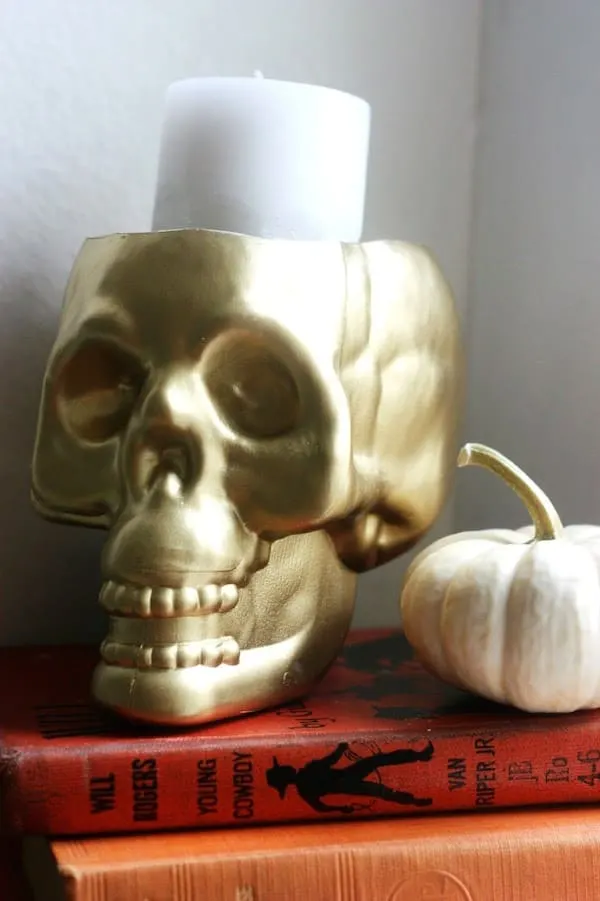 12. Halloween Sock Gnomes – It's Always Autumn
11. Halloween Candy Jar – A Pumpkin And A Princess
10. DIY Halloween Sign – Re-fabbed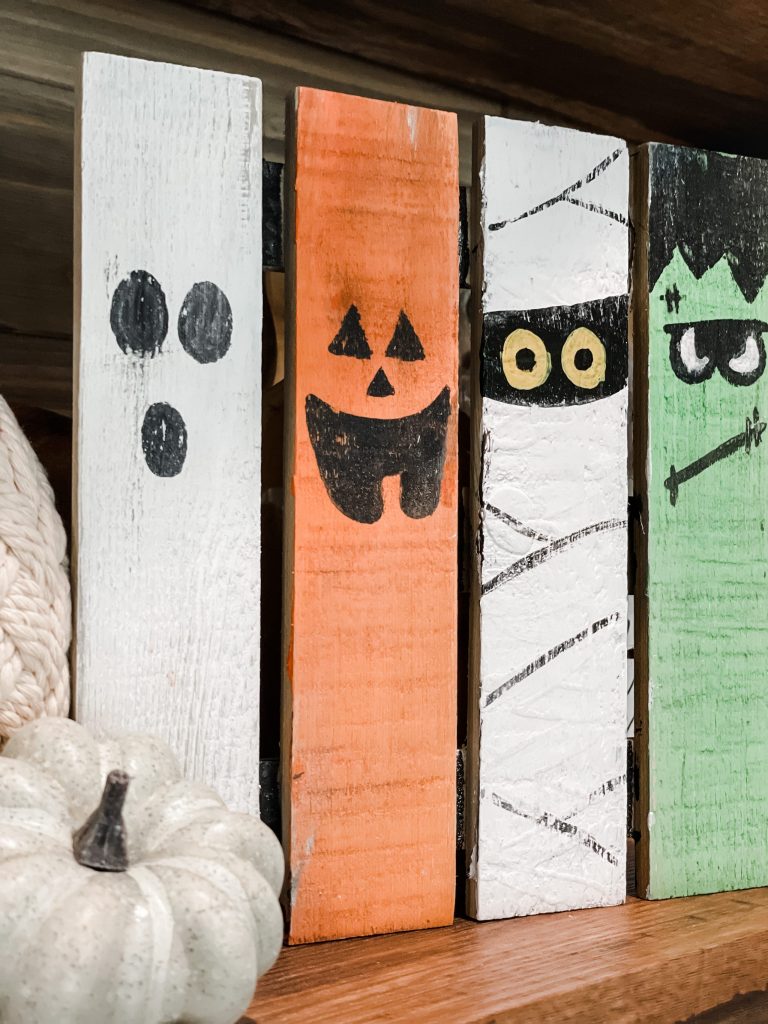 9. DIY Halloween Village – The 36th Avenue
8. DIY Halloween Candles – House Of Dew Berry
7. DIY Image Transfer Candles – Today's Creative Life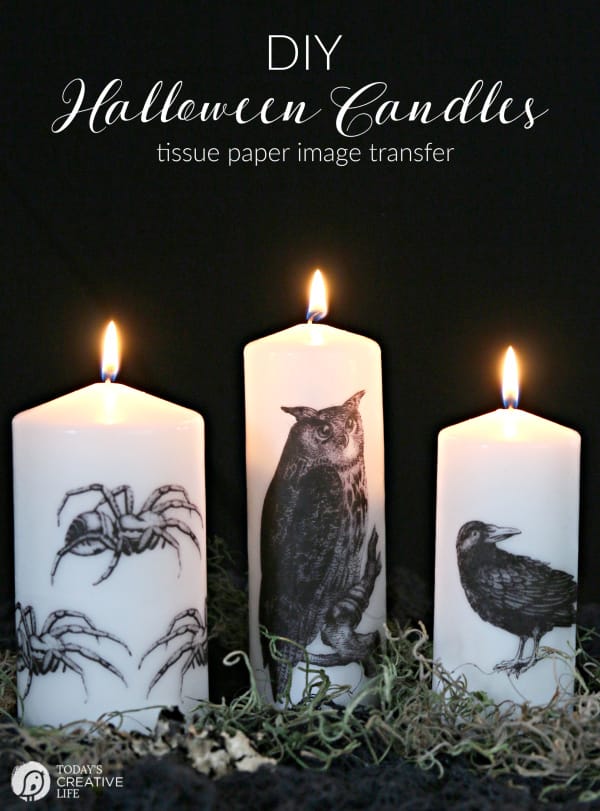 6. Pumpkins, Ghosts, And Spiders Garland – Growing Up Gabel
5. Halloween Painted Rocks – Food Kids Love
4. DIY Gilded Insect Faux Taxidermy – The Gathered Home
3. DIY Mason Jar Halloween Holders – Meraki Lane
2. Spooky Bat Chandelier – A Diamond In The Stuff
1. DIY Trick or Treat Pumpkins – Honey I M Home DIY
SAVE THIS PIN FOR LATER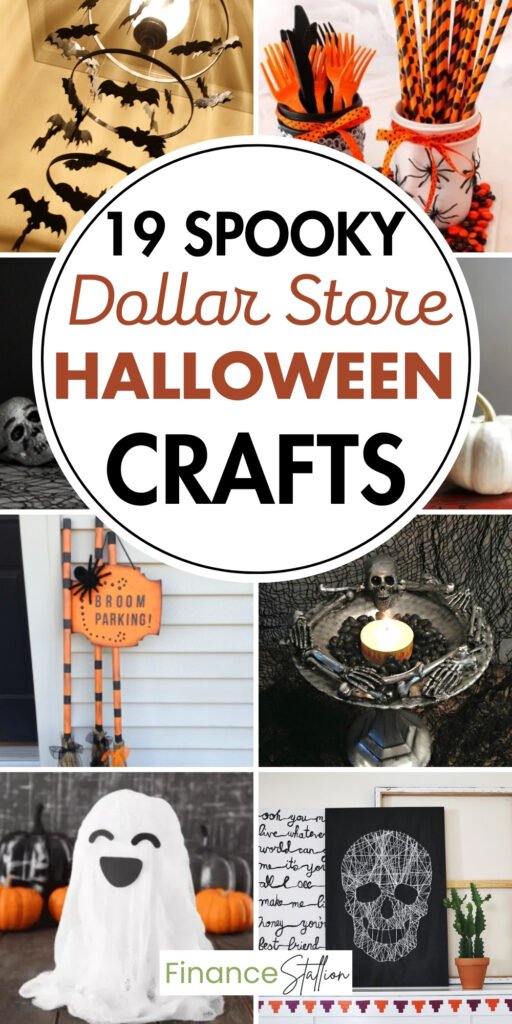 FAQs
Q. Can I find specific Halloween-themed items at the dollar store?
Yes, dollar stores usually have a wide selection of Halloween-themed items, including decorations, costumes, and party supplies. You can find everything from spooky masks and faux cobwebs to pumpkin-shaped candy bowls and eerie lanterns.
Q. Can I personalize dollar store items to match my Halloween theme?
Absolutely! Dollar store items are a great starting point for customization. You can use paints, glitter, ribbons, and other embellishments to transform them and make them fit perfectly with your chosen Halloween theme.
Q. Are dollar store craft supplies of good quality?
The quality of dollar store craft supplies can vary. While some items may be of decent quality, others may be more basic. It's a good idea to examine the items closely before purchasing and read customer reviews if available.
Q. How can I make dollar store crafts look more expensive?
There are various ways to make dollar store crafts look more upscale. Consider adding extra details like metallic spray paint, rhinestones, or intricate designs. Mixing and matching different items can also create a more sophisticated and polished look.
Q. Can dollar store items be repurposed for kids' Halloween crafts and activities?
Definitely! Dollar store items are fantastic for kids' Halloween crafts. You can find supplies like craft foam, googly eyes, pipe cleaners, and stickers that are perfect for creating spooky masks, pumpkin decorations, or even mini haunted houses. Let their imagination run wild!