Spook up your kitchen with DIY Halloween kitchen decor ideas! Transform your cooking space into a haunted haven with bewitching accents and eerie charm.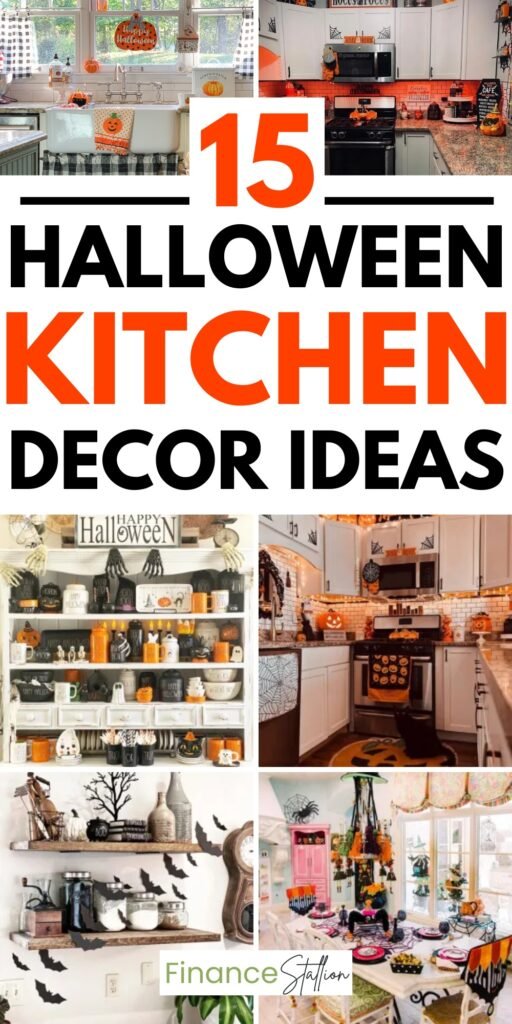 Welcome to the spooky season!
Halloween is just around the corner, and it's time to bring hauntingly fun vibes into every corner of your home, including your kitchen.
Whether you're planning a Halloween party or simply want to add a touch of festive flair to your cooking space, Halloween kitchen decor is the perfect way to set the mood.
From eerie table settings to wickedly adorable utensils and appliances, there are countless ways to transform your kitchen into a ghostly gathering spot.
Get ready to embrace the spirit of Halloween as we explore creative and bewitching ideas to bring the spook factor into your culinary domain.
So put on your witch's hat and join us as we discover the enchanting world of Halloween kitchen decor!
15 Tips To Transform Everyday Kitchen Items Into Halloween Decor
If you're looking to add a touch of Halloween spirit to your kitchen, you don't need to break the bank on expensive decorations.
Instead, why not utilize everyday kitchen items to create unique and budget-friendly Halloween decorations?
In this article, we'll explore some fun and creative tips to transform ordinary kitchen items into spooky and festive décor.
1. Haunted Mason Jar Lanterns
Mason jars are versatile and readily available in most kitchens.
To create hauntingly beautiful lanterns, clean empty mason jars and paint them with eerie designs like ghosts, bats, or witches.
Place a tea light or battery-operated candle inside each jar and watch as they cast a spooky glow around your home.
2. Creepy Crawly Utensil Holders
Repurpose old kitchen utensil holders or cans by painting them with black and orange colors.
Add some creepy-crawly stickers or draw spiders and cobwebs to give them a Halloween touch.
Now, you have the perfect containers for your Halloween party cutlery.
3. Wicked Witch Broomstick Centerpiece
Grab an old broomstick and place it in a decorative vase.
Surround the base with fake cobwebs, plastic spiders, and some battery-operated candles to create a wicked witch centerpiece for your dining table.
4. Ghoulish Grater Luminaries
Take that old metal cheese grater from your kitchen and transform it into a ghoulish luminary.
Paint it in spooky colors and insert a small LED candle inside.
The grater holes will cast eerie shadows, setting a chilling ambiance.
5. Spooky Potion Bottles
Empty glass bottles, like those used for olive oil or vinegar, can become creepy potion bottles.
Create spooky labels for them, such as "Dragon's Blood" or "Eye of Newt," and fill them with colored water.
These bottles are perfect for adding a touch of witchcraft to your decorations.
6. Skeleton Cookie Cutter Garland
Dig out those old cookie cutters and give them a Halloween makeover.
Spray-paint them black or orange and string them together to form a spooky garland.
Hang it across your mantle or staircase for an extra dose of Halloween flair.
7. Chilling Cheese Cloth Ghosts
Cut old, white cheese cloths or thin fabric into ghostly shapes.
Dip them in a mixture of glue and water to stiffen them, and drape them over balloons to create eerie, floating ghosts.
Once dry, pop the balloons and hang the spooky specters around your home.
8. Pumpkin Spice Candle Holders
Save those empty pumpkin spice jars, remove the labels, and clean them thoroughly.
Paint them with fun pumpkin faces and place tea lights inside to make charming candle holders that embrace the autumn spirit.
9. Jack-o'-Lantern Fruit Bowl
Turn a large, hollowed-out pumpkin into a festive fruit bowl.
Fill it with a variety of fruits like apples, oranges, and grapes, and place it at the center of your table.
It's a healthy and decorative treat for your Halloween guests.
10. Eerie Eyeball Plate
Take a white plate and paint a large eyeball in the center with black and red colors.
Surround it with smaller eyeballs or bloodshot veins.
This haunting plate can be used to serve spooky treats or displayed as a decorative piece.
11. Wicked Wall Art
Transform old baking sheets into eerie wall art by spray-painting them black.
Add some spooky silhouettes like bats, witches, or black cats using stencils.
Hang them on your walls or doors for an instant Halloween transformation.
12. Batty Cabinet Handles
Replace your regular cabinet handles with bat-shaped ones.
These can be easily found in craft stores or made by cutting out bat shapes from black cardstock.
It's a small but effective detail that adds a touch of Halloween to your kitchen.
13. Cauldron Candy Bowl
Dust off that old cauldron-shaped cooking pot and turn it into a candy bowl for trick-or-treaters.
Fill it with an assortment of Halloween candies, and place it near your front door to welcome young ghouls and goblins.
14. Spooky Chalkboard Signs
Grab a small chalkboard and draw spooky messages or Halloween-themed designs on it.
You can hang it on your kitchen wall or use it as a tabletop decoration.
It's a great way to add a personalized touch to your Halloween decor.
15. Witch's Baking Station
If you have a small corner or countertop space, transform it into a witch's baking station.
Display your cauldrons, broomsticks, and spooky baking supplies.
It adds a whimsical touch to your kitchen and makes it feel like a magical Halloween workshop.
15 Stunning Halloween Kitchen Decor
15. Black & White Halloween Kitchen – Re-fabbed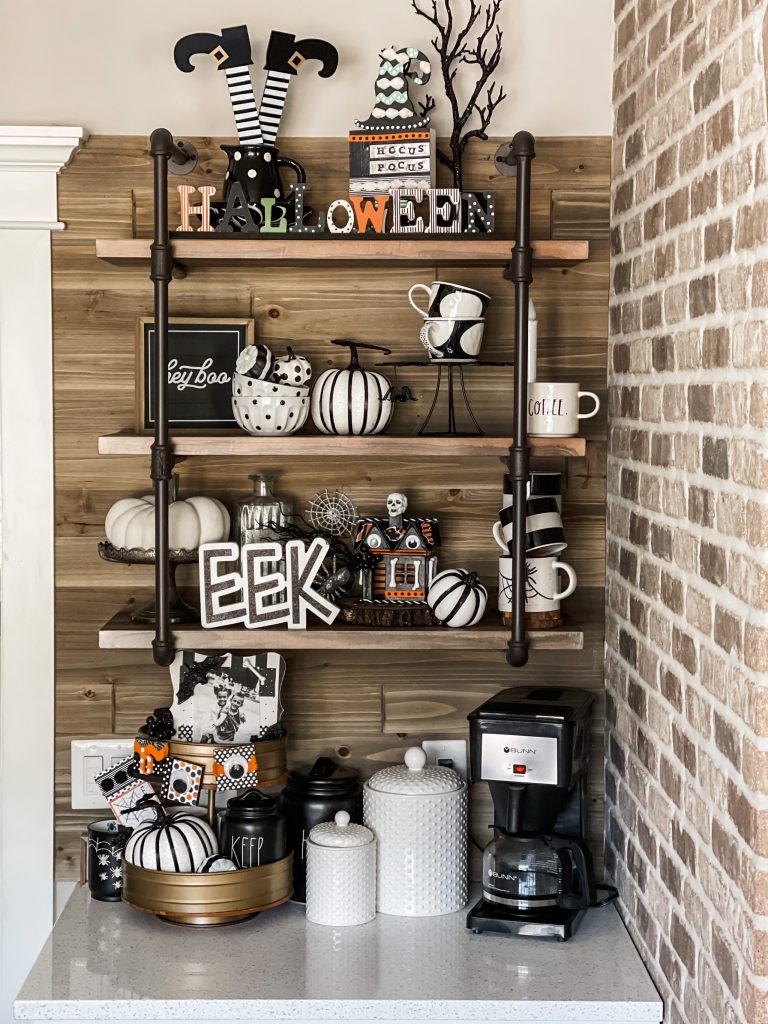 14. Halloween Kitchen Sideboard – Dining Delight
13. Classic Halloween Themed Tablescape – Whispers Of The Heart
12. Vintage Halloween Kitchen – It's A Charming Life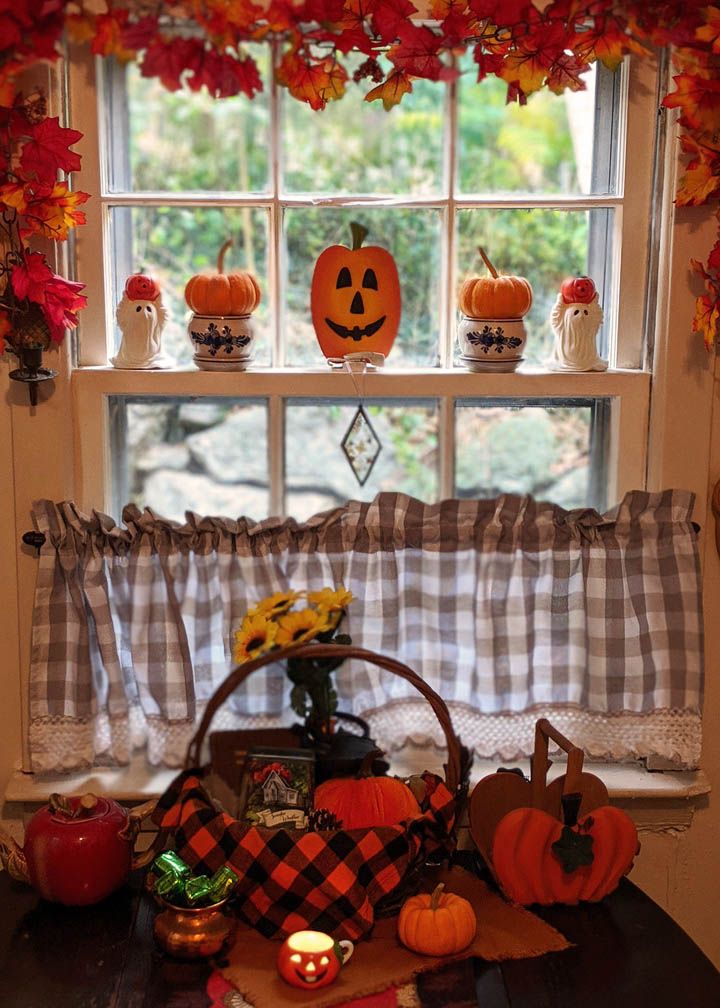 11. Trick Or Treat Halloween Kitchen – Golden Boys And Me
10. Haunted Halloween Kitchen – Dixie Delights Online
9. Gothic Halloween Kitchen – gothic_home
8. Swarm Of Bats – targetbullseyespot
7. Bat Swarm Attack – athomewithjenna
6. Colorful Halloween Kitchen – Turtle Creek Lane
5. Simple Halloween Kitchen – A Beautiful Mess
4. Trick Or Treat Kitchen – Life By Leanna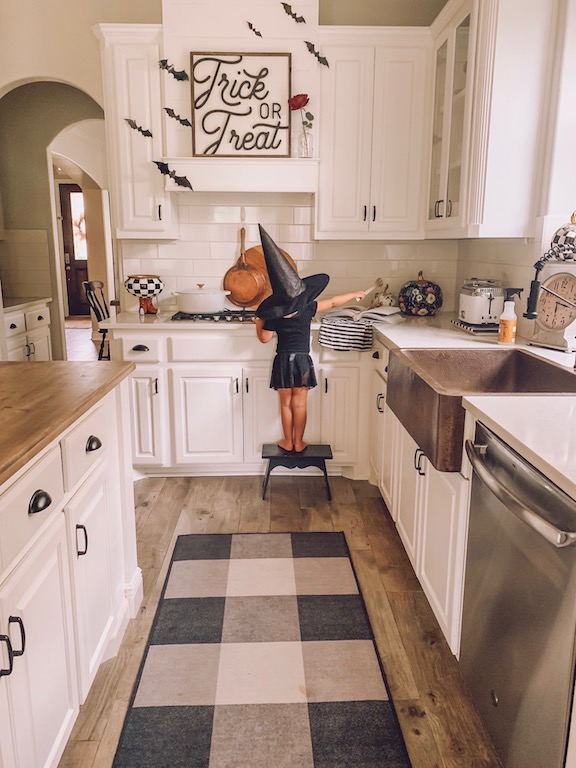 3. Dollar Tree Spooky Kitchen – annettee.rosales
2. Halloween Hutch Kitchen – thefreckled_farmhouse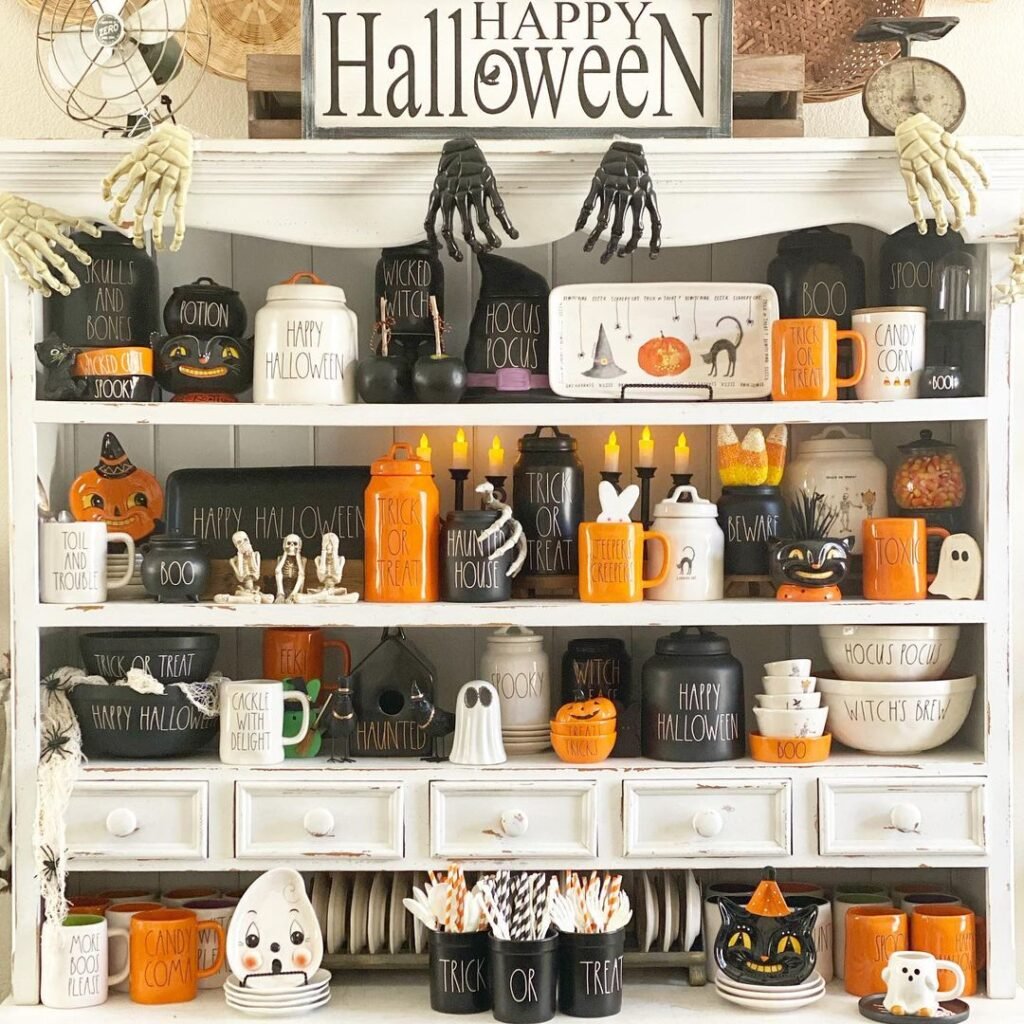 1. Spooky Halloween Kitchen – glass.manor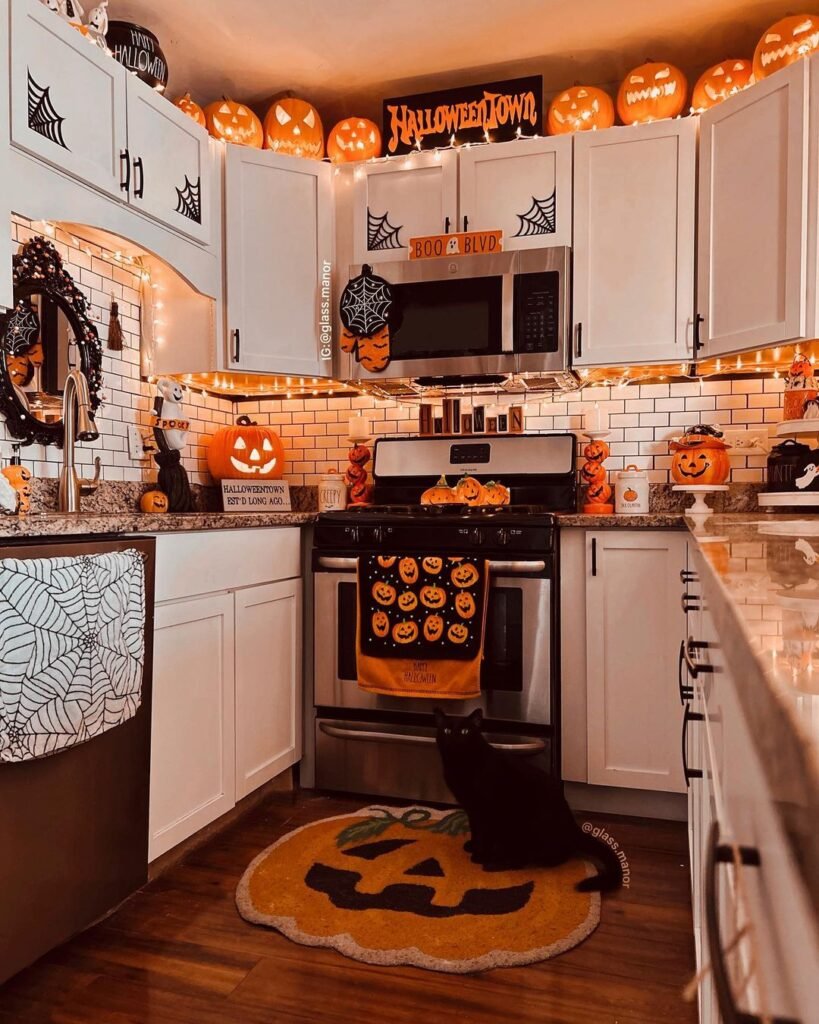 SAVE THIS PIN FOR LATER
FAQs
Q. Can I use regular candles instead of LED candles in the grater luminaries?
Yes, you can use regular candles, but it's advisable to prioritize safety by opting for LED candles or battery-operated ones, particularly if you have young children or pets in the vicinity.
Q. How do I remove the glue from the cheese cloth ghosts after Halloween?
To remove the glue from the cheese cloth ghosts, simply soak them in warm water for a few minutes, allowing the glue to dissolve. Once the glue has softened, gently rinse the ghosts before storing them for future use.
Q. Can I use real pumpkins for the pumpkin spice candle holders?
Using real pumpkins as candle holders is not recommended due to the fire hazard they pose. Instead, opt for empty jars or ceramic pumpkins specifically designed to hold candles, ensuring a safer and more reliable option for your decorations.
Q. How long does it take for the stiffened cheese cloth ghosts to dry?
The drying time for the stiffened cheese cloth ghosts can vary depending on factors such as fabric thickness and humidity levels in your area. It is recommended to allow at least 24 hours for the ghosts to dry thoroughly before removing the balloons and hanging them up as part of your spooky decor.
Q. Can I use regular paint for the mason jar lanterns, or do I need special paint?
You can use regular craft paint for the mason jar lanterns. Acrylic paints work well and are readily available in various colors, making it easy to create spooky designs on the jars. Just ensure the paint is dry and sealed before placing candles inside.
Q. How can I make the eyeball plate food-safe?
To make the eyeball plate food-safe, apply a clear food-safe sealant over the painted design. This will create a protective barrier between the paint and the food, allowing you to serve Halloween treats without any concerns.
Q. What are some ideas for repurposing kitchen towels for Halloween?
Kitchen towels can be transformed into Halloween-themed decor by adding festive designs. Consider using fabric markers or fabric paint to draw pumpkins, ghosts, or spider webs on the towels. You can also tie-dye them using orange and black fabric dyes for a fun and unique look.