Elevate your home with DIY fall table decorations. Discover inspiring fall tablescapes from fall centerpieces, seasonal accents, and cozy fall table settings. Embrace the season's beauty with charming, stylish arrangements that impress your guests.
As nature paints a vibrant tapestry of colors outside, it's time to bring that beauty indoors and create an enchanting fall table setting that captures the essence of the season.
In this blog, we'll explore a curated collection of creatively inspired ideas for fall table decor.
From rustic centerpieces and seasonal floral arrangements to charming place settings and ambient lighting, I've gathered a range of inspiring ways to transform your dining table into a stunning autumnal showcase.
Get ready to embrace the warmth and elegance of fall as we explore creative elements and thoughtful details that will set the perfect scene for memorable gatherings and shared meals.
Let's dive into the world of fall table decor and elevate your dining experience to a new level of sophistication and beauty.
15 Unique Ways to Create Nature-Inspired Fall Table Decor
One of the best ways to celebrate fall is by creating nature-inspired fall table decor.
By incorporating elements from the outdoors into your table settings, you can infuse your dining experience with warmth, beauty, and a touch of rustic charm.
In this article, we will explore unique ideas and techniques to help you design captivating fall table decor that will impress your guests and create a cozy ambiance.
1. Choosing a Theme
To begin your fall table decor journey, select a theme that resonates with your personal style and the ambiance you wish to create.
Some popular themes include rustic farmhouses, woodland enchantments, harvest festivals, or even a modern twist on autumn aesthetics.
Having a theme in mind will help guide your creative choices throughout the design process.
2. Harvest-Inspired Centerpieces
Design captivating centerpieces inspired by the bounty of the fall harvest.
Utilize wooden crates, woven baskets, or vintage trays as the foundation for your centerpiece.
Fill them with an assortment of pumpkins, gourds, apples, berries, and seasonal foliage.
Incorporating wheat stalks, dried corn husks, or mini hay bales can add an extra touch of rustic charm.
3. Autumn Color Palette
Embrace the rich and warm hues of autumn in your table decor.
Opt for a color palette that includes shades of deep red, burnt orange, golden yellow, and earthy browns.
These colors evoke the cozy and inviting ambiance of fall.
Integrate these tones through table linens, napkins, plates, and other decorative elements.
4. Natural Materials and Textures
Bring the outdoors to your table by incorporating natural materials and textures.
Use wooden chargers, bark-wrapped candle holders, or wicker placemats to add a rustic touch.
The juxtaposition of rough and smooth textures creates visual interest and adds depth to your fall table decor.
5. Foliage and Floral Arrangements
Enhance your fall table with beautiful foliage and floral arrangements.
Arrange a mixture of fresh or dried leaves, branches, and seasonal flowers in vases or mason jars.
Eucalyptus, sunflowers, dahlias, and maple leaves are excellent choices.
These botanical elements will infuse your table with natural beauty and a captivating aroma.
6. DIY Leaf Place Cards
Personalize your fall table settings by creating charming leaf-shaped place cards.
Collect fallen leaves in various shapes and sizes from your backyard.
Write the names of your guests on the leaves using metallic markers or calligraphy pens.
Place these leaf place cards on each plate, adding an elegant and nature-inspired touch.
7. Pumpkins and Gourds Galore
No fall table decor is complete without the quintessential pumpkins and gourds.
Choose pumpkins of different sizes, colors, and textures to create a visually appealing display.
Mix in some smaller gourds for added variety.
Arrange them as a centerpiece, use them as individual place settings, or scatter them along the table for a delightful autumnal touch.
8. Rustic Table Runners
A rustic table runner can instantly elevate your fall table decor.
Opt for burlap, plaid, or linen runners in earthy tones.
Embellish them with lace trim, fall foliage garlands, or even a row of miniature pumpkins.
This simple addition will tie the elements of your table setting together and create a cohesive look.
9. Candlelight and Soft Lighting
Create a warm and inviting atmosphere by incorporating candlelight and soft lighting into your fall table decor.
Place pillar candles of varying heights in candle holders or lanterns along the center of the table.
Add a touch of enchantment by intertwining fairy lights through foliage or draping them across the tablecloth.
10. Incorporating Seasonal Fruits
Celebrate the abundance of the season by incorporating seasonal fruits into your fall table decor.
Display bowls of fresh apples, pears, grapes, or figs as decorative accents.
Not only do they add a pop of color, but they also offer a refreshing and healthy snack option for your guests.
11. Farmhouse-Inspired Tableware
Give your fall table a touch of rustic elegance with farmhouse-inspired tableware.
Opt for ceramic or stoneware plates in earth tones.
Pair them with antique silverware, mason jar glasses, and wooden serving platters.
These elements will evoke a cozy and nostalgic atmosphere reminiscent of a countryside harvest gathering.
12. Adding Natural Scents
Enhance the sensory experience of your fall table decor by incorporating natural scents.
Place scented candles with fragrances such as cinnamon, apple pie, or pumpkin spice at strategic points on the table.
Alternatively, scatter potpourri infused with autumnal scents like cloves, nutmeg, or cedarwood.
13. Fall-inspired Napkin Rings
Elevate your table settings with fall-inspired napkin rings.
Use materials like twine, burlap ribbon, or colorful autumn leaves to create unique napkin rings.
Tie them around folded cloth napkins and place them on each plate.
This small detail will add a personalized touch to your table decor.
14. Creating a Warm Glow with Fairy Lights
Add a touch of magic to your fall table by incorporating fairy lights.
Wrap them around centerpieces, intertwine them with garlands, or suspend them from the ceiling to create a dreamy and cozy atmosphere.
The soft and warm glow of fairy lights will enchant your guests and make your fall table decor truly memorable.
15. Utilizing Unique Tablecloth Patterns
Complete your fall table decor with a tablecloth in a unique pattern or design.
Consider plaid, checkered, or floral prints that complement your overall theme and color scheme.
The tablecloth serves as a backdrop for all the other elements on the table, tying everything together and adding a cohesive visual appeal.
17 Stunning Fall Table Decorations
17. Pumpkin Patch Wedding – Bridal Musings
16. Blue + Earth-Toned Fall Tablescape – The February Fox
15. Bright Pink Fall Table Decor – We're The Joneses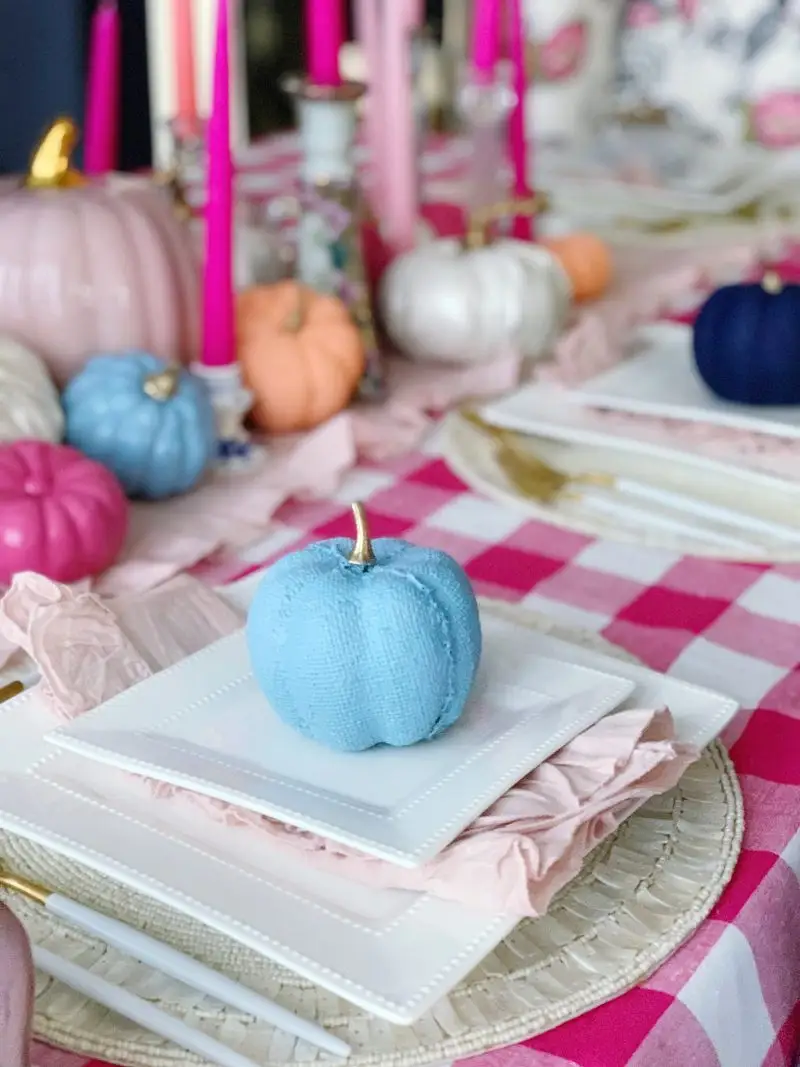 14. Fall Bounty Table – Stone Gable Blog
13. Autumn Inspired Table Decor – Cotton Wood And Co
12. Farmhouse Thanksgiving Table – Worthing Court Blog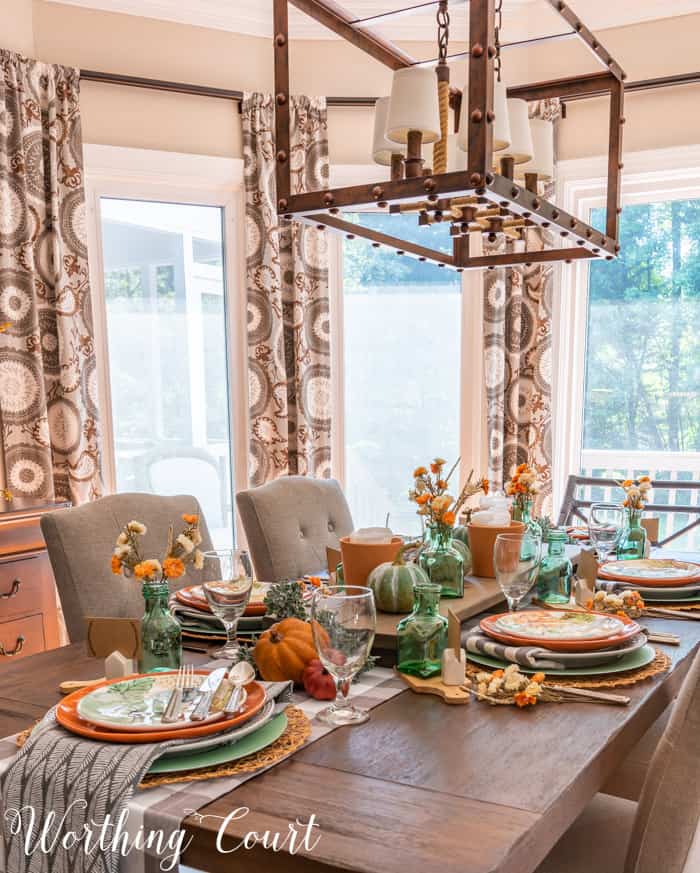 11. Pumpkin Fall Table Decor – Sanctuary Home Decor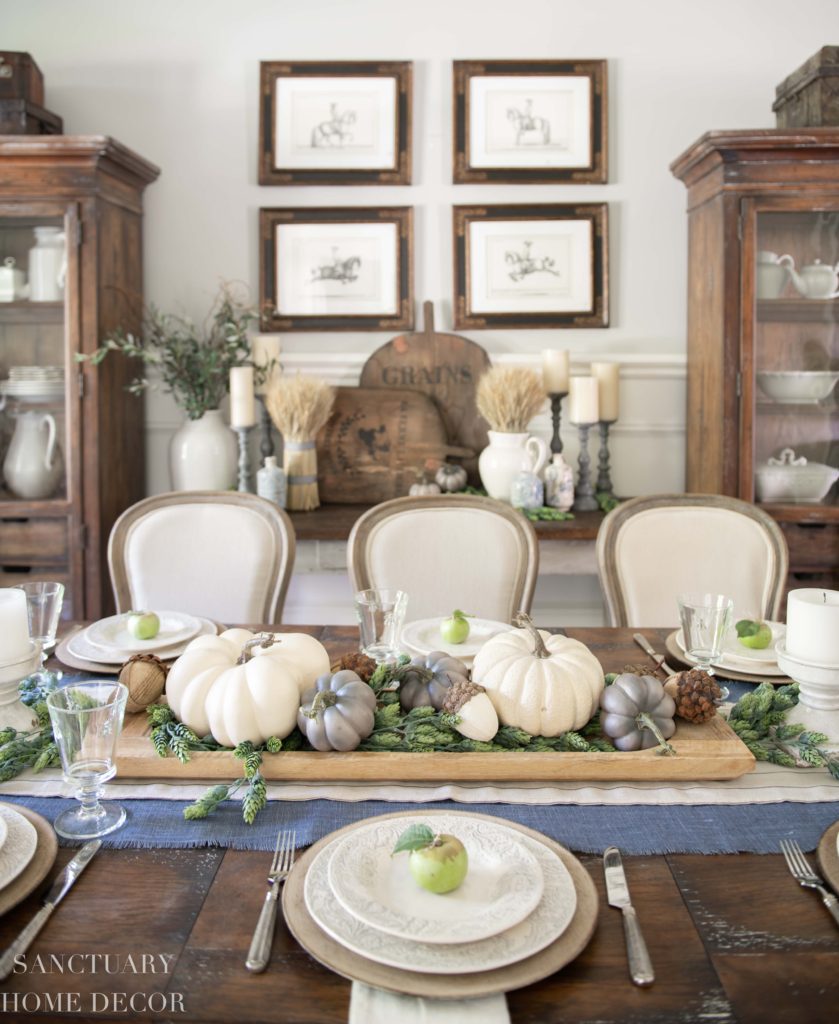 10. Outdoor Fall Table Decor – Farmhouse On Boone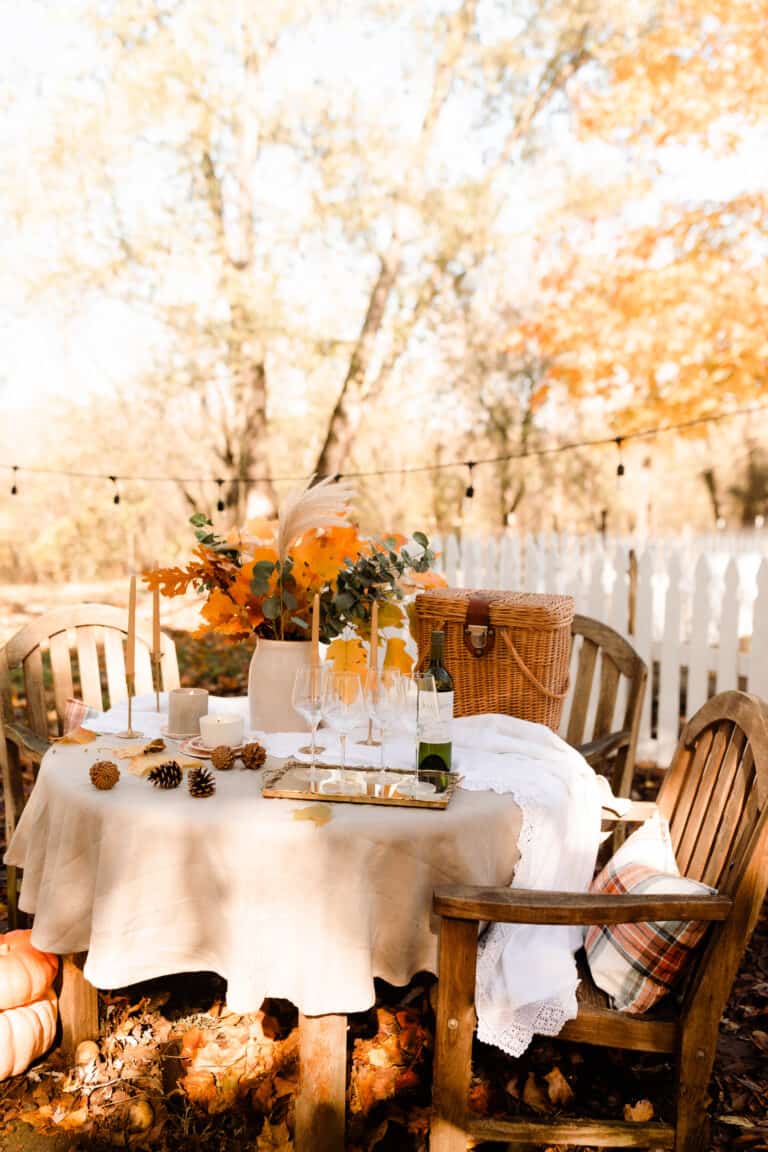 9. Botanical Fall Table – Martha Stewart
8. Farmhouse Fall Table – My 100 Year Old Home
7. Classic Fall Tablescape – Nina Hendrick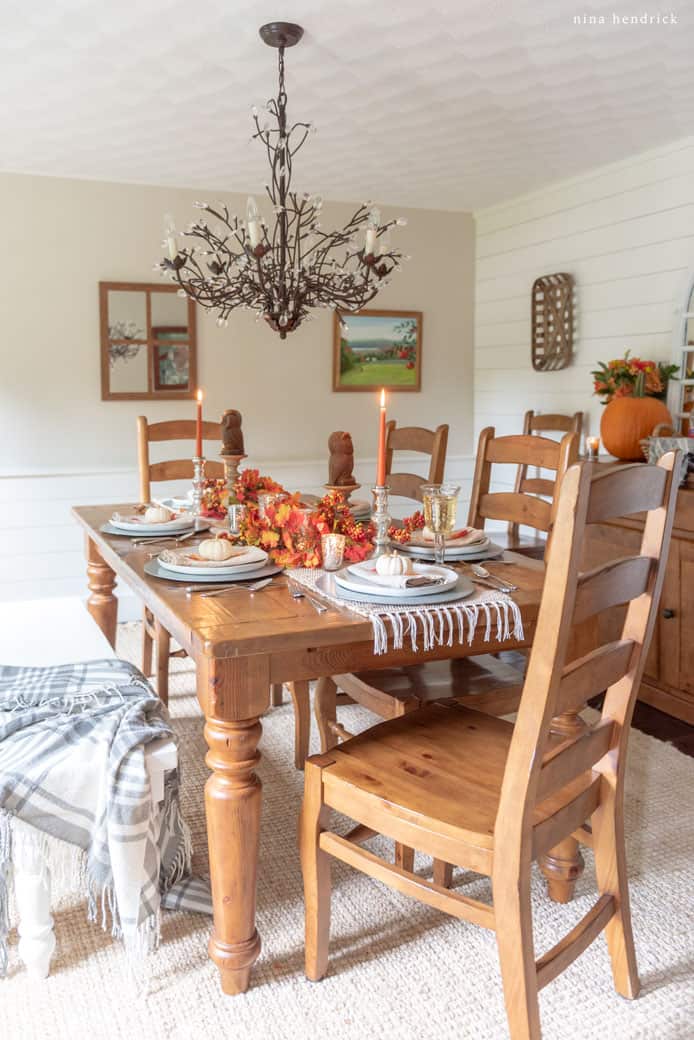 6. Jewel Tone Fall Tablescape – Sawdust 2 Stitches
5. Thrifted Fall Tablescape – Craftberry Bush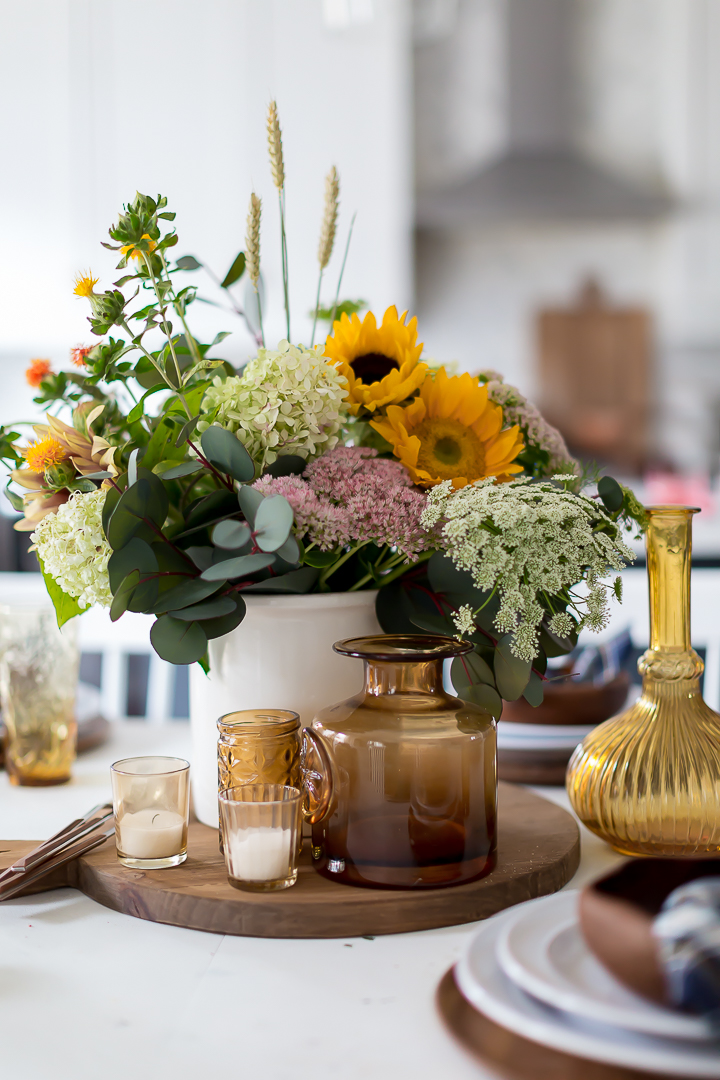 4. Harvest Moon Fall Tablescape – Clean And Scentsible
3. Farmgirl Flowers Fall Tablescape – The Turquoise Home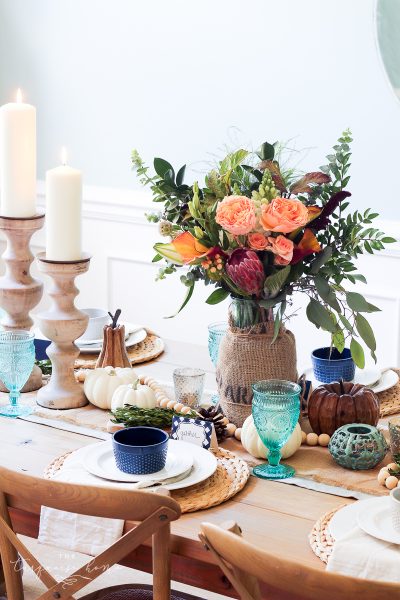 2. Farmhouse Fall Table Centerpiece – Worthing Court Blog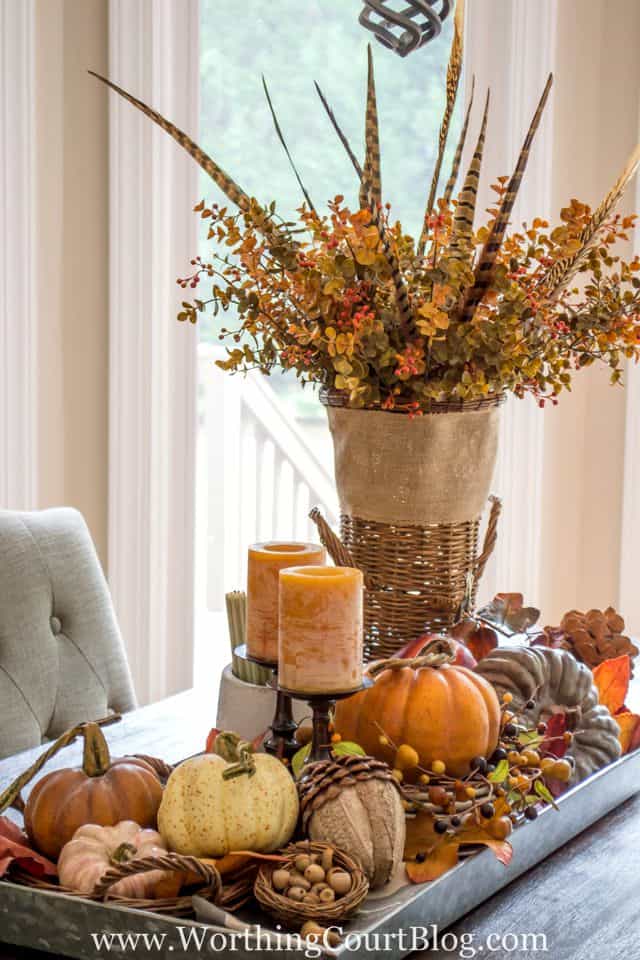 1. Fall Table Centerpiece – Shanty 2 Chic
SAVE THIS PIN FOR LATER
FAQs
Q. How can I make my fall table decor stand out?
To make your fall table decor stand out, incorporate unique elements such as DIY leaf place cards, which add a personal touch, and utilize seasonal fruits as vibrant and eye-catching accents. Additionally, create a cozy ambiance with warm lighting using candlelight and fairy lights, which add a magical glow to your table setting.
Q. Can I mix different themes in my fall table decor?
While it's recommended to have a cohesive theme for your fall table decor, you can mix different themes by selecting elements that harmonize well together. For example, you could combine rustic farmhouse elements with woodland-inspired accents to create a unique and charming atmosphere that blends the best of both worlds.
Q. What are some budget-friendly options for fall table decor?
If you're on a budget, there are plenty of affordable options for fall table decor. Utilize natural materials like leaves, pinecones, and branches that you can gather from your surroundings. Engage in DIY projects such as creating your own leaf place cards or napkin rings using inexpensive materials. These budget-friendly ideas can still result in visually stunning and inviting fall table decor.
Q. How can I create a cozy ambiance with lighting?
To create a cozy ambiance with lighting for your fall table decor, incorporate candlelight by placing pillar candles of varying heights along the center of the table. This soft, flickering glow adds warmth and intimacy. Additionally, use fairy lights to create a magical atmosphere by intertwining them through foliage or draping them across the tablecloth, providing a subtle and enchanting illumination.
Q. Where can I find unique tablecloth patterns for fall?
You can find unique tablecloth patterns for fall at various places. Explore local home decor stores, where you can discover a wide selection of table linens in different patterns and designs. Online marketplaces and specialty shops also offer a range of options to choose from. Look for patterns that capture the essence of fall, such as plaid, checkered, or floral prints, to enhance your fall table decor.