Discover easy DIY fall decor ideas to bring beauty to your home this season. From pumpkin crafts to cozy fall wreaths, get inspired to create a cozy autumn ambiance.
As the leaves change color and the air turns crisp, it's time to infuse your home with the cozy charm of fall.
In this blog, we'll explore a variety of easy-to-follow DIY fall decor ideas.
From homemade wreaths and charming centerpieces to painted pumpkins and festive garlands, I've gathered a collection of inspiring projects that will add a personalized touch to your space.
Get ready to unleash your creativity and embrace the autumn season with these delightful and budget-friendly DIY decor ideas.
Let's dive into the world of fall crafting and make your home a warm and inviting haven for the season.
10 Tips To Repurpose Old Items For Creative Fall Decor Ideas
Instead of spending a fortune on store-bought items, repurposing old objects can add a touch of uniqueness and creativity to your seasonal decorations.
Let's explore ten tips to repurpose old items and create stunning fall decor ideas that will impress your guests and make your home feel cozy and inviting.
Tip 1: Transforming Mason Jars into Candle Holders
Mason jars are versatile and can be easily transformed into charming candle holders.
Clean old mason jars thoroughly and apply a coat of autumn-colored paint.
You can use shades of orange, brown, or gold to create a warm and inviting atmosphere.
Place tea lights or scented candles inside the jars and arrange them on your mantel or dining table.
The soft glow of candlelight will add a cozy ambiance to your fall decor.
Tip 2: Upcycling Wooden Crates into Rustic Shelves
If you have old wooden crates lying around, don't let them go to waste.
Repurpose them into rustic shelves that are perfect for displaying fall decorations.
Clean the crates and sand them to remove any rough edges.
Then, apply a coat of wood stain or paint in a color that complements your fall theme.
Once dry, mount the crates on the wall and use them to showcase pumpkins, gourds, or other autumn-inspired items.
Tip 3: Using Vintage Suitcases as Statement Pieces
Vintage suitcases have a timeless charm that can enhance your fall decor.
Stack a few suitcases of different sizes to create an eye-catching focal point in your living room or entryway.
You can place a fall-themed table runner or a vase of dried flowers on top of the suitcases.
This unique arrangement will add a touch of nostalgia and sophistication to your home.
Tip 4: Revamping Picture Frames with Autumn Colors
Old picture frames can be easily transformed into stunning fall decor pieces with a little bit of paint.
Choose frames of different shapes and sizes and paint them in shades of burgundy, mustard yellow, or deep brown.
Once the paint is dry, remove the glass and backing and replace them with autumn-themed prints or pressed leaves.
Hang these revamped frames on your walls or create a gallery wall for a striking fall display.
Tip 5: Turning Old Sweaters into Cozy Throw Pillows
Don't throw away those old sweaters just yet!
Repurpose them into cozy throw pillows that will add warmth and comfort to your living spaces.
Cut out squares or rectangles from the sweaters, ensuring that they are slightly larger than the pillow inserts.
Sew three sides together, insert the pillow, and sew the final side closed.
You can mix and match different sweater patterns and colors to create a cozy and inviting fall atmosphere.
Tip 6: Creating a Fall Wreath with Dried Leaves
Fall wreaths are a classic way to adorn your front door or interior walls.
Instead of purchasing a pre-made wreath, why not make your own using dried leaves?
Gather a variety of colorful leaves and arrange them in a circular shape.
Use a hot glue gun to attach the leaves to a grapevine wreath base.
You can also add other elements such as pinecones, acorns, or small pumpkins to enhance the fall vibe.
Hang your homemade wreath and welcome the autumn season in style.
Tip 7: Repurposing Tin Cans into Utensil Holders
Empty tin cans can be transformed into charming utensil holders for your fall gatherings.
Clean the cans thoroughly and remove any sharp edges.
Paint the cans in autumn colors or wrap them with burlap and tie them with twine for a rustic look.
Place your silverware or other utensils inside the cans and arrange them on your dining table or buffet.
These upcycled utensil holders will impress your guests and add a touch of creativity to your fall table setting.
Tip 8: Making a Rustic Centerpiece with Old Books
Old books can be repurposed into a unique and eye-catching fall centerpiece.
Stack a few books of different sizes and tie them together with twine or ribbon.
To add a fall touch, decorate the stack with dried flowers, faux leaves, or mini pumpkins.
You can place the centerpiece on your coffee table, mantel, or dining table to create a focal point that captures the essence of the season.
Tip 9: Transforming Wine Bottles into Decorative Vases
Empty wine bottles can be repurposed into elegant vases for your fall floral arrangements.
Remove the labels and clean the bottles thoroughly.
Paint the bottles in metallic or earthy tones, such as copper or bronze, to create a sophisticated look.
You can also wrap the bottles with twine or burlap for a rustic touch.
Fill the vases with dried flowers, wheat stalks, or branches adorned with fall foliage for a stunning centerpiece.
Tip 10: Using Old Window Shutters as Wall Art
Old window shutters can add a touch of vintage charm to your fall decor.
Paint the shutters in colors that complement your fall palette, such as deep red or olive green.
Hang them on the wall as unique art pieces or use them as backdrops for displaying wreaths or other fall decorations.
The weathered texture and rustic appeal of old shutters will give your home a cozy and inviting atmosphere.
25 Cheap DIY Fall Decorations
25. Fall Harvest Porch – Sugar And Charm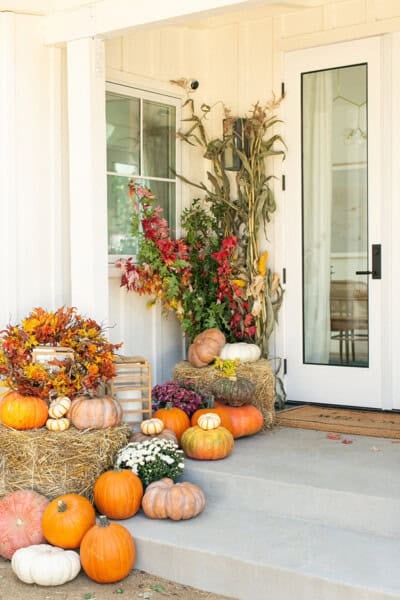 24. Front Porch Fall Decor – Craft Berry Bush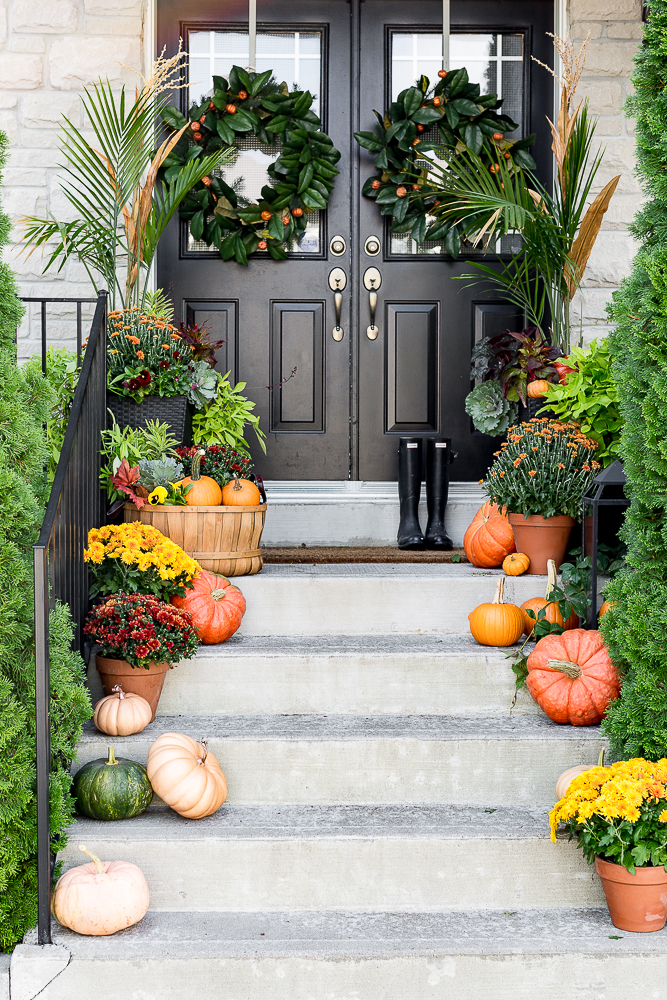 23. Farmhouse Fall Porch Steps – Liz Marie
22. Bobble Crochet Pumpkin Pillow – Knotted Nest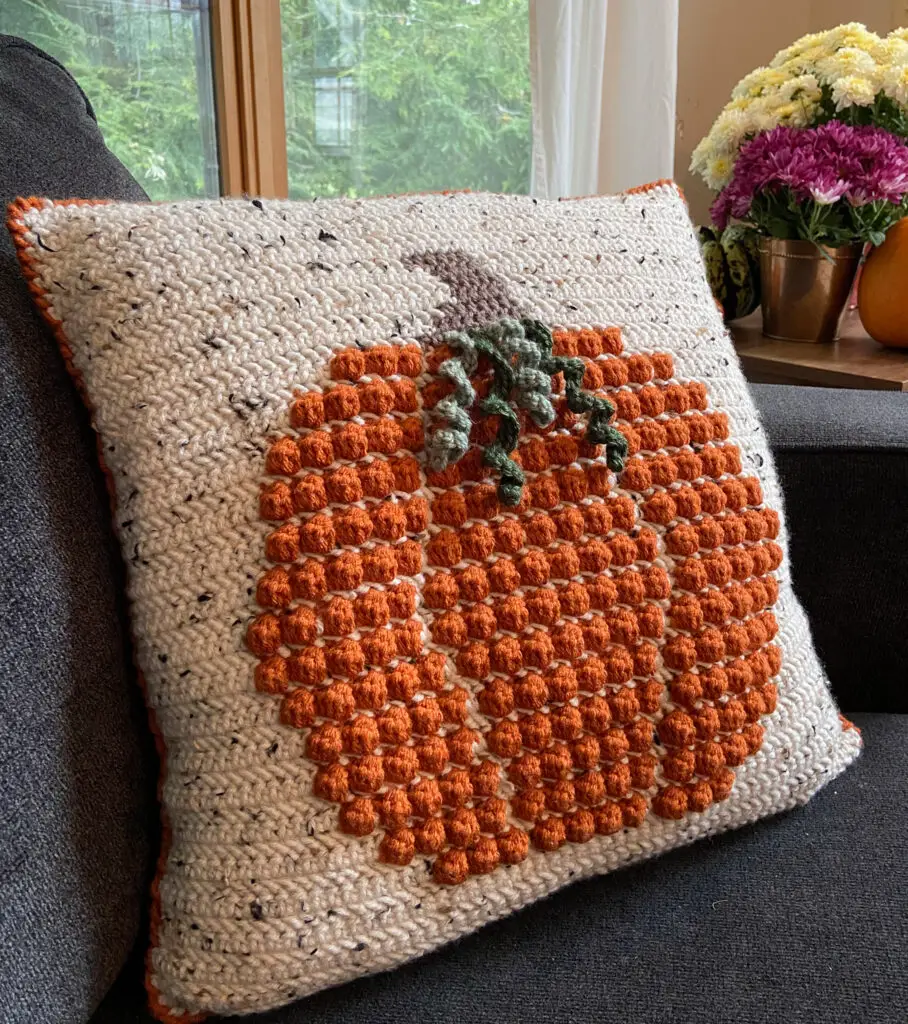 21. DIY Fall Macrame Wall Hanging – Joyful Derivatives
20. Book Page Pumpkin – Julie Measures
19. DIY Fall Frame Wreath – Confessions Of A Serial DIYer
18. Autumn Embroidery Hoop Wreath – Love Create Celebrate
17. DIY Yarn Pumpkins – The Navage Patch
16. DIY Fall Centerpiece – 2 Bees In A Pod
15. Elegant Pumpkin Wreath – Confessions Of A Serial DIYer
14. Fall Harvest Wreath – Artsy Chicks Rule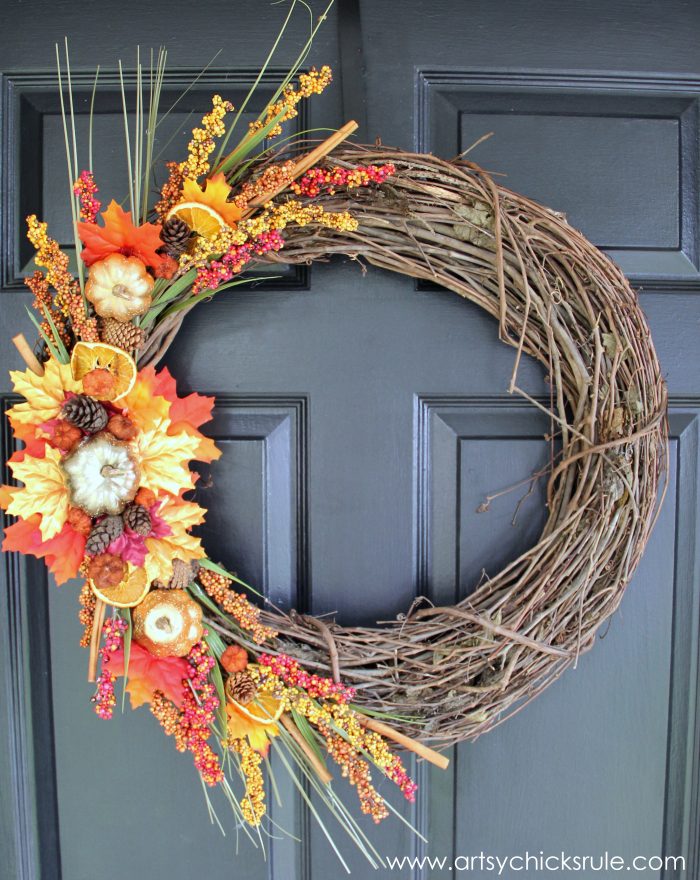 13. Blue & Orange DIY Fall Centerpiece – Home With Holly J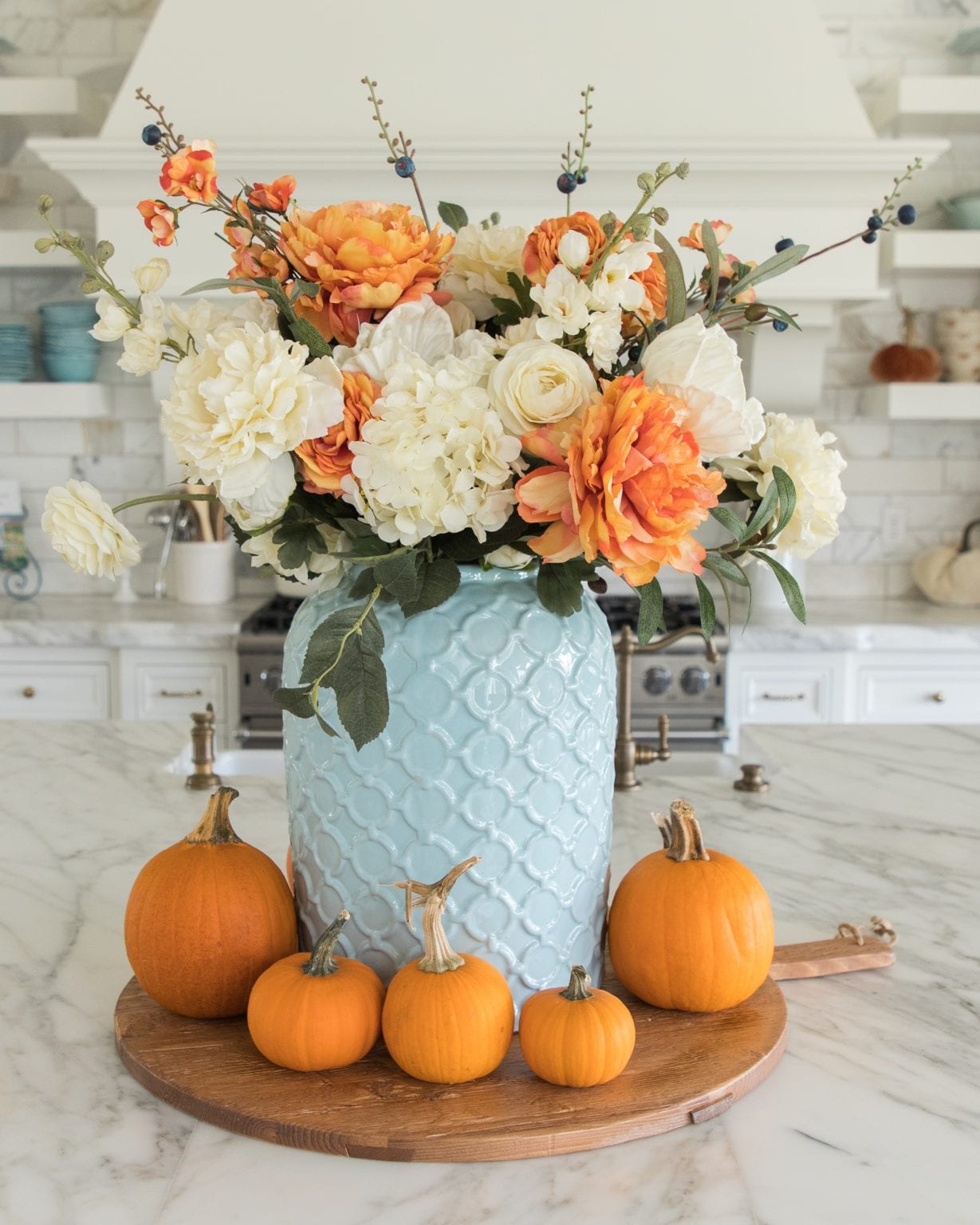 12. Winter Wood Bead Wreath – Lolly Jane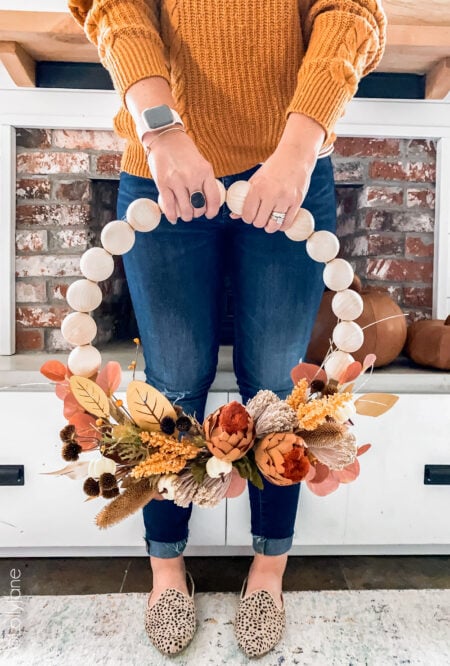 11. DIY Fall DreamCatcher Door – DIY Showoff
10. Fall Dough Bowl Arrangement – Stone Gable Blog
9. DIY Wooden Centerpiece Box – Woodshop Diaries
8. DIY Yarn Wrapped Pumpkins – Heart Filled Spaces
7. DIY Picture Frame Fall Wreath – Aubree Originals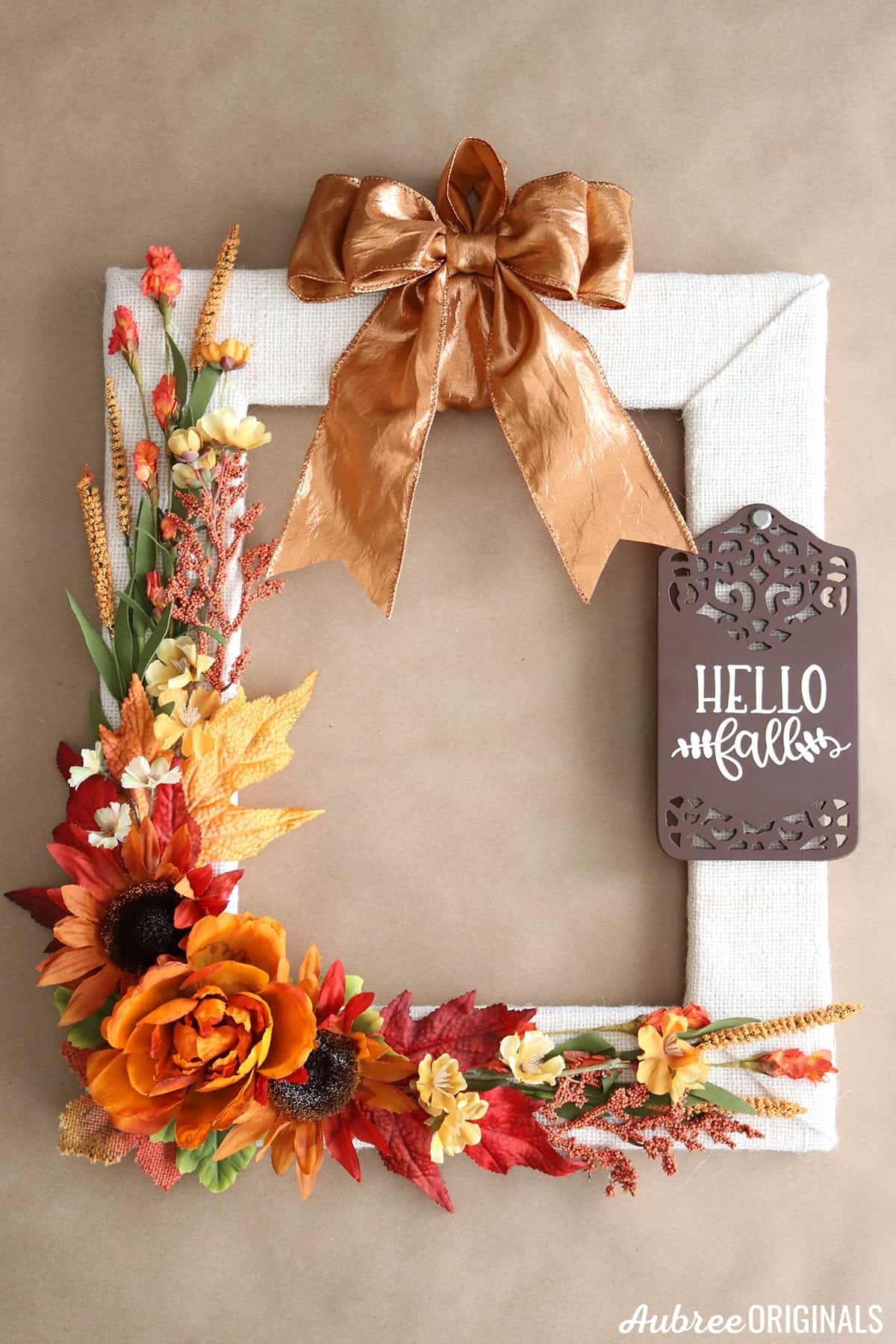 6. Fall Mantel Decor – The Frugal Homemaker
5. Harvest Pumpkin Autumn Wispy Wreath – Made In A Day
4. Mason Jar Leaf Lanterns – One Little Project
3. DIY Neutral Fall Acorns – Domestically Blissful
2. Fall Living Room – Golden Boys And Me
1. Fall Nook Under The Stairs – Liz Marie
SAVE THIS PIN FOR LATER
FAQs
Q. Where can I find old items for repurposing?
You can find old items for repurposing at thrift stores, flea markets, or even in your own attic. Keep an eye out for items with interesting shapes or textures that can be transformed into stunning fall decor pieces.
Q. Can I use other materials instead of paint for repurposing items?
Certainly! You can use various materials such as fabric, decoupage paper, or washi tape to revamp old items. Get creative and experiment with different textures and patterns to achieve the desired look.
Q. Are these repurposed decor ideas only for fall?
While these ideas are specifically focused on fall decor, you can adapt them to any season by using different color schemes or incorporating seasonal elements specific to that time of the year.
Q. How can I make my repurposed decor items last longer?
To ensure the longevity of your repurposed decor items, handle them with care and keep them away from excessive moisture or direct sunlight. Regular cleaning and maintenance will also help preserve their appearance.
Q. Are there any safety precautions to consider when repurposing old items?
When repurposing old items, be mindful of any safety hazards such as sharp edges or toxic materials. Take necessary precautions, such as wearing gloves or using protective equipment, to ensure your safety during the repurposing process.
Q. Can I combine multiple repurposed items to create a cohesive fall decor theme?
Absolutely! Combining different repurposed items can add depth and visual interest to your fall decor. For example, you can pair a repurposed wooden crate shelf with mason jar candle holders and vintage suitcases as a cohesive arrangement that showcases your creativity and adds a unique touch to your home.
Q. How can I maintain a balance between repurposing and maintaining the functionality of the item?
When repurposing old items, it's essential to find a balance between preserving their functionality and transforming them into decorative pieces. Consider how the repurposed item will serve its new purpose while still maintaining its usability. For example, repurposing a vintage ladder as a blanket holder keeps its functionality intact while adding a charming element to your fall decor.