Discover simple DIY fall outdoor decor ideas to transform your space. Explore easy DIY fall crafts, fall wreaths, pumpkins, and more for a picture-perfect seasonal ambiance. Get inspired for the harvest season with these creative outdoor decorating ideas.
As the leaves begin their mesmerizing transformation, it's time to extend the beauty of fall to your outdoor spaces with creative and simple decor ideas.
In this blog, we'll explore a curated collection of ideas for fall outdoor decor that effortlessly captures the essence of the season.
From charming front porch displays and cozy seating areas to festive wreaths and seasonal accents, I've gathered a range of inspiring ways to infuse your outdoor spaces with the warmth and charm of autumn.
Get ready to welcome the season in style as we delve into the world of fall outdoor decor and discover how to create an inviting and enchanting ambiance with creativity and simplicity.
Let's celebrate nature's masterpiece and embrace the colors of fall in every corner of your outdoor sanctuary.
15 Ways To Create A Focal Point In Your Fall Outdoor Decor
Creating a focal point can elevate the overall look and feel of your fall decorations, making your outdoor space visually appealing and inviting.
In this article, we will explore creative ways to create a focal point in your fall outdoor decor.
From utilizing natural elements to incorporating unique accessories, these ideas will help you design a stunning outdoor space that captures the essence of the season.
1. Using Pumpkins in Different Sizes and Colors
One of the quintessential symbols of fall is the pumpkin.
By utilizing pumpkins of various sizes and colors, you can instantly create a focal point in your outdoor decor.
Arrange them on your porch, steps, or pathways, and mix and match different types of pumpkins, such as white, orange, and even heirloom varieties.
Consider adding some decorative elements like ribbons or metallic paint to make them stand out even more.
2. Enhancing Your Entryway with Wreaths
A well-decorated entryway can set the tone for your entire fall outdoor decor.
Hang a fall-themed wreath on your front door to create an eye-catching focal point.
Choose wreaths that incorporate autumnal colors, leaves, berries, or even miniature pumpkins.
You can also customize your wreath by adding elements that reflect your personal style and taste.
3. Creating Cozy Seating Areas with Outdoor Furniture
To make your outdoor space more inviting and cozy, consider adding outdoor furniture.
Arrange seating areas with comfortable chairs, benches, or even a porch swing.
Choose furniture pieces that complement the fall color palette, such as warm earth tones or deep reds.
Cozy up the seating areas with soft cushions and blankets to create a welcoming atmosphere.
4. Adding Warmth with Fire Pits
As the temperature drops during the fall season, adding a fire pit to your outdoor decor can provide both warmth and a captivating focal point.
Gather around the fire pit with friends and family, roast marshmallows, and enjoy the cozy ambiance.
You can opt for a traditional fire pit or explore more unique options like a tabletop fire bowl or a fire pit with built-in seating.
5. Highlighting Pathways with Lighting
Illuminate your outdoor pathways with creative lighting solutions to draw attention and create a focal point.
Use string lights, lanterns, or pathway lights along your walkways or driveways.
Consider incorporating fall-themed elements like lanterns wrapped in colorful leaves or string lights in the shape of pumpkins.
Not only will this enhance the visual appeal of your outdoor space, but it will also provide a safe and well-lit pathway for your guests.
6. Incorporating Fall Flowers and Plants
Flowers and plants are an excellent way to infuse the colors and textures of fall into your outdoor decor.
Choose flowers and plants that thrive during this season, such as chrysanthemums, marigolds, or ornamental cabbage.
Arrange them in pots, planters, or flower beds strategically placed throughout your outdoor space to create focal points of natural beauty.
7. Displaying Festive Fall Banners
Hang festive fall banners across your outdoor space to add a touch of charm and create a focal point.
Consider banners with messages like "Welcome Fall" or "Harvest Season." Choose banners made of weather-resistant materials, so they withstand the elements and remain vibrant throughout the season.
Hang them across fences, pergolas, or between trees to add a festive and inviting atmosphere.
8. Using Hay Bales as Decorative Elements
Hay bales are a versatile and affordable option for adding rustic charm to your fall outdoor decor.
Stack hay bales to create different heights and use them as platforms for displaying pumpkins, gourds, or other fall-themed items.
You can also drape them with colorful blankets or fabric to enhance their visual appeal and tie them in with the rest of your decor.
9. Integrating Rustic Signs and Plaques
Rustic signs and plaques can add a personalized touch to your fall outdoor decor while serving as eye-catching focal points.
Choose signs that feature autumnal quotes, seasonal greetings, or playful messages.
Hang them on fences, walls, or even attach them to trees.
Opt for distressed wood or metal signs for a rustic look that complements the fall ambiance.
10. Hanging Fall-themed Wind Chimes
Wind chimes not only create soothing sounds but also add visual interest to your outdoor space.
Choose fall-themed wind chimes featuring leaves, acorns, or other autumn-inspired designs.
Hang them near seating areas or on tree branches to create a focal point that engages multiple senses and adds a touch of whimsy to your fall decor.
11. Introducing Water Features
Water features like fountains or birdbaths can bring a sense of tranquility and elegance to your outdoor space.
Choose water features with fall-inspired designs, such as leaf-shaped basins or copper tones.
The gentle sound of flowing water combined with the captivating visual element will create a focal point that enhances the overall ambiance of your fall decor.
12. Showcasing Artistic Outdoor Sculptures
If you want to add a unique and artistic touch to your fall outdoor decor, consider incorporating outdoor sculptures.
Look for sculptures that reflect natural elements like leaves, animals, or abstract designs inspired by fall.
Place them strategically throughout your outdoor space to create intriguing focal points that spark conversation and admiration.
13. Designing a Whimsical Fall Fairy Garden
Create a whimsical and enchanting focal point in your fall outdoor decor by designing a fairy garden.
Use miniature accessories, such as tiny houses, fairy figurines, and tiny pumpkins, to create a magical scene.
Add moss, small plants, and autumnal leaves to complete the look.
Place the fairy garden in a prominent area, such as near your patio or amidst a flower bed, to captivate the attention of visitors.
14. Using Harvest-inspired Table Settings
Transform your outdoor dining area into a focal point by incorporating harvest-inspired table settings.
Use rustic tablecloths, seasonal placemats, and fall-themed napkins to set the stage.
Arrange centerpiece displays with pumpkins, gourds, and autumn flowers.
Consider adding candle holders or lanterns for an intimate and cozy atmosphere during evening gatherings.
15. Building a Cozy Outdoor Fireplace
Create a cozy and inviting outdoor space by building an outdoor fireplace.
An outdoor fireplace not only serves as a focal point but also provides warmth and ambiance during chilly fall evenings.
Build a brick or stone fireplace with a hearth and mantel where you can display fall decorations like wreaths or framed seasonal artwork.
Arrange seating around the fireplace to encourage gatherings and create lasting memories.
15 Gorgeous Fall Outdoor Decorations
15. Neutral Crate Display – Taryn Whiteaker
14. Harvest Display – Three Pixie Lane
13. Fall Crate Display – Gray House Studio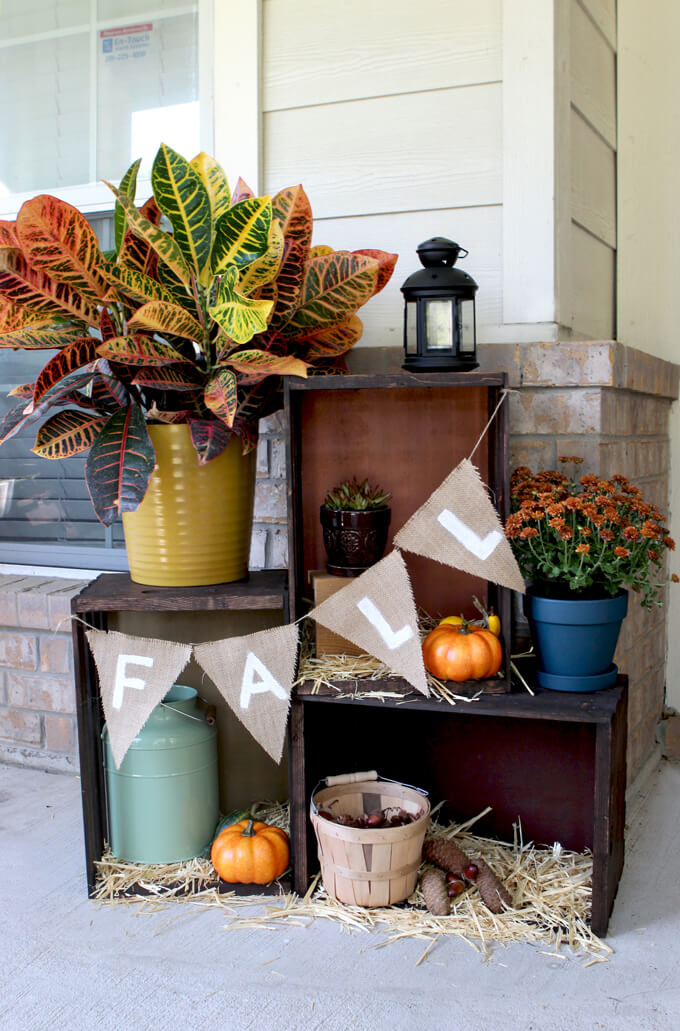 12. Distressed Pumpkin Crate – Anderson And Grant
11. Pumpkin Crate Display – The Crafting Chicks
10. Pumpkin & Crate Display – Life As A Thrifter
9. Fall Festival Sign – Lydi Out Loud
8. Fall Welcome Sign – The Wood Grain Cottage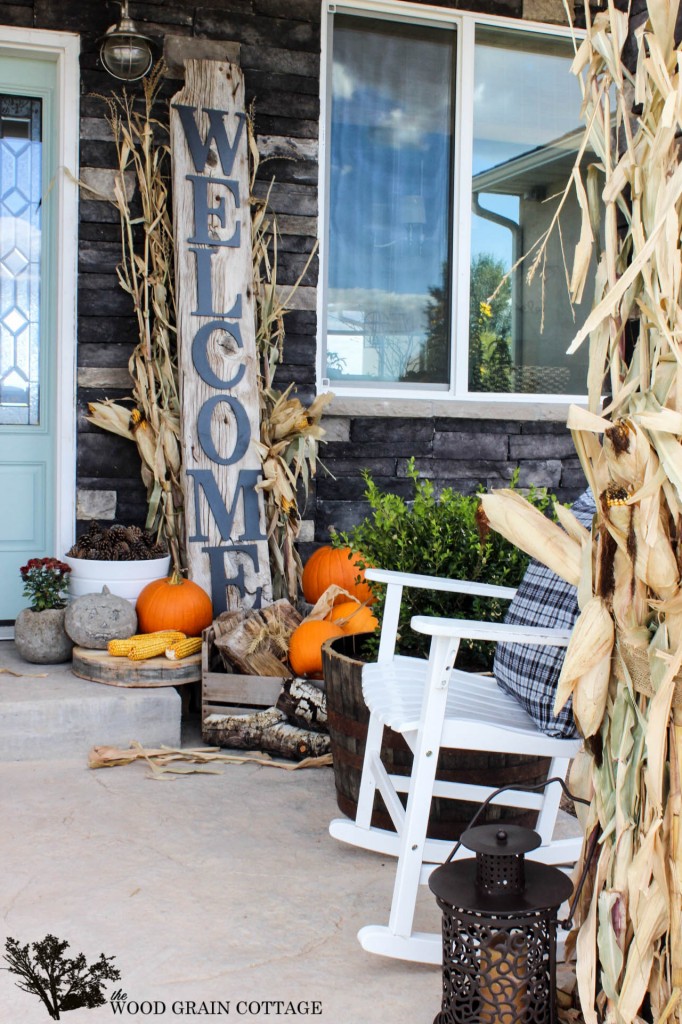 7. Fall Display Sign – The Frugal Homemaker
6. Harvest Barnwood Sign – Jennifer Allwood Home
5. Fall Chalkboard Sign – Cottage In The Oaks
4. DIY Pumpkin Flower Pot – The Inspiration Board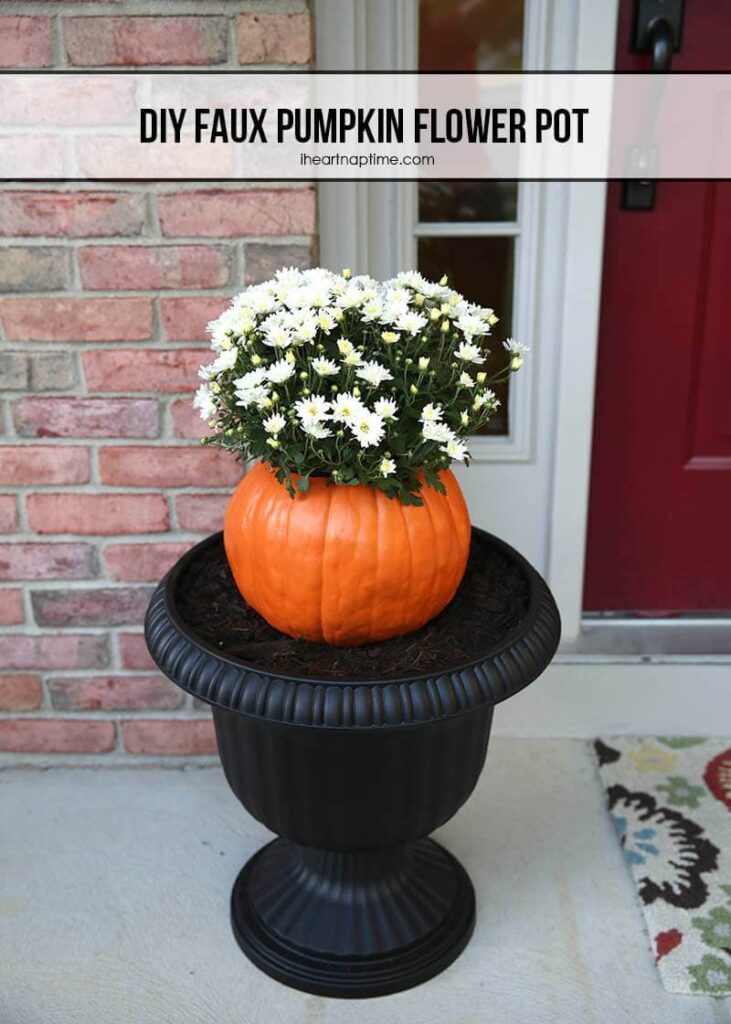 3. Tipsy Pumpkin Planter – Birds And Blooms
2. DIY Outdoor Real Looking Pumpkins – The Stony Brook House
1. Fall Harvest Fence Decor – Creative Cain Cabin
SAVE THIS PIN FOR LATER
FAQs
Q. Can I use artificial pumpkins for my fall outdoor decor?
Yes, artificial pumpkins are a practical choice as they offer durability and can be reused year after year, making them a convenient option for fall decorations.
Q. What are some other fall flowers I can use in my outdoor decor?
Popular fall flowers include asters, dahlias, pansies, and ornamental kale. These vibrant flowers add color and texture to your outdoor space, enhancing the overall fall ambiance.
Q. Can I incorporate scarecrows in my fall outdoor decor?
Absolutely! Scarecrows are classic fall symbols and can add charm to your outdoor decor. Place them near hay bales or in flower beds to create a festive and playful look.
Q. How can I protect my outdoor decor from inclement weather?
To protect your fall outdoor decor from harsh weather conditions, consider using weather-resistant materials such as outdoor fabrics, waterproof paint, and durable accessories. These elements will help ensure your decorations withstand the elements.
Q. Are there any eco-friendly options for fall outdoor decor?
Yes, there are! Opt for organic and biodegradable materials like straw, dried leaves, or reclaimed wood to create eco-friendly fall decorations that are both beautiful and sustainable. These options allow you to embrace the season while being mindful of the environment.
Q. How can I incorporate autumn foliage into my fall outdoor decor?
You can incorporate autumn foliage by collecting colorful leaves and using them in various ways. Create leaf garlands to hang across fences or drape them over outdoor furniture. You can also press the leaves and use them to create a unique artwork or place them in glass frames as natural decor elements.
Q. What are some budget-friendly ideas for creating a focal point in my fall outdoor decor?
If you're on a budget, there are still plenty of ways to create a focal point. Consider using items you already have, such as repurposing old wooden crates as planters or using mason jars as candle holders. You can also visit local thrift stores or garage sales for unique and affordable decor items that can serve as eye-catching focal points in your outdoor space.