Get inspired by DIY fall decor ideas for the home. Transform your home into an autumn oasis with these stunning fall autumn decor ideas. Let nature's beauty be inside and create a welcoming ambiance for the fall season.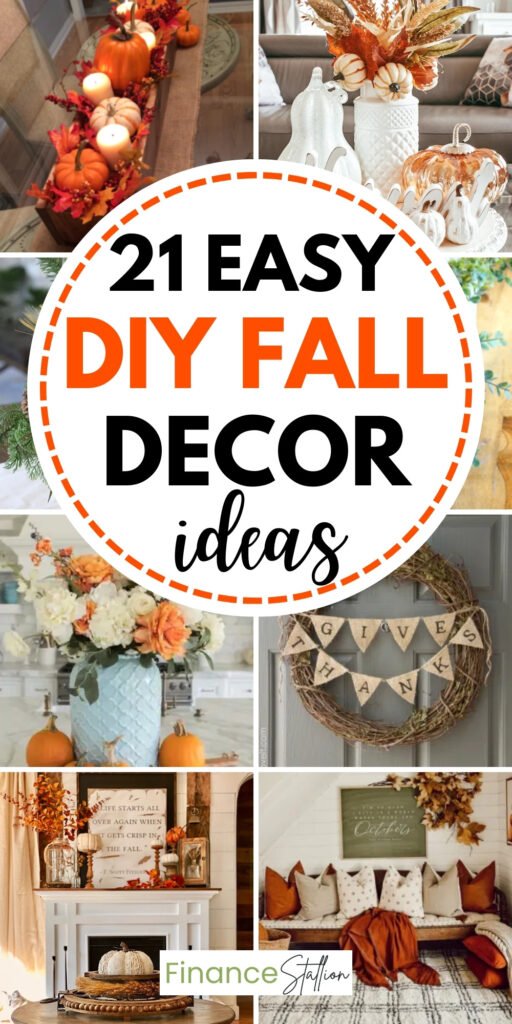 As summer gives way to the enchanting season of fall, it's time to infuse your home with the warm and cozy ambiance that this time of year brings.
In this blog, we'll explore a variety of inspiring ideas for fall decor that will help you create a welcoming and inviting space.
From rustic accents and natural elements to rich hues and seasonal motifs, I've curated a collection of easy and creative ways to embrace the colors and spirit of fall in your home.
Get ready to transform your living space into a haven of autumnal charm and celebrate the beauty of this magical season with these delightful decor ideas.
13 Tips To Transition Fall Decor From Halloween To Thanksgiving Seamlessly
As the autumn season sets in, many of us embrace the warm hues and cozy atmosphere by decorating our homes.
From Halloween to Thanksgiving, there is a unique charm in transitioning fall decor seamlessly.
In this article, we will explore tips to help you transform your home decor from spooky Halloween themes to the warm and welcoming ambiance of Thanksgiving.
1. Embrace Nature-Inspired Elements
Fall is a time when nature displays its beauty through vibrant foliage and rustic landscapes.
Embrace this aesthetic by incorporating nature-inspired elements into your decor.
Use branches, pinecones, and dried leaves to create rustic arrangements that bring the outdoors inside.
2. Incorporate Earthy Colors
Transitioning from Halloween to Thanksgiving calls for a shift in the color palette.
Replace the bold and vibrant Halloween colors with earthy tones like deep oranges, warm browns, and rich yellows.
These hues evoke a sense of warmth and coziness, perfect for the Thanksgiving season.
3. Swap Spooky for Subtle
Remove the spooky and eerie decorations associated with Halloween and replace them with subtle and elegant accents.
Replace cobwebs and skeletons with soft textiles, such as plush throw blankets and cozy pillows.
This creates a welcoming atmosphere that aligns with the Thanksgiving theme.
4. Focus on Harvest-Inspired Decorations
Thanksgiving is a celebration of the harvest season, so incorporating harvest-inspired decorations is a great way to transition your fall decor.
Use corn husks, wheat stalks, and dried flowers to create beautiful arrangements.
You can also incorporate decorative baskets filled with seasonal fruits and vegetables.
5. Utilize Natural Textures
Incorporating natural textures adds depth and visual interest to your fall decor.
Use burlap, woven baskets, and wooden accents to create a rustic and cozy ambiance.
These elements provide a tactile experience and enhance the overall aesthetic of your space.
6. Opt for Versatile Pieces
Invest in decor items that can transition seamlessly from Halloween to Thanksgiving.
For example, choose pumpkins and gourds that are not explicitly Halloween-themed but can still be used as part of your Thanksgiving display.
This allows you to make the most of your decorations throughout the entire fall season.
7. Highlight Gratitude and Thankfulness
Thanksgiving is a time to reflect on gratitude and thankfulness.
Incorporate this sentiment into your decor by using signs or artwork that display inspirational quotes or messages of gratitude.
This serves as a gentle reminder of the true meaning behind the holiday.
8. Set the Table for Thanksgiving
One of the focal points of Thanksgiving is the dining table.
Create an inviting table setting by using fall-themed table linens, elegant dinnerware, and seasonal centerpieces.
Incorporate elements like pumpkins, candles, and autumn leaves to set the stage for a memorable Thanksgiving meal.
9. Add Warm Lighting
Proper lighting can transform the ambiance of any space.
Replace harsh, fluorescent lights with warm and cozy lighting options.
Utilize string lights, lanterns, and candles to create a soft and inviting glow that enhances the overall atmosphere of your fall decor.
10. Integrate Seasonal Fragrances
The sense of smell is closely tied to memory and emotion.
Enhance the fall experience by incorporating seasonal fragrances into your home.
Use scented candles or essential oils with fragrances like cinnamon, vanilla, or apple to create a warm and inviting atmosphere.
11. Create a Cozy Nook
Designate a cozy nook in your home where you can unwind and enjoy the fall season.
Arrange a comfortable seating area with plush pillows and warm blankets.
Add a side table with books or a hot beverage station to create a space where you can relax and embrace the autumnal vibes.
12. Display Autumnal Centerpieces
Centerpieces are a focal point of any decor.
Create stunning autumnal centerpieces using a combination of natural elements and decorative accents.
Arrange flowers, branches, and seasonal fruits in a beautiful vase or bowl.
This serves as a striking centerpiece that embodies the essence of fall.
13. Make Use of Pumpkins and Gourds
Pumpkins and gourds are iconic symbols of both Halloween and Thanksgiving.
Utilize these versatile decorations to bridge the gap between the two holidays seamlessly.
Paint or carve pumpkins in neutral colors or intricate designs that can be appreciated throughout the fall season.
21 Stunning Fall Decor Ideas
21. DIY Fall Centerpiece – It's Always Autumn
20. Thanksgiving Burlap Bunting Wreath – Make It Love It
19. Blue & Orange DIY Fall Centerpiece – Home With Holly J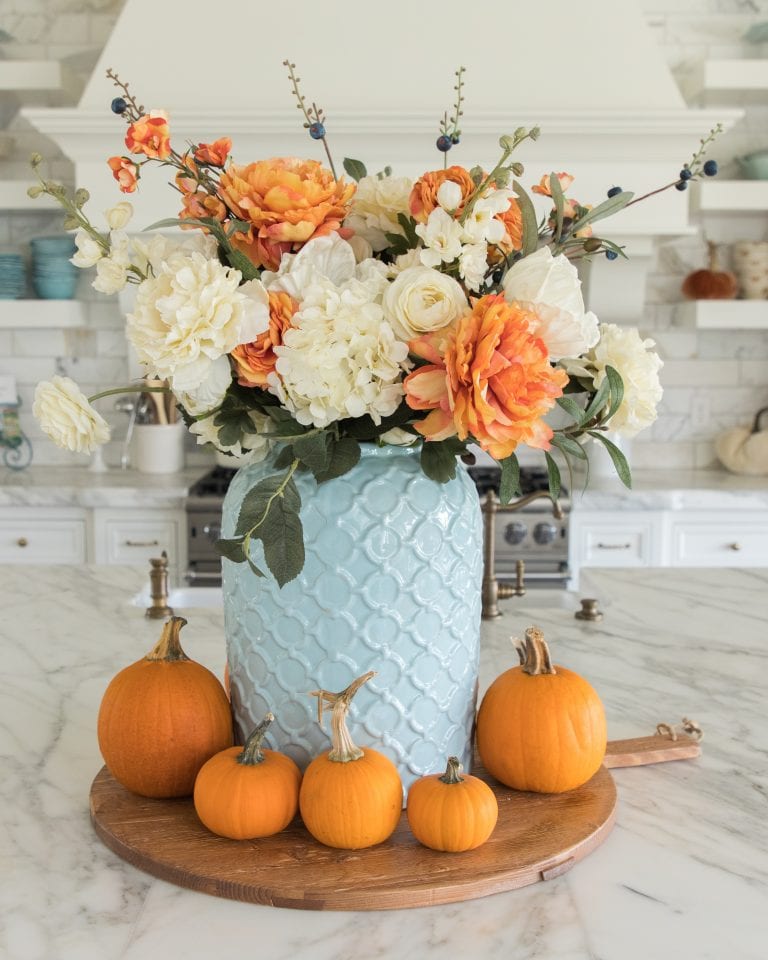 18. Wooden Box Centerpiece with Pumpkins & Eucalyptus – Mom Always Finds Out
17. Modern Leather Fall Wreath – Cherished Bliss
16. Fall Apple Centerpiece – Design Improvised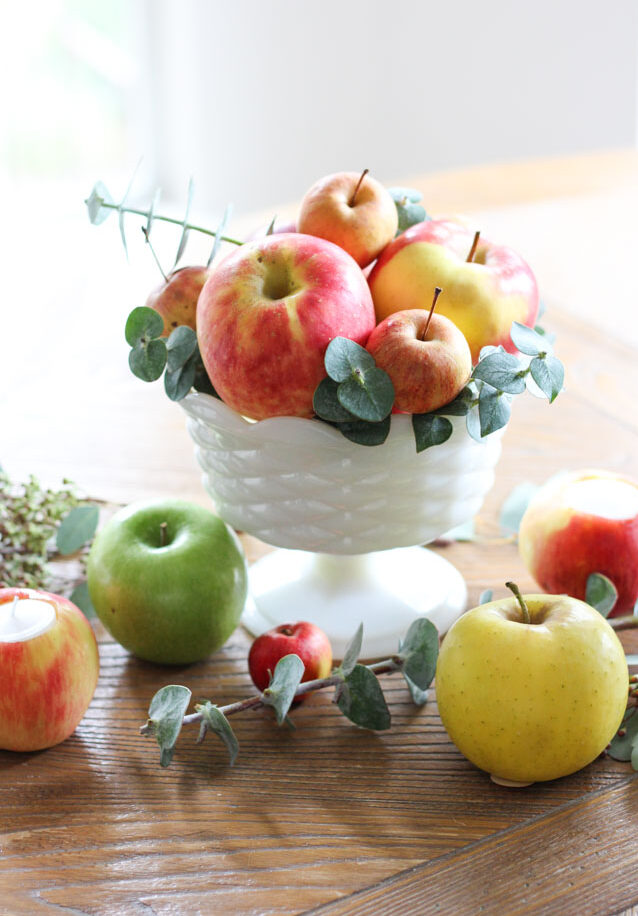 15. DIY Yarn Pumpkin Craft – Home Talk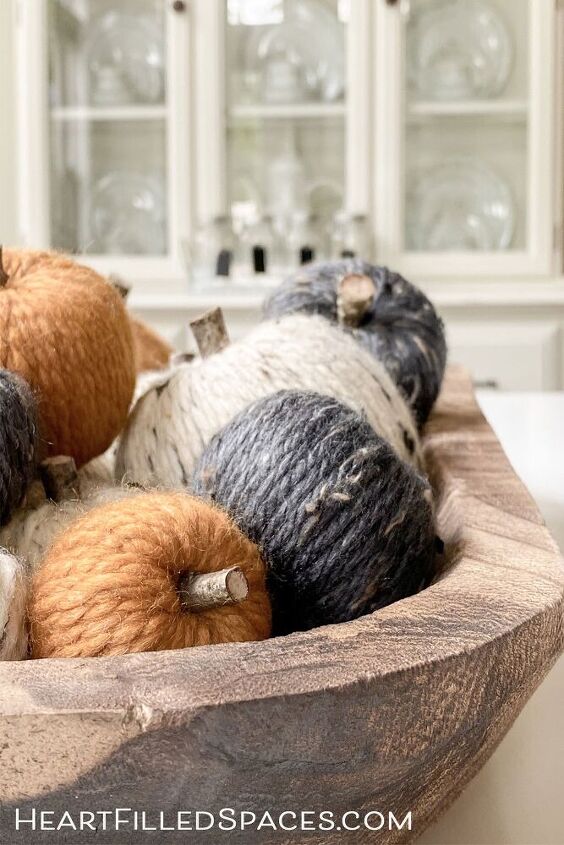 14. Farmhouse Pumpkin Tiered Tray – Creating Through Chaos
13. Fall Hutch Decor – Re-Fabbed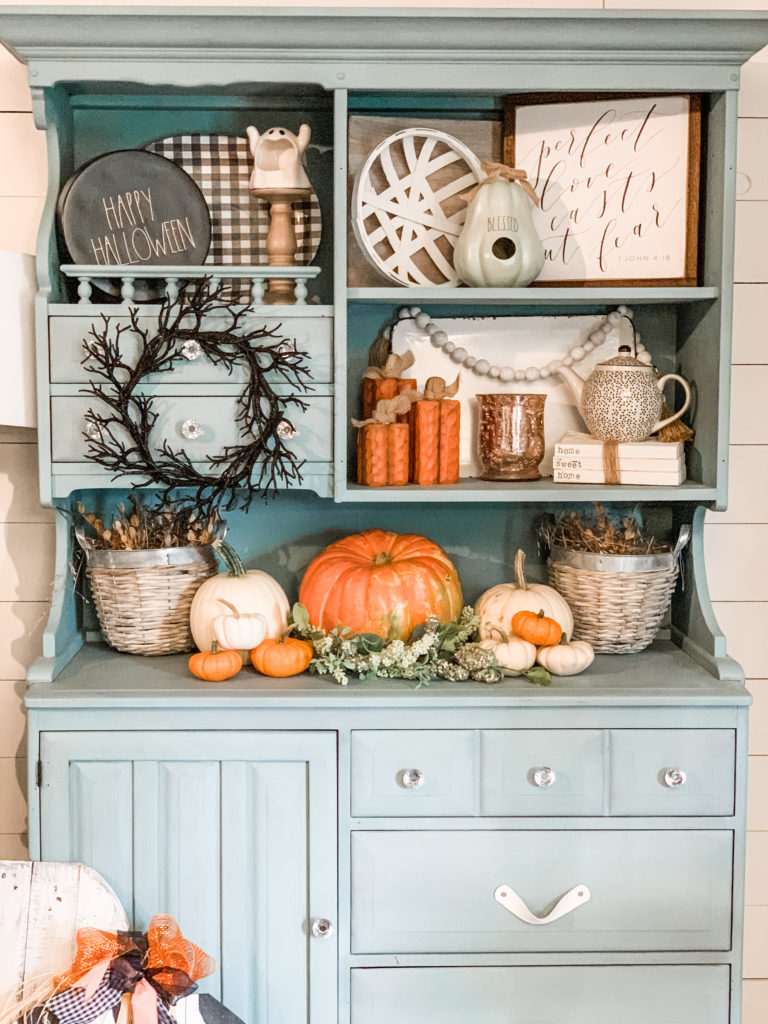 12. DIY Wooden Centerpiece Box – Woodshop Diaries
11. Fall Coffee Table Decor – Designz Of Every Square Foot
10. Fall Foyer Ideas – Clean And Scentible
9. Fall Farmhouse Mantle Decor – Janelle Trinette
8. Fall Mantel – The Frugal Homemaker
7. Under The Stairs Fall Nook – Liz Marie
6. Fall Kitchen Decor – Clean And Scentsible
5. Fall Porch Decor – Modern Glam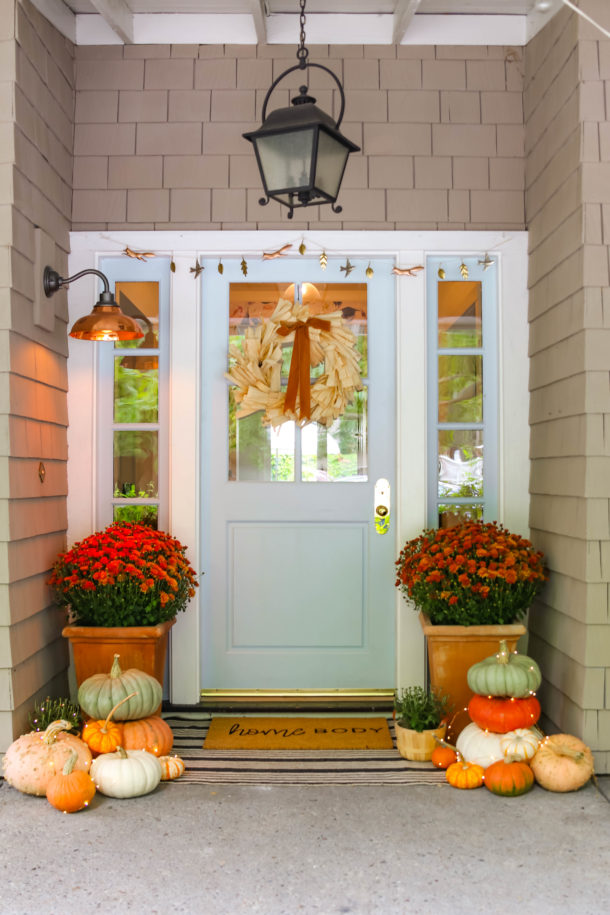 4. Neutral Fall Front Porch – Living Liesel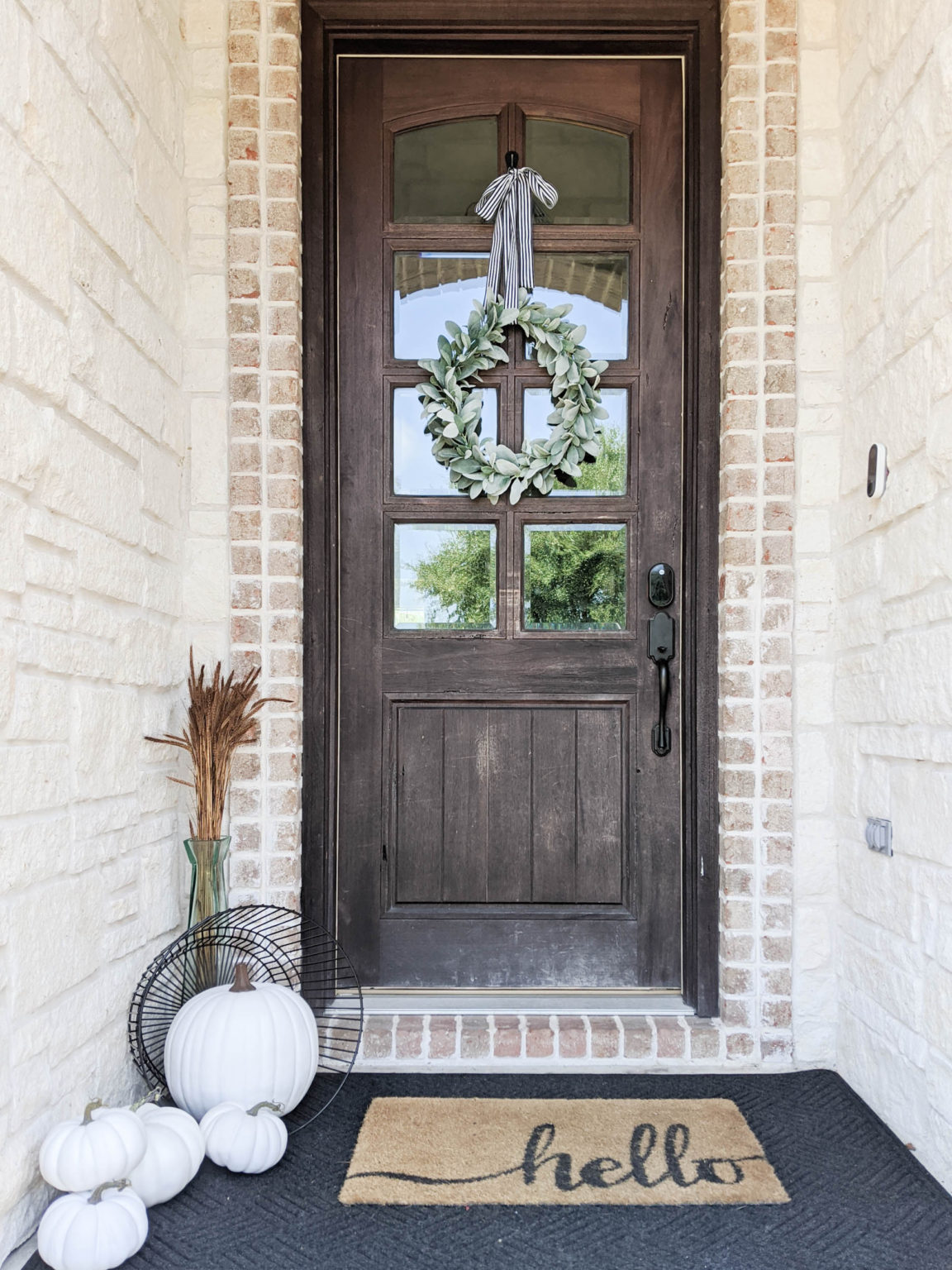 3. Fall Olive Bucket Mum Planters – On Sutton Place
2. DIY Fall Porch – Classic Girls Wear Pearls
1. Colorful Fall Porch Stoop – Blesser House
SAVE THIS PIN FOR LATER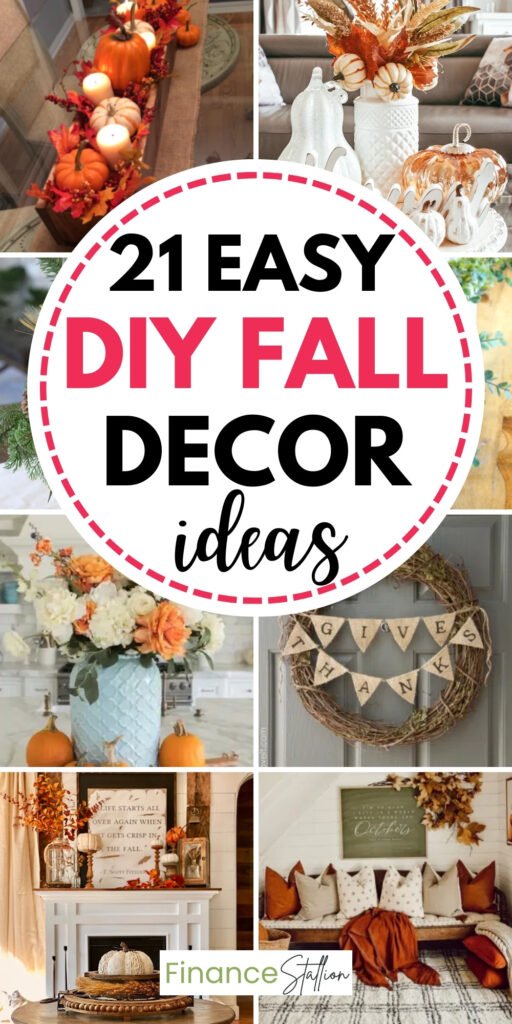 FAQs
Q. Can I incorporate Halloween decorations into my Thanksgiving decor?
While it's best to transition from spooky to subtle decor, you can still incorporate elements like pumpkins and gourds, as they are symbolic of both holidays.
Q. Should I stick to a specific color palette for my fall decor?
Earth tones such as oranges, browns, and yellows work well for transitioning from Halloween to Thanksgiving, but feel free to add personal touches and experiment with colors that resonate with you.
Q. How can I create a cozy atmosphere for Thanksgiving?
Focus on warm lighting, soft textures, and seasonal fragrances to create a cozy and inviting ambiance for your Thanksgiving celebration.
Q. Are there any DIY projects I can try for fall decor?
Absolutely! You can create your own autumn wreaths, and table centerpieces, and even paint or decorate pumpkins to personalize your fall decor.
Q. What are some alternative ways to display pumpkins and gourds?
Aside from traditional arrangements, you can stack pumpkins of different sizes to create a unique focal point or use gourds as table accents by placing them in decorative bowls or trays.
Q. Can I incorporate Thanksgiving-themed crafts into my fall decor?
Absolutely! DIY crafts like hand-painted signs, leaf garlands, or handmade turkey decorations can add a personal touch to your fall decor and showcase your creativity.
Q. How can I incorporate family traditions into my fall decor for Thanksgiving?
Consider including family heirlooms, such as antique dishes or table linens, that have been passed down through generations. You can also display cherished photos or create a gratitude tree where everyone can write down what they are thankful for. These personal touches make your fall decor even more meaningful and reflect the spirit of Thanksgiving.