Discover cozy DIY fall home decor ideas to cozy up your space. From fall outdoor decor to fall indoor decorations, you'll find them all. Transform your home into a cozy retreat with these fall decor ideas.
Transform your living space into a haven of warmth and coziness with simple DIY fall home decor projects that reflect your personal style.
As the leaves change color and the air turns crisp, let's embrace the beauty of the season by adding a touch of autumnal charm to every corner.
From handmade centerpieces and rustic candle holders to cozy throw pillows and charming table centerpieces, these projects are perfect for adding a personal touch to your home.
With easy-to-follow instructions and simple words, you'll discover how to create a welcoming atmosphere that envelops you in the spirit of fall.
So gather your crafting supplies, channel your creativity, and join us on a journey of DIY warmth and coziness that will make your home truly special.
Get ready to embrace the joys of fall and create a space that radiates with personal charm.
17 Tips To Add Fall Touch To Home Decor
Fall brings with it a cozy and warm atmosphere that can be easily reflected in your home decor.
Adding a fall touch to your home not only enhances its aesthetic appeal but also creates a welcoming ambiance for you and your guests.
In this article, we will explore various tips and ideas to add a fall touch to home decor that will help you transform your living space into a seasonal haven.
1. Embrace A Warm Color Palette
Fall is known for its vibrant hues, and incorporating warm colors into your home decor can instantly evoke a cozy autumnal feel.
Opt for rich shades like burnt orange, deep red, golden yellow, and earthy browns for your walls, furniture, and accessories.
These warm tones will create a welcoming and comforting atmosphere that is perfect for the fall season.
2. Cozy Textiles for Comfort
One of the easiest ways to add a fall touch to your home decor is by incorporating cozy textiles throughout your living space.
Swap lightweight summer fabrics for plush blankets, soft throw pillows, and warm area rugs.
Look for materials like wool, velvet, and faux fur to add texture and warmth to your furniture.
Drape a chunky knit blanket over your sofa and place plush cushions adorned with fall-inspired patterns for a cozy and inviting seating area.
3. Create a Seasonal Centerpiece
A beautiful and eye-catching centerpiece can become the focal point of your fall-themed home decor.
Create a stunning display by incorporating elements like pumpkins, gourds, pinecones, and colorful leaves.
Arrange them in a decorative bowl or tray and place them on your dining table, coffee table, or mantel.
Consider adding taper candles or string lights to enhance the ambiance in the evening.
This simple addition will bring the essence of fall into your home.
4. Decorate with Natural Elements
Nature provides an abundance of inspiration for fall decor.
Bring the outdoors inside by incorporating natural elements such as branches, acorns, dried flowers, and wheat stalks.
Use these elements to create unique and rustic displays throughout your home.
Fill glass vases with branches adorned with colorful leaves and arrange them on your entryway table or sideboard.
Add small pumpkins and acorns to a wooden bowl and place it on your kitchen counter for a touch of fall charm.
5. Layer Your Lighting
Lighting plays a crucial role in creating the right ambiance in any space.
To add a fall touch to your home decor, consider layering your lighting.
Incorporate a combination of overhead lights, floor lamps, and table lamps to create warm and inviting illumination.
Use soft, warm-toned bulbs to create a cozy atmosphere.
Additionally, consider incorporating candles and lanterns for a soft, flickering glow that adds an extra touch of warmth and romance.
6. Dress Up Your Windows
Don't forget about your windows when adding a fall touch to your home decor.
Consider swapping out your lightweight curtains for heavier ones made from materials like velvet or tweed.
These fabrics not only add a sense of warmth but also provide insulation during the colder months.
Choose curtains in warm, earthy tones, or opt for patterns inspired by fall foliage to bring the seasonal spirit indoors.
7. Incorporate Seasonal Artwork
Artwork can instantly elevate the look and feel of a room.
To add a fall touch to your home decor, consider incorporating seasonal artwork that reflects the colors and motifs of autumn.
Look for paintings, prints, or photographs that feature landscapes, trees, or fall-inspired still life.
Hang them strategically on your walls or display them on shelves or mantels to create a visual focal point that captures the essence of the season.
8. Add Fall-Inspired Scents
Scents have the power to evoke memories and create a certain atmosphere in a space.
Fill your home with the inviting aromas of fall by using scented candles, essential oils, or potpourri.
Opt for fragrances like cinnamon, vanilla, pumpkin spice, or apple cider to create a warm and cozy ambiance.
Place scented candles in different areas of your home or use an essential oil diffuser to spread the fragrance throughout your living space.
9. Create a Cozy Reading Nook
Fall is the perfect time to curl up with a good book and a warm drink.
Create a cozy reading nook in your home where you can relax and unwind.
Choose a corner of your living room or bedroom and add a comfortable armchair or chaise lounge.
Layer it with soft cushions and a warm throw blanket. Place a small side table nearby to hold your books, a mug of hot cocoa, or a pumpkin-spiced latte.
Add a floor lamp or a reading light for optimal lighting.
This cozy space will become your go-to spot for relaxation during the fall season.
10. Utilize Seasonal Tablescapes
Your dining table is a great place to showcase your fall-inspired home decor.
Create a seasonal tablescape that sets the mood for autumnal gatherings and family meals.
Start with a table runner or placemats in warm colors or fall-themed patterns.
Add decorative elements like pumpkins, gourds, pinecones, or seasonal flowers as a centerpiece.
Complete the look with coordinating tableware and napkins.
Your beautifully decorated table will add a touch of elegance and warmth to your dining experience.
11. Add Texture with Wall Hangings
Wall hangings can instantly add texture and visual interest to any space.
In the fall, consider incorporating woven tapestries, macrame wall hangings, or framed fabric art that feature autumnal colors and motifs.
Hang them on empty walls or above furniture to create a cozy and inviting atmosphere.
These textured pieces will not only enhance your home decor but also add a touch of warmth and personality to your living space.
12. Bring in Seasonal Plants
Plants are an excellent way to bring life and freshness into your home decor.
Choose indoor plants that thrive during the fall season and have foliage or flowers in warm hues.
Some popular options include chrysanthemums, marigolds, and autumn crocus.
Place them in decorative pots or baskets and position them strategically in different areas of your home.
These seasonal plants will not only add a pop of color but also purify the air and create a natural and soothing ambiance.
13. Display Fall-Themed Collections
If you have a collection of fall-themed items, such as antique lanterns, vintage plates, or rustic farmhouse decor, use them to enhance your home decor during the fall season.
Display these items on shelves, mantels, or in glass cabinets to create a curated and personalized look.
Incorporate them into your existing decor, mixing old and new elements for a unique and charming display that reflects the spirit of autumn.
14. Create a Rustic Gallery Wall
A gallery wall is a creative and versatile way to showcase artwork, photographs, and decorative objects.
Create a rustic-themed gallery wall by incorporating frames made from reclaimed wood or featuring rustic finishes.
Choose artwork or prints that evoke the colors and themes of fall, such as landscapes, nature-inspired illustrations, or vintage botanical prints.
Arrange the frames in a visually pleasing composition and hang them on a prominent wall in your home.
This rustic gallery wall will add character and warmth to your living space.
15. Incorporate Fall-Inspired Patterns
Patterns can play a significant role in adding a fall touch to your home decor.
Look for textiles, wallpapers, or decorative accessories that feature fall-inspired patterns like plaid, herringbone, or floral motifs in warm colors.
Incorporate these patterns through throw pillows, blankets, curtains, or area rugs.
Mix and match different patterns to create visual interest while keeping a cohesive look.
These fall-inspired patterns will infuse your home with seasonal charm and create a cozy and inviting atmosphere.
16. Create a Welcoming Entryway
Your entryway sets the tone for your home and provides the first impression for your guests.
Create a welcoming entryway that reflects the warmth and beauty of the fall season.
Place a decorative doormat with fall motifs at your front door.
Hang a seasonal wreath adorned with leaves, berries, or pinecones.
Add a console table or a small bench where you can display fall-themed decor like pumpkins, lanterns, or a vase of dried flowers.
Incorporate a mirror to create the illusion of a larger space and to reflect natural light.
These small touches will make your entryway inviting and showcase your fall decor right from the start.
17. Highlight Your Fireplace
If you have a fireplace, it becomes the natural focal point of your living room during the fall season.
Make it the centerpiece of your fall-themed home decor by highlighting its beauty and warmth.
Arrange logs in the fireplace or stack them in a decorative log holder for a rustic touch.
Place autumn-inspired decor like pumpkins, candles, or garlands on the mantel.
Hang a large mirror or a piece of artwork above the fireplace to enhance the visual impact.
Light a fire on cooler evenings to create a cozy and inviting atmosphere that embodies the spirit of fall.
15 Simple Fall Home Decorations
15. Vintage Fall Living Room – Shiplap And Shells
14. Rustic Fall Entryway – Liz Marie Blog
13. Cozy Farm Fall Corner – Farmhouse Fixer Upper
12. Simple Fall Front Porch – Box Wood Avenue
11. Fall Farmhouse Living Room – Thrifty And Chic
10. Cozy Fall Mantle – Chapel Cottage Chicks
9. Fall Table Centerpiece – Craftberry Bush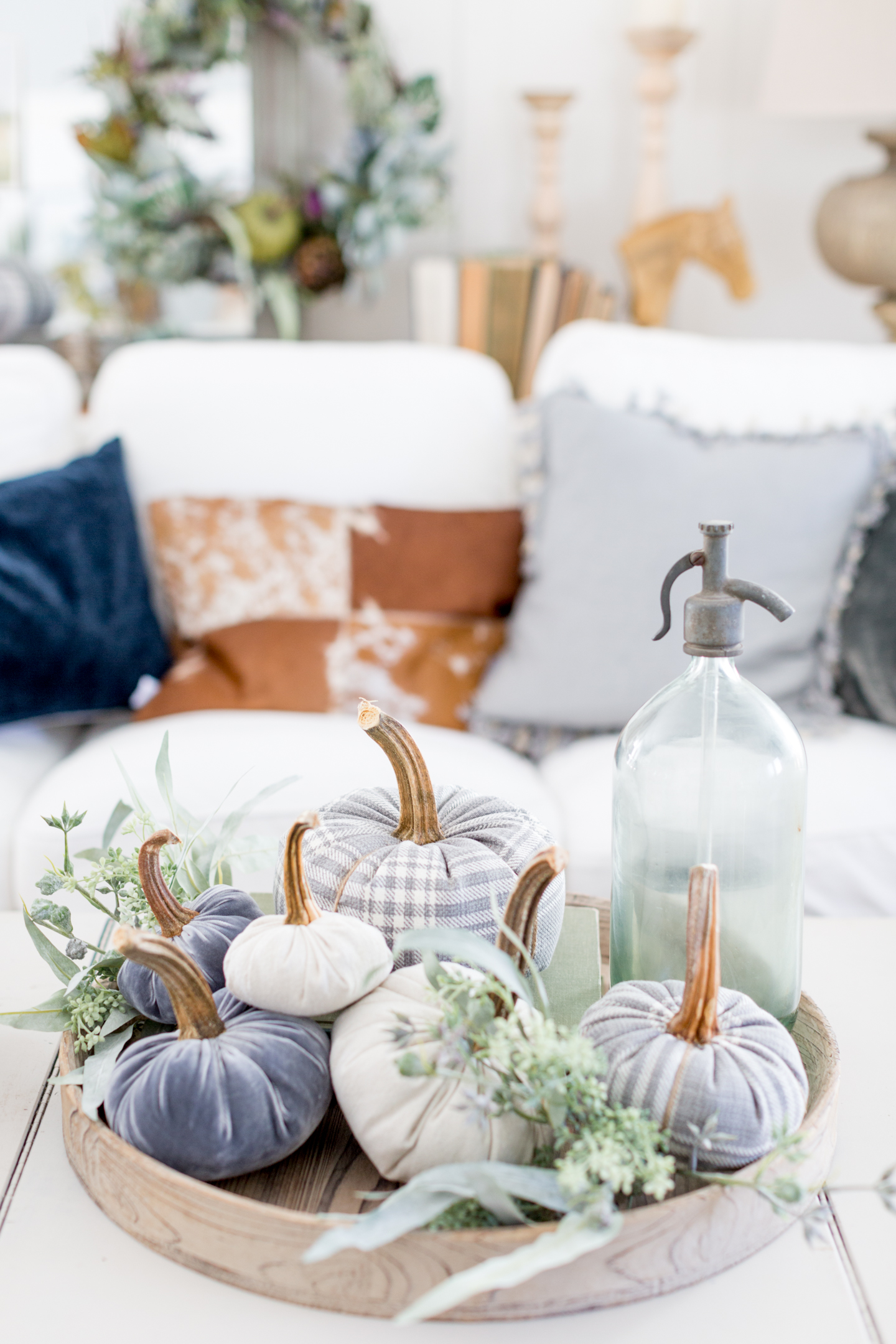 8. Fall Farmhouse Entryway – The Grace House Interiors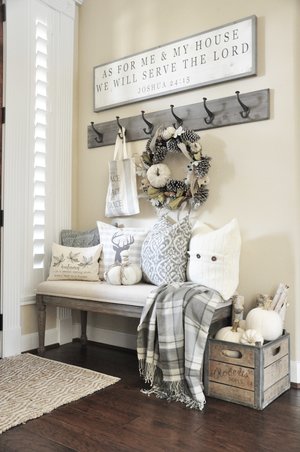 7. Pretty Thankful Fall Mantel – Eighteen 25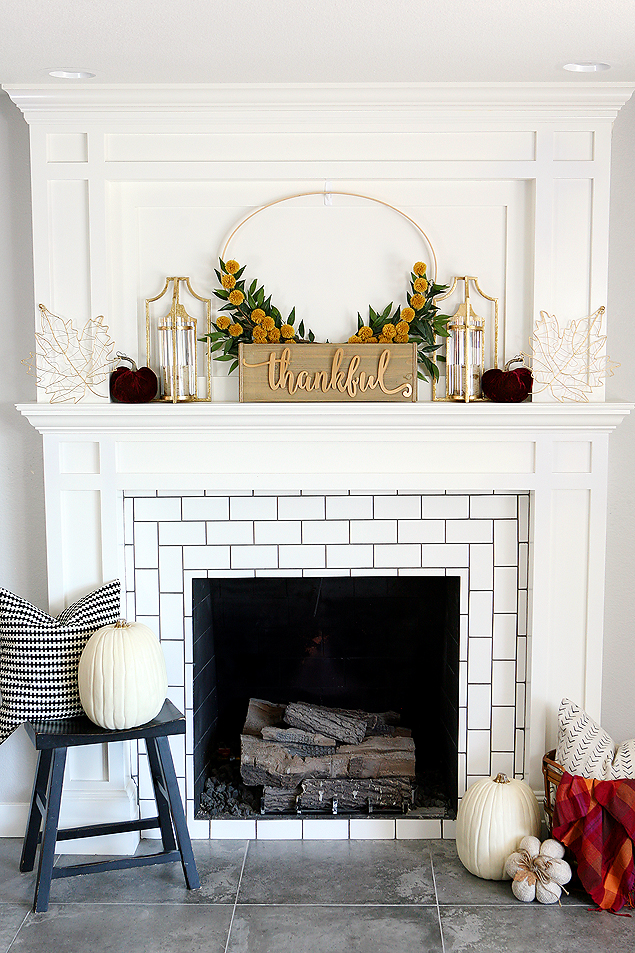 6. Harvest Themed Fall Porch – Home Stories A To Z
5. Pumpkin Themed Fall Mantle – Old Time Pottery
4. Cozy Fall Sitting – The Sunny Side Up Blog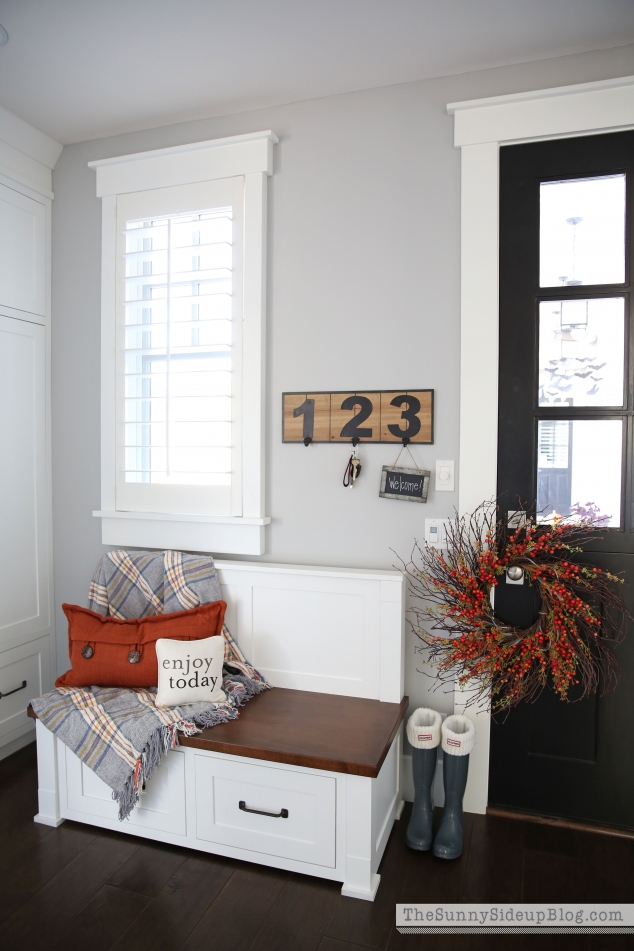 3. Rustic Garden Fall Dining Room – Liz Marie Blog
2. Elegant Fall Mantle Decor – Plaids And Poppies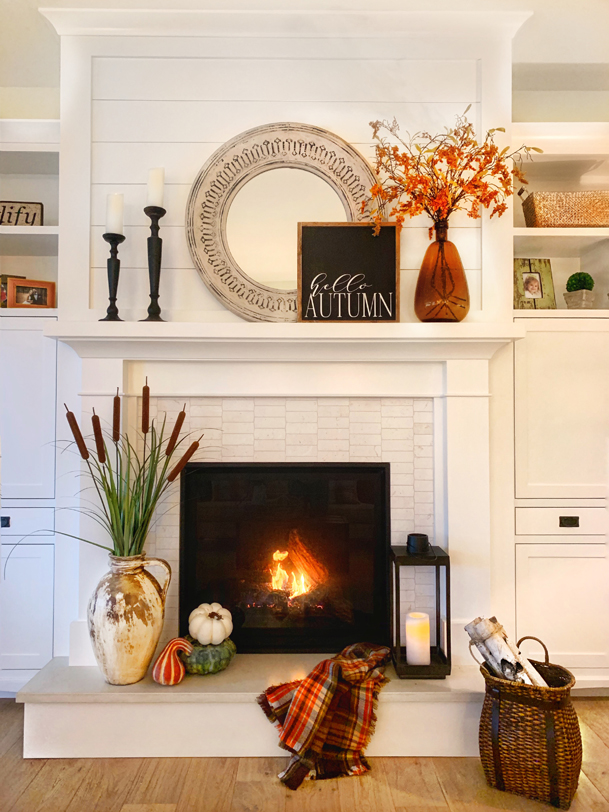 1. Cozy Fall Living Room – Golden Boys And Me
SAVE THIS PIN FOR LATER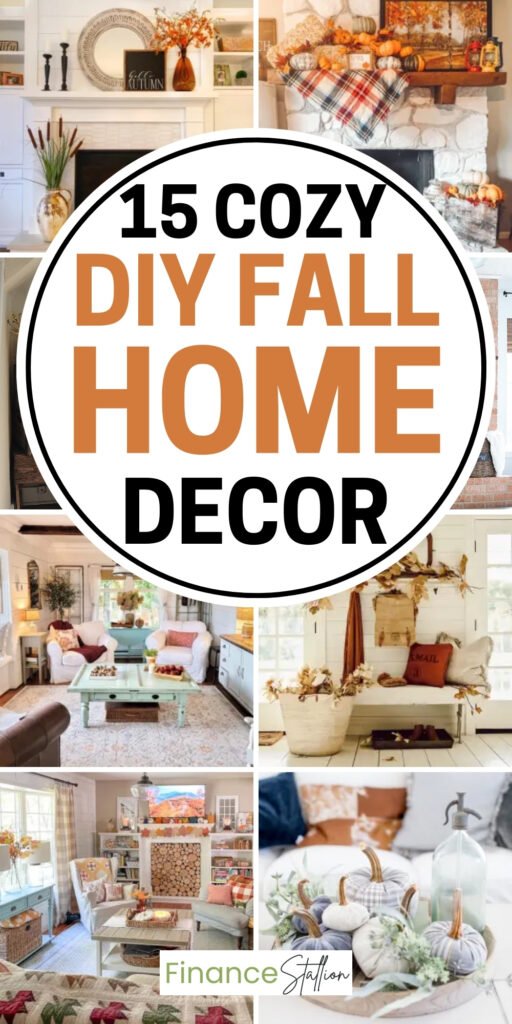 FAQs
Q. How can I add a fall touch to my home decor on a budget?
Adding a fall touch to your home decor doesn't have to break the bank. Consider DIY projects using natural materials like pinecones, leaves, and branches. Paint inexpensive pumpkins or gourds in fall colors and display them creatively. Shop at thrift stores or online marketplaces for affordable fall-themed decor items. With a little creativity and resourcefulness, you can achieve beautiful fall-inspired home decor on a budget.
Q. Can I incorporate fall touches in every room of my house?
Absolutely! Fall touches can be incorporated in every room of your house. Use warm color palettes, cozy textiles, and fall-themed accessories throughout your home. Consider adding seasonal decor elements like wreaths, candles, or artwork that reflect the spirit of fall. With a cohesive approach, you can create a consistent and inviting fall ambiance in all areas of your living space.
Q. How do I transition my home decor from summer to fall?
Transitioning your home decor from summer to fall is all about incorporating warm colors, cozy textures, and seasonal elements. Swap lightweight fabrics for heavier ones, introduce warm-toned accents, and incorporate fall-inspired patterns. Add natural elements like pumpkins, leaves, or branches to your existing decor. By making these simple changes, you can seamlessly transition your home from the light and airy feel of summer to the cozy and inviting ambiance of fall.
Q. Can I add fall touches to my home decor if I have a modern style?
Absolutely! Adding fall touches to your home decor is not limited to any particular style. You can incorporate fall elements into a modern style by focusing on warm color palettes, cozy textiles, and seasonal accessories. Opt for clean lines and minimalistic decor with a few carefully curated fall-themed pieces. Consider using metallic accents or contemporary artwork that reflect the colors and motifs of autumn. By balancing modern aesthetics with fall-inspired elements, you can create unique and stylish home decor for the fall season.
Q. How can I make my home smell like fall?
To make your home smell like fall, use scented candles, essential oils, or potpourri with fragrances like cinnamon, vanilla, pumpkin spice, or apple cider. Simmer a pot of water with spices like cinnamon sticks, cloves, and orange peels to infuse your home with a warm and cozy aroma. Bake fall-inspired treats like apple pie or pumpkin bread to fill your home with delicious scents. With these simple tricks, you can create a sensory experience that embodies the essence of fall.
Q. How long should I keep fall decorations in my home?
The duration for keeping fall decorations in your home is entirely up to personal preference. Some people prefer to start decorating for fall in early September and keep the decor until Thanksgiving, while others may transition to winter decor sooner. Ultimately, it depends on how long you want to enjoy the fall ambiance and when you feel ready to embrace the next season.