If you've got some leftover pumpkin seeds, you're in for a treat! These Homemade Spicy Roasted Pumpkin Seeds are bursting with flavor and really good for you. Plus, they're a breeze to make and won't hurt your wallet. So, don't toss those seeds – let's transform them into a tasty, crunchy snack!
Pin the image and keep these Homemade Spicy Roasted Pumpkin Seeds close at hand for your next meal.📌
Why I Love This Recipe
I adore this Homemade Spicy Roasted Pumpkin Seeds recipe for a few great reasons.
Firstly, it's a fantastic way to use pumpkin seeds you might toss out, turning them into a tasty snack.
Secondly, the spices add a savory and customizable kick to suit different tastes.
Plus, it's budget-friendly and nutritious. Lastly, it's super quick, ready in just 30 minutes, perfect for spontaneous snacking or hosting.
In a nutshell, it's sustainable, flavorful, affordable, and easy – everything I stand for in cooking. Enjoy!
Why You'll Love This Recipe
• Simple Ingredients: You only need a few basic ingredients, most of which you likely already have in your pantry.
• Customizable Spice Level: Adjust the spice level to suit your taste. Love it fiery hot? Go ahead and crank up the heat!
• Budget-Friendly: Pumpkin seeds are often discarded, but this recipe puts them to good use without costing you a dime.
• Quick and Easy: This recipe takes about 30 minutes from start to finish, making it perfect for a last-minute snack or an impromptu movie night.
Helpful Kitchen Tools
Ingredients
• 2 cups of pumpkin seeds: These little powerhouses are packed with nutrients like magnesium and zinc. Don't toss them; use them!
• 1 tablespoon olive oil: Provides a light coating to help the spices adhere and promotes even roasting.
• 1 teaspoon salt: Enhances the flavor and balances the spices.
• 1/2 teaspoon paprika: Adds a smoky, earthy flavor.
• 1/2 teaspoon cayenne pepper: For a kick of heat. Adjust to your preference.
• 1/2 teaspoon garlic powder: Infuses a savory, garlicky note.
• 1/4 teaspoon cumin: Provides a warm, aromatic depth.
• 1/4 teaspoon black pepper: Adds a touch of sharpness.
Making Of Homemade Spicy Roasted Pumpkin Seeds
Step 1: Start by preheating your oven to a cozy 300°F (150°C). This temperature is just right to roast those pumpkin seeds to perfection without making them too brown.
Step 2: If you've recently been busy carving a pumpkin or working on a pumpkin recipe, you've probably got a pile of pumpkin guts and seeds. No need to worry! We're only interested in the seeds. Get yourself a bowl and toss all that pumpkin goo in there. Fill the bowl with some water and give it a gentle swirl. You'll notice the seeds magically floating to the top, and you can easily scoop them out with your hands or a spoon. Now, rinse them in a colander to ensure they're nice and clean.
Step 3: Let's talk about drying those seeds. Take a paper towel or a clean kitchen cloth and gently pat those seeds dry. The drier they are, the crunchier they'll turn out in the oven.
Step 4: It's time to give those seeds a burst of flavor! In a mixing bowl, mix your pumpkin seeds with a tablespoon of olive oil. Add a teaspoon of salt to make those flavors pop. Then, sprinkle in half a teaspoon of paprika for a smoky twist, half a teaspoon of cayenne pepper (adjust to your taste for spiciness), half a teaspoon of garlic powder for a savory kick, and a quarter teaspoon each of cumin and black pepper to keep things interesting. Give it all a good mix until every seed is coated with that tasty goodness.
Step 5: Get your trusty baking sheet and line it with parchment paper or a Silpat mat. Spread the seasoned seeds out on the baking sheet in a single layer. This ensures that each seed gets its fair share of the spicy goodness and roasts up evenly.
Step 6: Slide that baking sheet into the preheated oven and set your timer for about 20-25 minutes. You want them to turn a beautiful golden brown, not too dark. Don't forget to give them a little stir every 10 minutes or so to make sure they're getting all the attention they deserve.
Step 7: Once your seeds are looking beautifully roasted, take them out of the oven and let them cool right there on the baking sheet. This is the moment of truth, where they become even crispier as they cool down. Once they're cooled, you can transfer them to an airtight container. But let's be honest, they probably won't last long enough to need storage! Enjoy your tasty homemade pumpkin seeds!
Tips and Techniques
• Ensure pumpkin seeds are thoroughly dried before seasoning for maximum crunch.
• Adjust the spice level to your preference by varying the cayenne pepper amount.
• Consider using raw, unsalted seeds for easier customization.
• Get creative with variations like sweet and spicy or herb-infused flavors.
• Store seeds away from moisture to maintain their crispiness.
• Feel free to use seeds from different squash varieties for variety.
Serving Size
This recipe yields approximately 2 cups of Homemade Roasted Spicy Pumpkin Seeds, perfect for sharing with family and friends or savoring as a delightful snack.
Serving Suggestions
• Snack on them straight from the container for a spicy treat.
• Sprinkle them on salads to add crunch and flavor.
• Use them as a garnish for creamy soups, like butternut squash soup.
• Mix them with dried fruits and nuts to make an energizing trail mix.
Variations
• For a sweet and spicy twist, add brown sugar and a pinch of cinnamon to your seasoning mix.
• Swap paprika and cayenne for dried herbs like rosemary and thyme for an herbal flavor.
• Give your seeds a barbecue-inspired taste by using smoked paprika and a hint of brown sugar.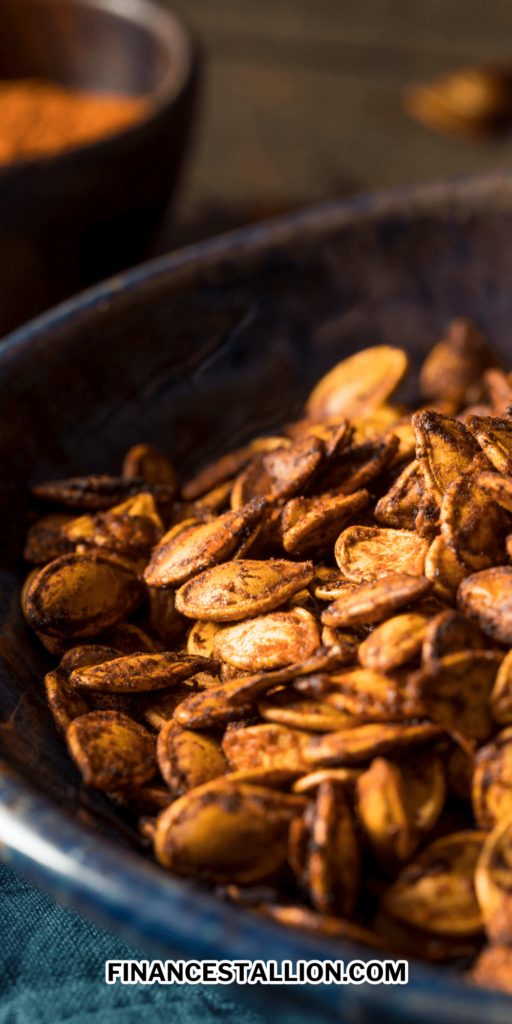 Storage Tips
To keep your Homemade Roasted Spicy Pumpkin Seeds fresh and crunchy, store them in an airtight container at room temperature. Avoid exposing them to moisture or humidity, as this can make them lose their crispiness.
FAQ's
Q, Can I use pumpkin seeds from a store-bought pumpkin?
Absolutely! You can use store-bought raw pumpkin seeds for this recipe. Just make sure they're unsalted and unseasoned.
Q. Can I use other types of squash seeds?
Yes, you can use seeds from other types of squash, like butternut or acorn squash. The process is the same, and they make for equally delicious roasted seeds.
Q. Can I store these seeds in the refrigerator or freezer for a longer shelf life?
While you can store them in the refrigerator or freezer to extend their shelf life, I recommend consuming them within two weeks for the best texture and flavor.
Print Recipe
Spicy Roasted Pumpkin Seeds
These Homemade Spicy Roasted Pumpkin Seeds are flavorful, nutritious, easy to make, and budget-friendly. Transform your leftover pumpkin seeds into a delightful, crunchy snack sensation!
Ingredients
2

cups

pumpkin seeds

1

tablespoon

olive oil

1

teaspoon

salt

1/2

teaspoon

paprika

1/2

teaspoon

cayenne pepper

adjust to taste

1/2

teaspoon

garlic powder

1/4

teaspoon

cumin

1/4

teaspoon

black pepper
Instructions
Preheat your oven to 300°F (150°C).

Separate pumpkin seeds from the guts, rinse, and pat them dry.

In a mixing bowl, combine seeds with olive oil and all spices.

Spread seasoned seeds on a baking sheet lined with parchment paper.

Roast for 20-25 minutes, stirring every 10 minutes until golden brown.

Cool and store in an airtight container.
Notes
Ensure pumpkin seeds are dry before seasoning for maximum crispiness.
Adjust cayenne pepper for the desired spice level.
Use raw, unsalted seeds for best results.
Store in an airtight container at room temperature for up to two weeks.