Embrace the cozy autumn vibes with Mini Pumpkin Pies. These adorable treats, baked in a muffin tin, are perfect for family dinners and holiday joy. Top with whipped cream and a sprinkle of spices for extra delight.
Pin the image and keep these Mini Pumpkin Pies close at hand for your next meal.📌
Why I Love This Recipe
I adore this Mini Pumpkin Pie recipe because it blends the cozy taste of classic pumpkin pie with the ease of personal servings.
It's beginner-friendly, and uses common kitchen items, and the warm, spicy pumpkin filling is ideal for autumn.
What's even better is that it's budget-friendly.
These mini pies capture the essence of fall effortlessly, and they'll surely make everyone happy.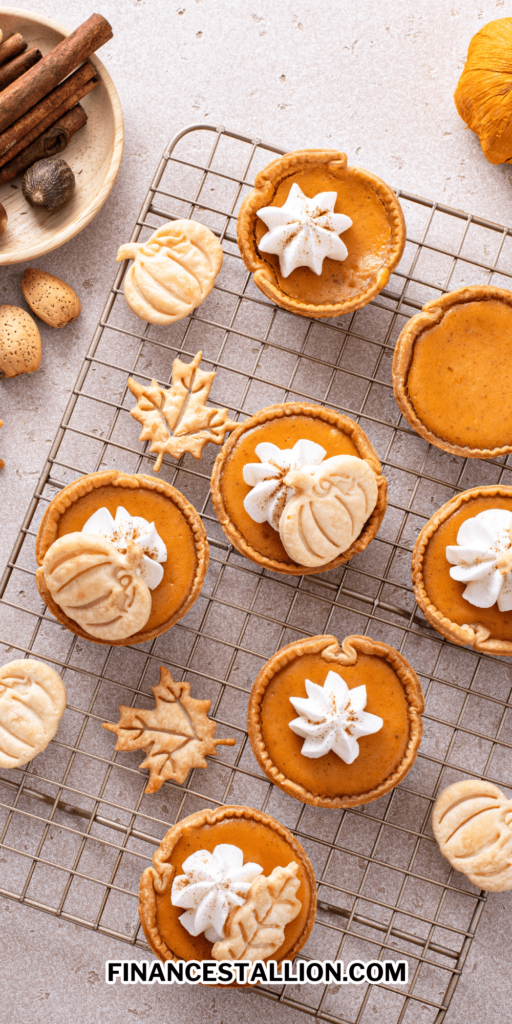 Why You'll Love This Recipe
• Easy for Everyone: Even if you're new to baking, this recipe is a piece of cake to follow.
• Affordable Ingredients: No need for fancy stuff; everything is already in your kitchen or won't cost you much.
• Tasty Harmony: These mini pies hit the sweet and spicy sweet spot, pleasing both kids and grown-ups.
• Simple Sharing: With individual servings, serving and savoring dessert is a breeze, whether it's a family dinner or a get-together.
Helpful Kitchen Tools
Ingredients
For the Pie Crust:
• 1 ½ cups all-purpose flour: This flour forms the foundation of the crust, giving it structure and that classic flaky texture.
• ½ teaspoon salt: A pinch of salt enhances the flavor of the crust, making it tastier.
• ½ cup unsalted butter, cold and cubed: The cold butter gets cut into the flour, creating little pockets that make the crust wonderfully flaky and buttery.
• 4-5 tablespoons ice water: Adding ice water gradually helps bind the dough together, ensuring it's not too dry or sticky.
For the Pumpkin Filling:
• 1 cup pumpkin puree: This is where the pumpkin flavor shines. It's the heart of the pie's filling.
• ½ cup granulated sugar: Sugar brings sweetness to balance the warm spices, making your pie deliciously comforting.
• ½ teaspoon ground cinnamon: Cinnamon adds a cozy warmth and fragrant spice.
• ¼ teaspoon ground nutmeg: Nutmeg brings in a subtle, earthy note.
• ¼ teaspoon ground cloves: Cloves provide depth and a hint of heat to the filling.
• ¼ teaspoon salt: A touch of salt enhances all the flavors in the pie.
• 1 egg: The egg not only binds the filling but also adds richness to the texture.
• ½ cup evaporated milk: This milk creates a creamy, dreamy consistency in the filling.
For the Whipped Cream:
• 1 cup heavy cream: Heavy cream is what transforms into fluffy whipped cream, the perfect topping.
• 2 tablespoons powdered sugar: Powdered sugar sweetens the whipped cream without making it gritty.
• ½ teaspoon vanilla extract: Vanilla extract adds a delightful aroma and depth of flavor to the whipped cream.
Making Of Mini Pumpkin Pies
For the Pie Crust:
STEP 1: In a bowl, mix your regular flour and a bit of salt. Now, toss in some cold, cut-up butter. You can use a special tool or your clean fingers to work that butter into the flour until it looks like small breadcrumbs. Add a little ice-cold water, a bit at a time, and mix gently until the dough comes together and forms a ball.
STEP 2: Shape your dough into a flat circle, wrap it in plastic, and let it chill in the fridge for at least 30 minutes. This rest time makes it easier to roll out later.
For the Pumpkin Filling:
STEP 3: First, preheat your oven to 350°F (175°C). While it's heating up, make sure to grease your muffin tin well. You don't want your tasty pumpkin treats sticking to the sides.
STEP 4: In another bowl, mix your pumpkin puree, some sugar, cinnamon, nutmeg, cloves, and a little salt. When that's all mixed up, add an egg and blend it in. Then, pour in the evaporated milk and watch it become a silky pumpkin filling.
Assembling the Mini Pies:
STEP 5: Roll out your chilled dough on a floured surface. Make it about as thick as a couple of stacked coins. Use a round cutter or a glass to cut out circles. Press these circles into your muffin tin to make the pie crusts.
STEP 6: Now, fill these cute crusts with the pumpkin mixture you made earlier. Be generous but leave a bit of space at the top for expansion during baking.
STEP 7: Pop your muffin tin in the oven and let the baking magic happen. It'll take around 20-25 minutes, and they're ready when the filling sets and the crust turns a beautiful golden brown.
STEP 8: After baking, let them cool a bit in the muffin tin, then move them to a wire rack to cool completely. This helps them keep their perfect texture.
For the Whipped Cream:
STEP 9: While your mini pies are cooling, let's make some delightful cream. Pour heavy cream into a bowl, add some powdered sugar for sweetness, and a bit of vanilla extract for a lovely scent. Now, take a whisk or an electric mixer if you have one and whip it until it gets all fluffy with stiff peaks. It's the perfect topping for your mini pumpkin pies. Enjoy!
Tips and Techniques
• Refrigerating the dough allows it to relax and makes it easier to roll out without shrinking.
• You can blind-bake the pie crusts for a few minutes before adding the filling to ensure they stay crisp.
• Adjust spices to your preference for a personalized touch.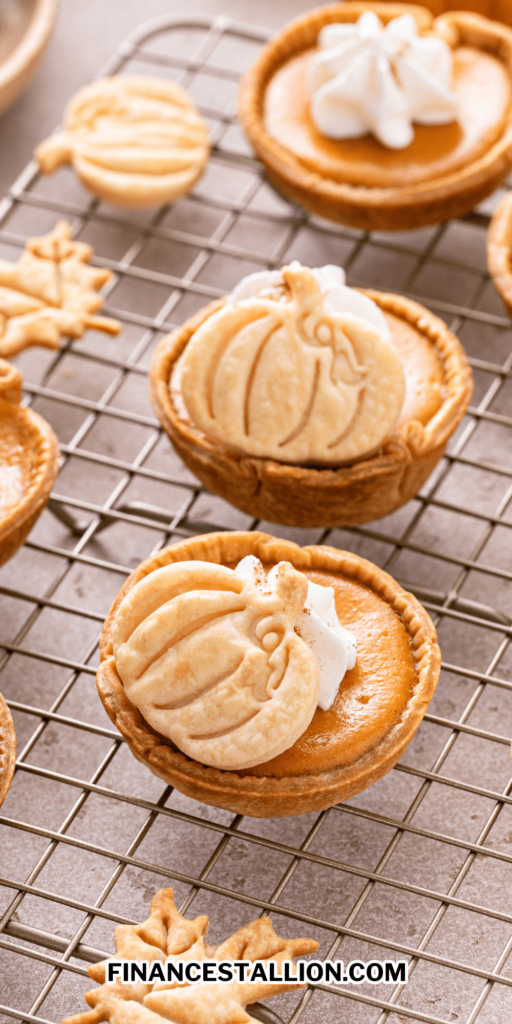 Serving Size
Get ready for a family treat! Make 12 mini pumpkin pies in a muffin tin. Great for a family of four, and there might be some for seconds. Perfect for cozy dinners or small gatherings. Taste the autumn goodness in every bite!
Serving Suggestions
• Top with a generous dollop of whipped cream.
• Sprinkle with a pinch of cinnamon or nutmeg for extra flavor.
• Pair with a scoop of vanilla ice cream for a tasty contrast.
Variations
• Add a handful of chocolate chips for a sweet twist.
• Top with chopped pecans or walnuts for a delightful crunch.
• Experiment with different flavored whipped creams, like cinnamon or maple.
Storage Tips
To keep your Mini Pumpkin Pies with Whipped Cream and Spices fresh, store leftovers in an airtight container in the refrigerator for up to three days. For longer storage, freeze individually wrapped pies for up to two months, ensuring to label and gradually thaw in the fridge before reheating if desired.
FAQ's
Q. Can I use store-bought pie crust for this recipe?
Absolutely! If you're short on time, store-bought pie crust works just fine.
Q. Can I make these mini pies ahead of time?
Yes, you can prepare the mini pies and refrigerate them for up to a day before baking. Just remember to keep them covered.
Q. Can I freeze these mini pies?
Yes, you can freeze these mini pies for up to two months. Just be sure to wrap them tightly to prevent freezer burn.
Print Recipe
Mini Pumpkin Pies
Experience the comforting taste of fall with these adorable Mini Pumpkin Pies. Baked in a muffin tin, they're perfect for family gatherings, holidays, or simply savoring a bite of autumn's warmth.
Ingredients
For the Pie Crust:
1 ½

cups

all-purpose flour

½

teaspoon

salt

½

cup

unsalted butter

cold and cubed

4-5

tablespoons

ice water
For the Pumpkin Filling:
1

cup

pumpkin puree

½

cup

granulated sugar

½

teaspoon

ground cinnamon

¼

teaspoon

ground nutmeg

¼

teaspoon

ground cloves

¼

teaspoon

salt

1

egg

½

cup

evaporated milk
For the Whipped Cream:
1

cup

heavy cream

2

tablespoons

powdered sugar

½

teaspoon

vanilla extract
Instructions
Pie Crust:
Combine all-purpose flour and salt.

Add cold, cubed butter, blend until it resembles coarse crumbs.

Gradually add ice water, mixing until dough forms.

Shape into a disk, wrap in plastic, and refrigerate for 30 minutes.
Pumpkin Filling:
Preheat oven to 350°F (175°C), grease muffin tin.

Whisk pumpkin puree, sugar, cinnamon, nutmeg, cloves, and salt.

Add egg, mix, then gradually add evaporated milk.
Assembling Mini Pies:
Roll out chilled dough, cut circles for muffin cups.

Press into muffin cups to create crusts.

Fill with pumpkin filling, leaving space.

Bake 20-25 minutes until set and golden.
Whipped Cream:
Whip heavy cream, powdered sugar, and vanilla until stiff peaks form.
Notes
Chill pie dough for easier handling.
Prevent soggy crusts by blind-baking briefly.
Adjust spice levels to taste.